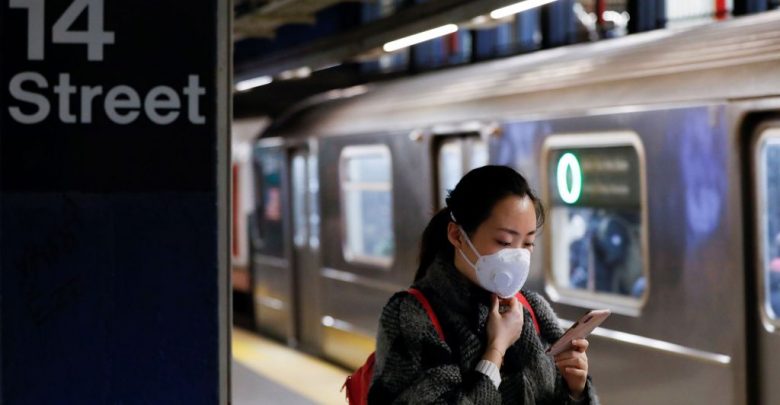 The COVID-19 coronavirus is spreading rapidly across the globe despite persistent efforts from Governments to contain its spread. Most recently, there have been over 120 cases of Covid-19 reported in the United States and the global count has increased to over 94,000 cases with over 3,200 deaths and over 6,000 people in critical condition. The chart below gives an accurate depiction of the situation: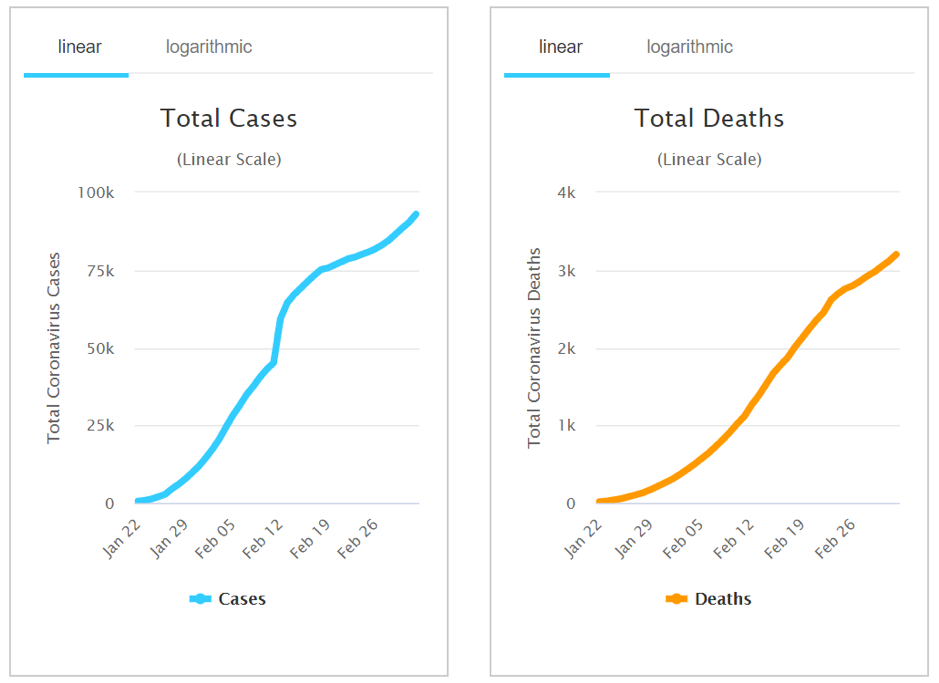 Source: https://www.worldometers.info/coronavirus/
The Menace of COVID-19 & Biotech Companies
COVID-19, also known as the Wuhan coronavirus, originated in the Wuhan province in China and has now spread to Italy, Iran, South Korea, Singapore, USA, and many other countries as Governments across the globe are carrying out evacuations of their citizens from the affected areas. Global markets have been hit badly as the Dow Jones lost nearly 2,000 points in two sessions forcing the Fed to carry out a 0.5% rate cut, whereas Chinese indices have also crashed owing to the complete shutdown of manufacturing activity to contain the spread of the virus.
The reason why the outbreak is causing even more panic is that new cases are actually originating in countries outside of China, via a phenomenon called "community spread". The US Centers for Disease Control and Prevention confirmed that there are US patients who have contracted the Wuhan coronavirus without having travelled anywhere. The country has already witnessed 11 coronavirus-related deaths of individuals, whom have seemingly not been exposed to any other affected individual, so the source of transmission in these "community spread" cases is unknown. This has led to augmented fears in the markets and some of the biotech stocks have started zooming. Some of the key beneficiaries include Co-Diagnostics (NASDAQ:CODX) for the launch of its coronavirus diagnostic test, Novavax (NASDAQ:NVAX), Inovio (NASDAQ:INO), Lakeland Industries (NASDAQ:LAKE) and of course, NanoViricides (NYSEMKT:NNVC). It is evident that in such an extreme scenario, the hopes of the entire world are on pharma and biotech companies to come up with a rapid solution that can curb the situation.
NanoViricides' Coronavirus Research
In our earlier pieces, we had highlighted the potential of NanoViricides as a research-focused biotech company within the anti-viral medications space, talking in detail about its rapid advancement with respect to the topical cream for shingles. The company came into the limelight after the COVID-19 outbreak because it is among the only names that have actually started working on developing a drug that can treat the Wuhan coronavirus. CEO Dr. Anil Diwan had earlier worked on research associated with the Middle-East Respiratory Syndrome (MERS), another type of coronavirus from the same family as the COVID-19 and he believes that with some governmental support, as well as support from international agencies, they could progress rapidly on this front. The company claimed to have already identified some candidate ligands in their chemical library which could be used in the treatment of the Wuhan coronavirus. These broad-spectrum virus-binding ligands are expected to attack the coronavirus at the same points that the virus uses to bind to its cognate cellular receptor, namely ACE-2 (angiotensin converting enzyme type 2), using molecular modeling based on known SARS-CoV and ACE2 interactions. NanoViricides intends to perform initial testing of these drug candidates for safety and effectiveness in cell culture studies in its own BSL-2 virology laboratory at its Shelton campus, using low-threat coronavirus strains that have been normally circulating in human population. This news helped the stock gather significant momentum over the past three months.
A Drug To Counter COVID-19, Not A Vaccine
It is a known fact that the development of vaccines takes a long time, and that vaccines can often be ineffective against viruses due to viral mutations that lead to emergence of resistant strains. Also, the fact that monoclonal antibodies as antiviral drugs are very difficult to develop and can also lead to emergence of resistant viral strains due to viral mutations, is a significant problem associated with vaccines. Dr. Diwan, who is actively working on a drug to counter the COVID-19 as against a vaccine, provided the following statement: "It is well recognized that development of vaccines takes a long time, and that vaccines can often be ineffective against viruses due to viral mutations that lead to emergence of resistant strains." NanoViricides believes that, its biomimetic technology platform has the potential to develop broad-spectrum antiviral drugs that viruses may not be able to escape due to mutations. The management is working on developing necessary collaborations in China to take the program further assuming that an effective drug candidate is identified soon. NanoViricides intends to solicit interest and financing from government agencies in order to accelerate its work on the coronaviruses and novel pathogens.
Why Is The NanoViricides Stock Soaring?
If we look at the NanoViricides stock a couple of months ago, the company was trading between $1 and $2 per share. It has now zoomed up to levels close to $8.4 after the market has realized its true potential. In the previous few sessions, the company's stock appreciated by as much as 40% after the management reported that it has found broad-spectrum virus-binding ligands that are expected to attack COVID-19 at the same points that the virus uses to bind to cellular receptors as SARS-CoV. However, while the COVID-19 research may be the reason why NanoViricides is in the limelight, its non-coronavirus research is also quite impressive. The company's research is focused on three key HerpeCide™ drug development programs: dermal topical treatments for Herpes Simplex Virus Type 1 (HSV-1), Herpes Simplex Virus Type 2 (HSV-2) and Varicella Zoster Virus (VZV) which causes chickenpox and shingles. Its core drug candidate is NV-HHV-101, a skin cream for topical treatment of shingles rash caused by VZV which has already completed its GLP studies and is at the IND application phase before heading to Phase 1 of human trials. It is worth noting that there are between 500,000 to 1 million cases of shingles each year in the US alone and the only serious drug active in this space is preventive medication like the Shingrix vaccine. The company's topical cream has a multi-billion dollar market across the globe and its management recently raised a good amount of funding for its research in 2020. It has strong manufacturing capabilities with its own multi-kilogram-scale c-GMP capable manufacturing facility for the drug substance as well as drug product, in Shelton, Connecticut. This flexible, multi-product pilot plant can supply drugs for all of NanoViricide's programs through human clinical trials. It also enables substantial time and cost savings in the company's drug development programs.
Key Takeaways
Markets are all about perception. The ongoing fear associated with COVID-19 will remain even after the spread of the virus is controlled, and it is highly likely that the investor community will better understand the importance of research-oriented biotech companies like NanoViricides and such companies will be valued at much higher multiples. Even at its current market price of around $8.4, NanoViricides has a market capitalization of just about $63 million which is very low for a company carrying out such promising research. In fact, even when the company touched its 52-week high of $19.2 earlier, it still appeared to be a good price because there is a very visible upside in the stock and it is a matter of time before it makes a new high. NanoViricides appears to be an excellent buying opportunity not just because of its progress in COVID-19, shingles, and herpes but because of a huge potential for multiples expansion in the near future.
Disclaimer
Except for the historic info introduced herein, issues mentioned on this article include forward-looking statements which can be topic to sure dangers and uncertainties that might trigger precise outcomes to vary materially from any future outcomes, efficiency or achievements expressed or implied by such statements. Salesparq, LLC which owns SmallcapsDaily.com isn't registered with any monetary or securities regulatory authority and doesn't present nor claims to supply funding recommendation or suggestions to readers of this launch. Salesparq, LLC, which owns SmallcapsDaily.com, could also be compensated for its companies within the type of cash-based compensation for the businesses it writes about. For making particular funding selections, readers ought to search their very own recommendation. Pursuant to an settlement between TraDigital IR and Salesparq, LLC, which owns SmallcapsDaily.com, we have been employed for a interval from 3/1/2020 – 3/5/2020 to publicly disseminate details about NanoViricides Inc., together with on the Website, e mail and different media together with Facebook and Twitter. We have been paid $2,500 (CASH) for & have been paid "0" shares of restricted frequent shares. We personally own zero shares of NanoViricides, Inc. We don't intend to purchase or promote further shares of NanoViricides, Inc. within the open market at any time, together with earlier than, throughout or after the Website and Information, present public dissemination of favorable Information. Please learn our full disclaimer right here: https://smallcapsdaily.com/disclaimer/