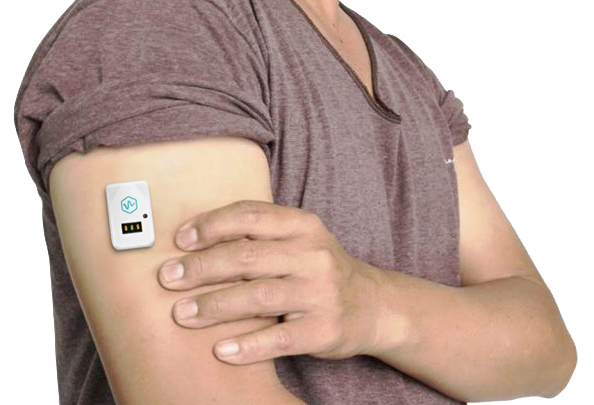 Given some recent news, we think investors should take the time to research Nemaura Medical Inc. (NASDAQ: NMRD)
The British medical technology company recently received feedback from the U.S. Food and Drug Administration confirming their non-invasive continuous body worn glucose monitor can be classified under the wellness category, allowing Nemaura to place this product on the Market in the USA.
"This is a major milestone in Nemaura's history, giving us an immediate foray into the world's largest single market," said Dr. Faz Chowdhury, Nemaura's CEO. The U.S. has about 30 million individuals with Type 2 diabetes and an estimated 88 million pre-diabetics, according to the Centers for Disease Control and Prevention, or CDC. (Source: https://www.cdc.gov/diabetes/basics/type2.html) Nemaura is considering various options to expedite the launch, including potential partnering in continuation of its on-going discussions with multi-national U.S., companies, it said in a statement.
What might this mean for investors? Let's do the math: If Nemaura is able to penetrate just 1% of the population of 118 million, it would equate to 1.18 million devices sold. If we assume a price point of $99 for each device and a number of sensors for a 12 month period, this equates to about $116 million in revenue. Even if one were to back out operating expenses, at an estimated burn rate of $10 million (more than three times what Nemaura spent last year, according to its latest financials), it equates to net revenues of $106 million. Divided by the 20.8 million shares outstanding comes out to $5.09 per share. If we only apply the company's Price-to-Earnings P/E Ratio of 5x, it is easy to see how quickly Nemaura's market cap and share price could explode and this does not even include the Company's ongoing commercialization of their CE mark approved sugarBEAT Class2b medical device in Europe, where there are around 60 million people with diabetes (http://www.euro.who.int/en/health-topics/noncommunicable-diseases/diabetes/data-and-statistics).
To give you an idea of some other players in the space here are a few well known medical technology companies focused on diabetes:
| | | | | |
| --- | --- | --- | --- | --- |
| Company | Symbol | Share Price | Market Cap | P/E Ratio |
| Dexcom | (NASDAQ: DXCM) | $207 | 19 bln | 188 |
| Tandem | (NASDAQ: TNDM) | $50 | 3 bln | N/A |
| Medtronic | (NYSE: MDT) | $80 | 108 bln | 20 |
| Insulet | (NASDAQ: PODD) | $142 | 8.9 bln | 747 |
| YpsoMed | (NASDAQ: YPSN) | $120 | 1.5 bln | 130 |
| Nemaura | (NASDAQ: NMRD) | $6.5 | 141 mln | 5 |
The device, called sugarBEAT, is a non-invasive and flexible continuous glucose monitor, or CGM, that attaches to the skin through a mild adhesive. The nanotechnology embedded in the device's sensor membrane absorbs patients' glucose, the diffusion of which is accelerated in a controlled manner out of the skin in a manner akin to continuous sweating. This then produces a signal assessing glucose units in patients' blood.
The device is unique among non-invasive CGMs by actively measuring glucose rather than using derivatives to infer glucose levels, according to Chowdhury. "Most non-invasive attempts at CGMs have measured other factors to deduce glucose – as opposed to being able to gauge the sugar levels directly," Chowdhury said in a telephone interview. "sugarBEAT's sensors must be able to pick up as little as one millionth of the concentration of sugar that is available in the blood, so it needs the glucose in sweat to come out of the skin at a steady state and an ultra-sensitive sensor with the right signal to noise ratio capabilities to detect that glucose."
This can be achieved through one rotation of daily wear. This is another advantage sugarBEAT has over existing CGMs, which are typically inserted into the skin and must stay in place for multiple days. "Our sensor sits on top of the skin," said Chowdhury. "You can take it off whenever you want."
The small device is typically placed on the upper arm, where skin is thin. The idea is for patients to do this on a day of their choice. "Type 2 diabetes patients don't need to be measuring their glucose every single day," said Chowdhury. This makes the sugarBEAT a useful option for pre-diabetic patients as well, allowing these individuals to measure blood sugar levels in an unobtrusive and non-invasive way.
When in use, the sugarBEAT device sends signals collects signals every five minutes via an App, where it is then converted to glucose levels. The steady stream of multiple data points enables the company to mine the relevant statistics, which can then inform patients of the factors affecting their sugar levels. Sales of the device under the FDA's Wellness category is intended to provide feedback and prompts to a user for the purpose of helping those individuals with chronic conditions such as diabetes, or indeed the vast pre-diabetic population, to be educated on the extent to which their glucose levels might fluctuate depending on the type of food they eat or physical activity or other factors, given that these are different person to person. This could be a powerful educational and motivational tool to help these individuals live healthier lifestyles and steer clear of the potential long-term health complications of diabetes which can include eye-sight problems, increased cardiovascular complications and amputations of limbs.
For these reasons, a health subscription service will accompany the launch of the device, designed to help people with Type 2 diabetes and pre-diabetes through personalized lifestyle coaching. "We will have the benefit of gathering data on a large scale, and from a diverse patient demographic, that we believe has never previously been achieved using CGM," Chowdhury said. This will allow Nemaura to develop "artificial intelligence-based predictive algorithms" that could enable new solutions for the prevention and management of diabetes.
"sugarBEAT will be available to any adult in the USA wishing to be empowered with knowledge of how different lifestyle, dietary and health and wellbeing factors impact their sugar levels," said Chowdhury.
"To the best of our knowledge, no other CGM has yet been allowed under the wellness category by the FDA, and this is without doubt one of the most important milestones for us thus far."

Disclaimer
Except for the historic info introduced herein, issues mentioned on this article include forward-looking statements which can be topic to sure dangers and uncertainties that might trigger precise outcomes to vary materially from any future outcomes, efficiency or achievements expressed or implied by such statements. Salesparq, LLC which owns SmallcapsDaily.com isn't registered with any monetary or securities regulatory authority and doesn't present nor claims to supply funding recommendation or suggestions to readers of this launch. Salesparq, LLC, which owns SmallcapsDaily.com, could also be compensated for its companies within the type of cash-based compensation for the businesses it writes about. For making particular funding selections, readers ought to search their very own recommendation. Pursuant to an settlement between TraDigital IR and Salesparq, LLC, which owns SmallcapsDaily.com, we have been employed for a interval from 3/15/2020 – 3/31/2020 to publicly disseminate details about Nemaura Medical Inc., together with on the Website, e mail and different media together with Facebook and Twitter. We have been paid twenty thousand Dollars for & have been paid "0" shares of restricted frequent shares. We personally own zero shares of Nemaura Medical, Inc. We don't intend to purchase or promote further shares of Nemaura Medical, Inc. within the open market at any time, together with earlier than, throughout or after the Website and Information, present public dissemination of favorable Information. Please learn our full disclaimer right here: https://smallcapsdaily.com/disclaimer/