Featured
Nocera Inc.: Transforming The Global Fish Farming Ecosystem With Its Technology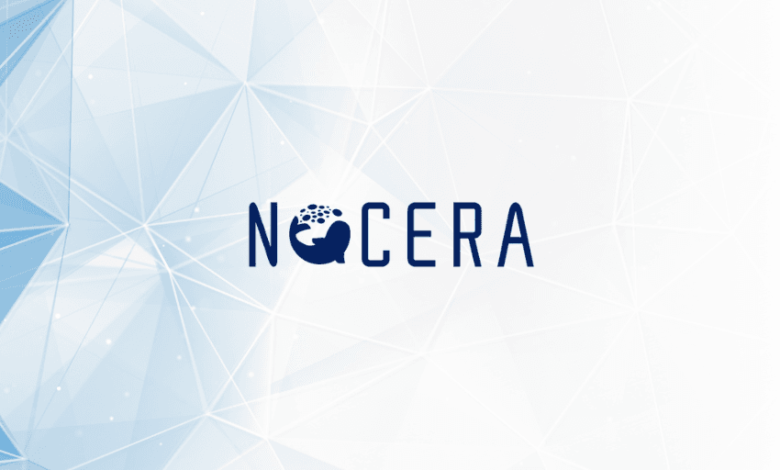 With the global population expected to touch the 9.5 billion mark by 2050 and the limitations with respect to land for food cultivation, it has become more and more essential to find a stable and economical source of protein. Many new technologies are being developed within the domain of food-tech in order to cater to this need, particularly within the seafood domain. Land-based cultivation of seafood and aquaculture is one of the fastest emerging technologies and could well become the solution to this global food crisis in the long run. Our stock pick for the day is a company that operates within this domain and is engaged in land-based RAS manufacturing and aquaculture consulting company, providing opinions, technology transfer, and aquaculture project management services to new and existing aquaculture projects – Nocera, Inc. (NASDAQ:NCRA).
Company Overview
Nocera, Inc. along with its subsidiaries, operates in the seafood domain and is known to design, develop and produce land-based recirculation aquaculture systems (RAS) for fish farming in Taiwan. The company also builds, manages, and runs aquaculture facilities. Additionally, it offers consulting, technology transfer, and project management services for aquaculture management businesses, both new and old. Its Recirculating Aquaculture Systems contribute to environmental preservation by reducing pollution from excessive fish concentration, which frequently occurs in fish farms built in natural inland waterways. The RAS tanks at Nocera have an annual fish production capacity of 20,000–30,000 lbs. The company's corporate headquarters are in Taiwan's New Taipei City. The company which was established in 2014.
The RAS Model
Nocera has introduced their next-generation commercially operational Recirculating Aquaculture Systems (RAS) to improve productivity and sustainability in commercial aquaculture. Its land-based RAS is a sizable, economically viable, and environmentally responsible way to get clean fish on the table and clean water back to the people. Moreover, the next-gen tank design has a better oxygenation system, allowing for about 50% more fish to be cultivated in the tanks and more convenient fish transport. The company's RAS recycles 90 percent of the water and reduces the area of land required for the fish farm. Hence, one can harvest up to 72 times the production using the same hectares of land making it a highly feasible solution for the food crisis. RAS is produced by the company for a variety of freshwater and saltwater fish, including tilapia, bass, crayfish, perch, crab, and abalone. The management believes that its services will contribute to a better world in the years to come because they are affordable, lessen water pollution, recycle fish waste, and are cost-competitive.
It is worth highlighting that the Governments closely regulated the fishing and fish farming industries in the Asia Pacific region by allowing fish farmers to set up fishnets in public bodies of water, such as dammed rivers, lakes, and other bodies of water. Both for domestic demand and exports, it is the main source of freshwater fish. The industry's netting and harvesting methods, however, are unprofitable and cause issues with ongoing supply. The company sees that it is a great time to advocate for land-based RAS in order to address the issue of sustainability. Interestingly, Nocera's RAS systems do not require to be used for high value species or purely by large corporations, but are well within the grasp of relatively small aquaculture players, producing a wide range of species. For small stakeholders, Nocera's newest tank can produce up to 22,000 lbs. of catfish or tilapia per year, which would bring in between $25,000 and $50,000 in the U.S. (process or live). Although Nocera's aquaculture operation is currently located in Taiwan, the company also has expansion plans in the U.S. market where it would be an excellent low-cost entrant.
Acquisition-Led Growth
Nocera has been seeking viable acquisition targets to expand its top-line. The company recently acquired the Taiwanese construction companies Xin Feng Construction Co. and Shunda Feed Co. buying a 100% controlling interest in each of them in exchange of a total of 1 million shares of restricted stock. These agreement with Xin Feng Construction and Shunda Feed are a significant turning point for the company. As a supplier of aquaculture food in the Taiwanese market and to better develop their land-based recirculating aquaculture systems, these acquisitions give the company a strategic integration advantage. The management feels that by doing this, it has improved its ability to support both the development of fish farms owned and run by the company as well as the construction efforts of its clients. Nocera will also be in a better position, in the opinion of management, to establish itself as a major supplier to other fish farm operators. Nocera plans to offer technical consulting and related services to both businesses. In addition, it can use management input to steer the activities that have the biggest impact on the financial health of both acquisitions.
Final Thoughts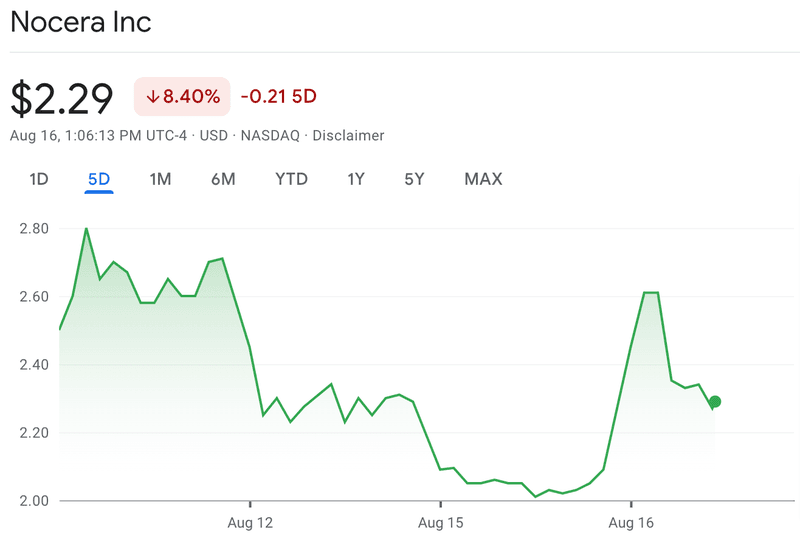 Nocera's stock has been hit along with broader markets but its fundamentals remain solid. If we see the company's financial statements, we see a very low indirect, fixed cost burden, barely around the $1 million mark and this is because the company's entire back-end operations are based in Taiwan. While it did incur one-time costs associated with its listing last year and reported a net loss, the situation should change completely in 2022. It is critical to highlight the fact that Nocera's revenues grew from $1.19 million in 2020 to $9.95 million in 2021 and its trailing twelve-month revenues are as high as $11.28 million. Its gross margin is also expanding. The stock is currently trading at an enterprise-value-to-revenue multiple of 4x which appears fair but given the rate at which the company's revenues are growing, its stock price should also appreciate rapidly. We believe that the company's RAS technology is particularly solid and widely scalable. We are bullish on Nocera and believe that the company is a solid investment proposition for our readers at SmallCapsDaily.
---
Disclaimer
This website is a wholly owned subsidiary of Salesparq, LLC, herein referred to as Salesparq, LLC. Our publications are a commercial advertisement and are for general information purposes ONLY. We are engaged in the business of marketing and advertising companies for monetary compensation. We may receive compensation for this article on a PPC basis as an affiliate. Never invest in any stock featured on our site or emails unless you can afford to lose your entire investment. The disclaimer is to be read and fully understood before using our services, joining our site or our email/blog list as well as any social networking platforms we may use.PLEASE NOTE WELL: Salesparq, LLC and its employees are not a Registered Investment Advisor, Broker Dealer or a member of any association for other research providers in any jurisdiction whatsoever.Release of Liability: Through use of this website viewing or using you agree to hold Salesparq, LLC, its operators owners and employees harmless and to completely release them from any and all liability due to any and all loss (monetary or otherwise), damage (monetary or otherwise), or injury (monetary or otherwise) that you may incur. The information contained herein is based on sources which we believe to be reliable but is not guaranteed by us as being accurate and does not purport to be a complete statement or summary of the available data. Salesparq, LLC encourages readers and investors to supplement the information in these reports with independent research and other professional advice. All information on featured companies is provided by the companies profiled, or is available from public sources and Salesparq, LLC makes no representations, warranties or guarantees as to the accuracy or completeness of the disclosure by the profiled companies. None of the materials or advertisements herein constitute offers or solicitations to purchase or sell securities of the companies profiled herein and any decision to invest in any such company or other financial decisions should not be made based upon the information provided herein. Instead Salesparq, LLC strongly urges you conduct a complete and independent investigation of the respective companies and consideration of all pertinent risks. Readers are advised to review SEC periodic reports: Forms 10-Q, 10K, Form 8-K, insider reports, Forms 3, 4, 5 Schedule 13D. Salesparq, LLC is compliant with the Can Spam Act of 2003. Salesparq, LLC does not offer such advice or analysis, and Salesparq, LLC further urges you to consult your own independent tax, business, financial and investment advisors. Investing in micro-cap and growth securities is highly speculative and carries and extremely high degree of risk. It is possible that an investors investment may be lost or impaired due to the speculative nature of the companies profiled. The Private Securities Litigation Reform Act of 1995 provides investors a safe harbor in regard to forward-looking statements. Any statements that express or involve discussions with respect to predictions, expectations, beliefs, plans, projections, objectives, goals, assumptions or future events or performance are not statements of historical fact may be forward looking statements. Forward looking statements are based on expectations, estimates, and projections at the time the statements are made that involve a number of risks and uncertainties which could cause actual results or events to differ materially from those presently anticipated. Forward looking statements in this action may be identified through use of words such as projects, foresee, expects, will, anticipates, estimates, believes, understands, or that by statements indicating certain actions & quote; may, could, or might occur. Understand there is no guarantee past performance will be indicative of future results.In preparing this publication, Salesparq, LLC has relied upon information supplied by its customers, publicly available information and press releases which it believes to be reliable; however, such reliability cannot be guaranteed. Investors should not rely on the information contained in this website. Rather, investors should use the information contained in this website as a starting point for doing additional independent research on the featured companies. Salesparq, LLC has not been compensated for this article. The advertisements in this website are believed to be reliable, however, Salesparq, LLC and its owners, affiliates, subsidiaries, officers, directors, representatives and agents disclaim any liability as to the completeness or accuracy of the information contained in any advertisement and for any omissions of materials facts from such advertisement. Salesparq, LLC is not responsible for any claims made by the companies advertised herein, nor is Salesparq, LLC responsible for any other promotional firm, its program or its structure. Salesparq, LLC is not affiliated with any exchange, electronic quotation system, the Securities Exchange Commission or FINRA.