Featured
OLB Group: 2021 Begins With A Bang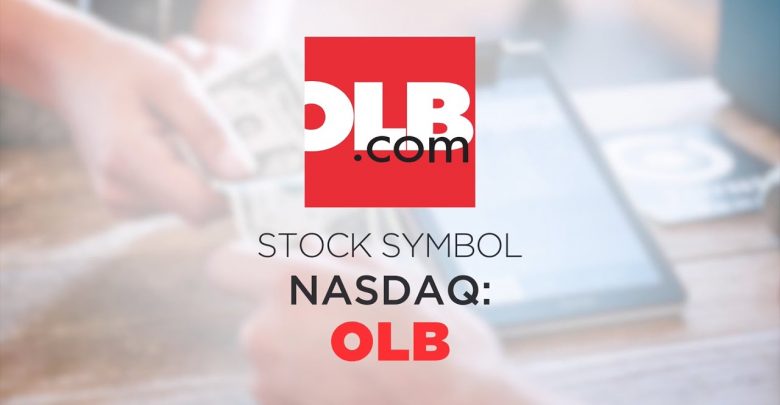 We have been covering fintech innovator, the OLB Group (NASDAQ:OLB) for quite a while now and the stock has already multiplied many folds since our first article on the company. After a strong 2020, the company has already started 2021 with a bang after cleaning up their balance sheet and getting rid of all the debt and interest-bearing securities on the same. The elimination of capital gearing comes as a big news for investors after its other recent updates such as the integration cryptocurrency in their operations and allowing merchants to accept payments through social media. OLB was always an attractive stock but with the debt gone, its inherent risk has become significantly lower. The company is all set for another solid year ahead.
The Deleveraging & The Elimination of Borrowing Costs
One of the biggest issues with small cap and micro-cap companies is the increased investment risk that is often associated with the heavy debt load on the balance sheet. In order to minimize dilution for shareholders, such companies often resort to taking in large volumes of debt resulting in heavy interest costs which they struggle to bear over time given the uncertainty of cash flows. Very few companies within this space are actually able to lower their debt burden significantly over time from their business cash flows. This is why OLB Group's recent announcement of an early payoff of its $7.7 million acquisition-related senior term loan is a very big achievement. The company has been expanding its portfolio of merchants and been regularly rolling out new offerings across 2020 which was generally a difficult year for SMBs. The company's debt originated in April 2018 and it has been able to repay the same in 3 years resulting in an annualized saving of around $720,000 in borrowing costs. The debt also imposed certain restrictive covenants on the business of which the company has been freed through this repayment. It terminated 40,000 warrants related to the financing and has a clean, debt-free balance sheet. CEO Ronny Yakov and his team are now in a position to pursue acquisitions and have immense financial flexibility with respect to new product launches as well.
Streamlining The Cryptocurrency Processes
OLB Group had recently been in the news for its adoption of cryptocurrency through the upgrades on its SecurePay payment gateway system where its merchants could accept payments in the form of cryptocurrencies like Bitcoin, Ethereum, USDC, and DAI as alternative modes of contactless payments. After the introduction of this feature, the management has significantly streamlined the same using their decades of card and electronic transaction processing knowledge and experience to enhance their cryptocurrency ecosystem that leverages inherent blockchain security. As of today, OLB's SecurePay operates through wallet-agnostic approach and are able to support wallets such as MetaMask, Coinbase Wallet, Crypto.com and Trust Wallets using third party applications. Merchants are actually encouraged to push clients to pay via cryptocurrency as the fees for cryptocurrency processing are lower than those associated with regular credit or debit card transactions. OLB's platform ensures the collection of transaction fees in the original currency, eliminating long, multistep conversion process and compounded rounding that can adversely affect final settlements. This provides a greater level of confidence to the merchant community. OLB is able to complete the currency conversion process at the gateway through the services of licensed currency exchange providers, enabling all merchant settlements to be completed in U.S. dollars. Most importantly, merchants are not required to install any additional hardware of equipment for accepting crypto payments and all they have to do is set up an account on https://cryptoaccept.com to start the process.
Selling Through Social Media Platforms
Social media integration has become one of the most important aspects of retail particularly after the COVID-19 pandemic. The stay-at-home environment increased social media activity significantly and resulted in a major boost in online shopping activity through platforms like Facebook and Instagram. In order for small merchants to make the most out of this trend and to stay competitive, OLB Group's SecurePay payment gateway has been helping them provide seamless payment acceptance through popular social media platforms and lifestyle apps. SecurePay's direct integration at the payment gateway ensured secure payment processing for customers making online purchases on social media applications like Facebook, Instagram, Twitter, WhatsApp, TikTok and Skype. Many of these platforms have a "buy button" feature that results in instinctive purchases from consumers without leaving the application. OLB is helping smaller merchants make the most out of this kind of instinctive purchasing while handling all the backend details wonderfully and keeping all the parties well protected in the course of the transaction.
Final Thoughts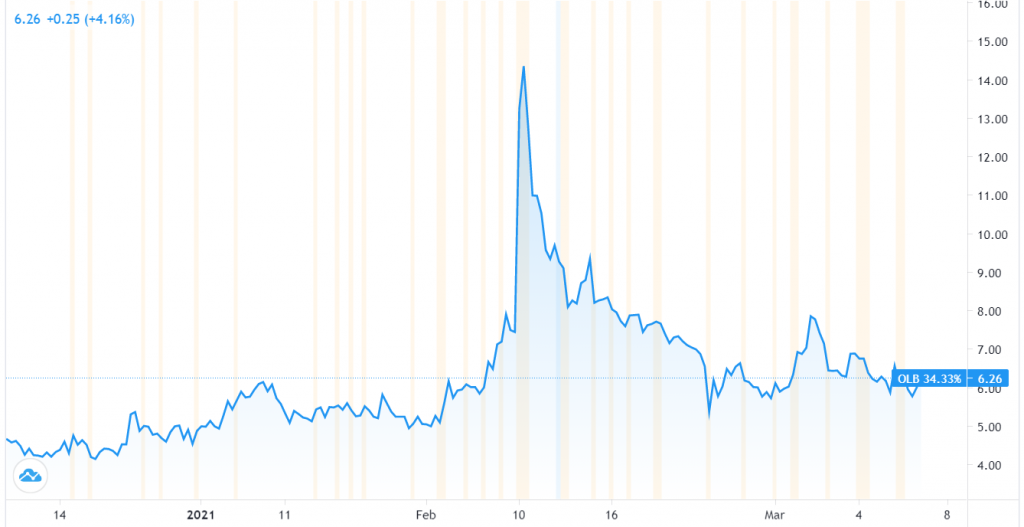 As we can see in the chart above, OLB's stock has already appreciated by a staggering 34.33% in the past 3 months. However, the fact remains that even at the current levels, the company's valuation is ridiculously low as compared to larger fintech peers like Square and Shopify. It is worth highlighting that while OLB may be operating at a lower scale, it is operating on a positive EBITDA unlike these larger companies and yet its price-to-sales ratio is as low as 3.7x whereas most fintech players across the globe usually have this multiple in the double digits. The fact that the management is considering acquisition-led growth after this recent debt repayment implies that the stock price could multiply even faster than the previous year. To sum up, we believe that the company appears to be a very compelling investment opportunity at current levels.
---