Featured
Pressure BioSciences Acquisitions, Re-branding, And New CEO Could Lead To Profits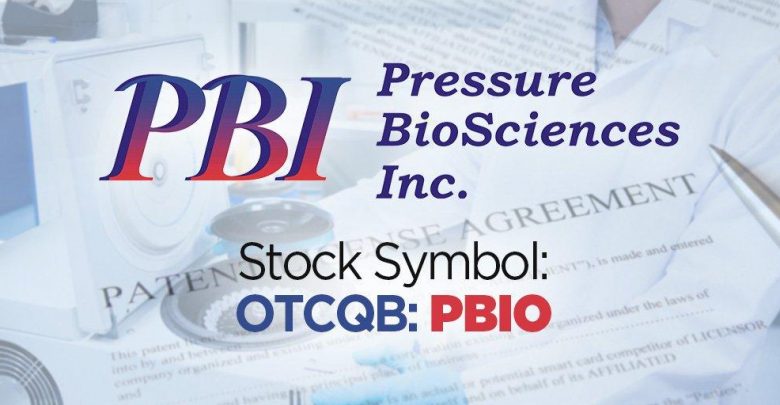 In our recent coverage on Pressure BioSciences, Inc. (OTCQB: PBIO), the world's leading player in high-pressure-based instruments, consumables and technology, we discussed the company's exciting pair of key acquisitions and the rationale behind their stock gathering momentum. Pressure Bio was in the news after signing the binding letter of intent for two transformational deals – the acquisition of Cannaworx, Inc., a Nevada-based designer and marketer of innovative new phytocannabinoid-containing lines of human, veterinary and agricultural products, and the acquisition of the leading QVC skin care and anti-aging cosmeceuticals player, SkinScience Labs. These two transactions have dramatically changed the trajectory of Pressure Bio, and the company is now armed with a newly-announced brand name and a legendary personal care products visionary in former L'Oréal President Jim Morrison coming in to lead as CEO of the merged companies.
The "Availa Bio" Rebranding
PBIO has announced that upon completion of its merger with Cannaworx, Inc. and SkinScience Labs it intends to change its corporate identity, to optimally reflect and brand the powerful synergies being achieved between PBI technology and these newly-enabled portfolios of unique human, veterinary and agricultural care products. The new name of the company will be "Availa Bio," designed to communicate the potent impact of PBIO technology that optimizes the bioavailability and effectiveness of nutrients and therapies contained in these newly-acquired product lines. This science-driven collaboration will have the three companies operating as synergistic divisions underneath the umbrella of the publicly traded Availa Bio. PBIO's revolutionary Ultra Shear Technology™ (UST™) platform is the enabling technology that now can make critical oil-based ingredients effectively soluble in water, opening up a new era in reliable and cost effective products spanning nutraceutical, cosmeceutical, pharmaceutical, veterinary, agricultural and diverse industrial applications.
Cannaworx, Inc., PBIO's first acquisition, is initially rolling out twelve unique, innovative products, many of which utilize the benefits of full and partial spectrum, hemp-derived phytocannabinoid formulations. Two of the products include pain relief claims allowed under an FDA OTC monograph, and will be introduced in 2020, joining the recently successfully released sativa oil (hemp) skincare serum on QVC.
SkinScience Labs, PBIO's second acquisition, owns the highly-acclaimed Dr. Denese SkinScience® brand, which is renowned across the cosmetics world as the most successful skin care brand ever marketed on QVC, having achieved total revenues of over $500 million in 17 years ($18 million of 2019 QVC sales alone). The Dr. Denese SkinScience brand has sold over 25 million units and has won numerous customer choice beauty awards on QVC over the years.
Both of these soon-to-be acquired companies will rely on Pressure Bio's patented, proprietary Ultra Shear Technology platform, which uses ultra-high pressure (45,000 psi or greater) to shear oil drops into vanishingly low nanometer-scale droplets, allowing them to be mixed with water and result in the creation of extremely fine nanoemulsion oil-in-water solutions. The resulting nanoemulsions produced after mixing hemp-derived phytocannabinoid oil in water will be used to deliver finished products that provide optimized taste, smell, smoothness and visual appeal, along with the highest bioavailability performance for absorption of nutrients and therapies. In addition, UST is expected to deliver these results more reliably and cost effectively. UST is also expected to powerfully destroy/inactivate any microbial contaminants, to offer optimized room temperature (unrefrigerated) shelf life, while protecting the product's designed taste, smell, and texture profile. Overall, with this synergistic combination of enabling UST technology and a wide range of innovatively designed product lines, Availa Bio, as a brand, is poised to become a new starring player and household name across an extremely diverse range of products and markets.
Jim Morrison – The New CEO
Like the eponymous musician of The Doors, the name Jim Morrison is a rock star legend in the global cosmetics and personal care industry. Morrison has had a remarkable career, building upon his CEO leadership of Graham Webb into one of the most successful start-ups of the 1990's, to advance into the role of President of L'Oréal, where he was pivotal in driving their growth into one of the largest and most popular cosmetics companies worldwide. At L'Oréal, he personally engineered and oversaw the acquisitions of Redken and Matrix and led the company during a period of unprecedented 20% average annual growth. Redken and Matrix were at the time the largest acquisitions in the history of the industry, and Morrison was named President of the combined organizations of Redken, L'Oréal, L'Oréal LTP, Matrix, Logics and Kerastase. He led L'Oréal's U.S. salon divisions for eight years.
Morrison founded the Salon Association and served as President and Chairman of the American Beauty Association from 1998-2004. He founded the top-rated salon in the USA, and served as the Chief Executive Officer of Sexy Hair Concepts, LLC, where her recruited Katherine McPhee as the brand model and spokesperson. He also served as Vice-Chairman of Luxe Beauty Holdings, Inc. Most recently, Morrison has been CEO of StarShop, the first celebrity-driven, mobile shopping App. He launched StarShop as a partnership with the telecommunications giant SPRINT and guided the company to a successful exit earlier this year.
In the words of Business Week Magazine: "Morrison has had a profound impact on the American Beauty Industry. In the industry's history, no other executive has had the level of financial responsibility or breadth of organizational experience as Jim. His devotion to, and success within the American beauty industry is unmatched."
Morrison has had a long and exciting history of working with celebrities and building their personal brands in the beauty space, including Britney Spears, Kimora Lee Simmons, Flo Rida, Katharine McPhee, Christie Brinkley, Rob Lowe and Kylie Jenner. Jim Morrison is nearly unparalleled as a luminary leader, now considered one of the preeminent gurus in the field of brand development and strategy within the personal care space. With 30 years of breath-taking experience in the industry and a vast network of contacts, Morrison appears to be an astonishingly well-selected new leader to spearhead Availa Bio and take it to the pinnacles of success in the skin, anti-aging and broader personal care industry.
Availa's Strong IP Base & Large Addressable Market
PBIO's two acquisitions are already marked by collaboration between their founders, industry veterans Dr. Bobby Ghalili, a practicing oral surgeon with 21 issued/pending patents, and Dr. Adrienne Denese, the creator of award-winning Dr. Denese SkinScience product lines and a persistently top seller on QVC. With these visionary and successful innovators on board, the new company, Availa Bio, is expected to have an IP base of 31 issued patents, plus many more that have been filed and are awaiting approval. Beyond its powerful IP base, Availa Bio will have an existing base of hundreds of corporate and thousands of retail customers across the globe, with extensive lines of many products already well-established in the market and many more slated to be launched, including several in the coming weeks of 2020. Availa Bio has the potential to disrupt large, addressable markets, including the U.S. hemp-derived CBD market, which is expected to reach $23.7 billion by 2023. The cosmetics division of Availa Bio (i.e. SkinScience Labs) looks to target the international skincare cosmetics market, which has a projected value of $758 billion by 2025 and is expected to witness a significant jump once the COVID-19 lockdown ends. Phytocannabinoid oils mixed with water have immense product opportunities ahead in the gargantuan food and beverage markets. Last but not the least, Pressure Bio already caters to a $250 billion biopharmaceutical market which is expected to reach $389 billion by 2024 even before this merger. This market will continue to be a key contributor to Availa's top-line.
Key Takeaways
Pressure Bio's stock price has increased to $3.6 when we had published our last piece to $3.8 today which is a jump of more than 5%. The company's stock is on a solid upward trajectory and has increased 3.5x in value in the past six months. It has gained a strong upward momentum from mid-March and is cruising towards the $4 mark. The market has perceived the news regarding the rebranding of the company to Availa Bio coupled with the arrival of the new CEO, Jim Morrison very positively and the upward run is likely to continue. The company's current Price/Sales multiple of 3.98x has potential for further expansion too. Overall, despite its run up, Pressure Bio looks to be a very promising pick at current valuations.