Featured
SinglePoint Inc: A Potential Disruptor In The Renewable Energy And Sustainable Lifestyle Industry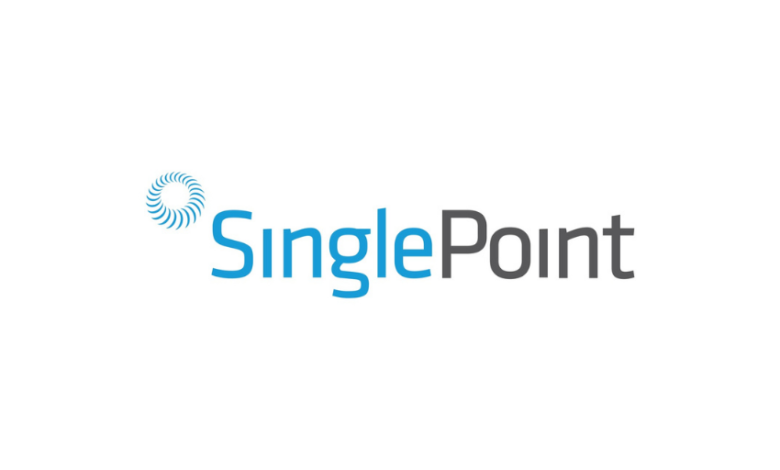 Our small-cap pick for the day is a renewable energy and sustainable lifestyle company specializing in environmentally friendly energy efficiency and healthy living solutions – SinglePoint Inc. (OTCQB:SING). The company has a diversified set of businesses ranging from renewable energy to air purification and is expanding its portfolio by acquiring undervalued companies through horizontal market acquisitions, resulting in a rich, diversified holding base. Today, we are going to give a broad overview of the company's operations and focus on two key subsidiaries which could be major growth drivers in the coming years.
What Does SinglePoint Do?
SinglePoint focuses on offering renewable energy solutions and energy-efficient indoor air quality improving appliances in the U.S. It provides solar and air purification services and solar installation and financing. The company's offering leads with two major industries– renewable energy starting with solar panels and indoor air quality improvements through subsidiary BOX Pure Air. Its renewable energy offerings include residential and commercial solar installation that can be paired with EV Charging and Energy Storage, as well as other energy efficiencies and appliances that improve sustainability and lead to a healthier life. These areas are where the company is actively looking for future growth opportunities through acquisition. The company is based in Phoenix, Arizona, and was founded in 2007.
Renewable Energy Solutions
Boston Solar LLC, a highly respected solar installation company in New England, was just acquired by SinglePoint. With revenue of $17.8 Million in 2021 and projected revenue of over $25 Million in 2022, Boston Solar significantly increases SinglePoint's solar energy revenue base even before the pending acquisition of Frontline Power Solutions.
Direct Solar America is another piece of a powerful combination of assets including SinglePoint subsidiaries Energy Wyze and the aforementioned Boston Solar. Direct Solar America, a subsidiary of SinglePoint Inc., has a promising business within the renewables space. Its primary value proposition is to help homeowners and small businesses minimize the hassle with respect to implementing solar energy as a source of power for their respective units and maximize the benefits of solar. The company acts as an effective tool designed to educate and deliver on their promise of a premium customer experience and feed sales leads to SinglePoint's planned solar installer acquisitions like Boston Solar.
These acquisitions position the company as a fully integrated service provider in the solar market. By realizing the economies of scale, SinglePoint is positioned to increase profitability and realize cost efficiencies across the companies. Direct Solar America's business model is promising and has proven to be successful. SinglePoint can control the customer experience from lead generation to installation by bringing together various aspects of the solar process under one corporate umbrella, ensuring the best customer experience and unmatched customer service.
According to a research report from Ireland's University of Cork, the U.S. has enough serviceable rooftop area to deploy a significant amount of solar equivalent to its current nationwide peers levels. In the US alone, over 100 million people would benefit from going solar. The 2020s appear to be the Solar+ decade, with strong tailwinds in the renewable energy sector. Overall, Direct Solar America is well-positioned to be a key player in the solar market as it continues to modernize the solar sales model and build a large and growing network of professional solar panel installers.
The BOX Pure Air Indoor Air Quality Offering
SinglePoint has been focused on acquiring and consolidating high-potential technologies that are sustainable in the long-term. The company went on to acquire BOX Pure Air, LLC in early 2021 with the objective of leveraging BOX Pure Air's established multi-state exclusive and international rights to sell the Airbox™ technology. Airbox is an industrial grade, made in the US, high-proficiency energy-efficient air purification technology and BOX Pure Air holds the exclusive distribution rights for Airbox through multiple states in the US, and South America. BOX Pure Air's offerings are designed, manufactured, certified to government standards, and meet the U.S. FDA's enforcement policy guidelines for air purifiers during the Covid-19 pandemic, as well as Department of Education requirements. Through this acquisition, SinglePoint and BOX Pure Air have been targeting the $121 Billion available to the P-12 schools throughout the nation. The companies have also targeted opportunities where it can push the product to schools and offices working towards returning to normal operations after the coronavirus impact. Considering this already allocated funding, the Company feels comfortable to expect a minimum of $15 Million in 2022 revenue for BOX Pure Air with the potential for significantly more revenue as this funding is distributed and air quality projects are awarded.
BOX Pure Air caters to a large addressable market as research indicates that indoor levels of pollutants can be two to five times higher than outdoor levels (sometimes up to 100 times higher), according to EPA studies of human exposure to air pollutants. Since most people spend about 90% of their time indoors, particularly after the impact of Covid-19, these levels of indoor air pollutants are particularly concerning. School districts are also becoming increasingly interested in improving indoor air quality in areas of the building where social distancing can be difficult to enforce. The Federal government funding is now providing schools the opportunity to purchase high-efficiency portable air purification units with certified HEPA filtration in order to support the health and well-being of students and staff in the country's schools without impacting their annual budget through the various Elementary and Secondary School Emergency Relief (ESSER) funds of $121 Billion specifically allocated to improve Indoor Air Quality in schools. Again, BOX Pure Air products are eligible for this funding.
As a matter of fact, a North Carolina school district has fully implemented a clean indoor air solution using Airbox Apex, Peak, and Mesa units provided by BOX Pure Air. This is the company's first large order with a total value of nearly $2 million. These products are of high quality, require little maintenance, are simple to operate and come with a 5-year warranty. This school district has fewer than 25 schools, but SinglePoint is in active discussions with several other individual schools as well as small, medium, and large school districts in North Carolina, Texas and California. The company is well-positioned to capitalize on the rising demand to create clean indoor air environments at school, work, and at home.
Final Thoughts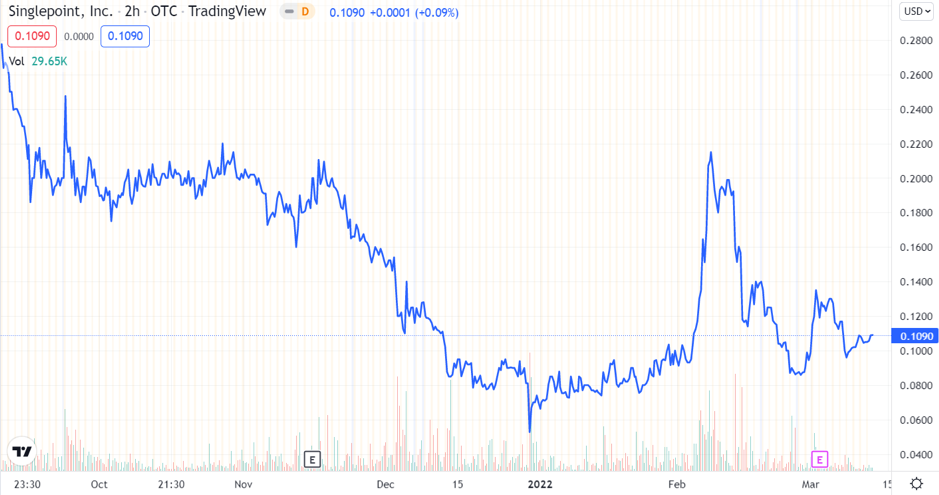 Source: TradingView SinglePoint's stock is currently trading significantly off its 52 week high. One of the key factors responsible is the current macro-economic headwinds in terms of rising interest rates and the geopolitical tensions associated with Russia. The company has a certain conglomerate discount associated with it, given its diversified lines of business, but this discount will most likely disappear as their vertically integrated business plan proves to be rapidly growing and profitable. This gives investors a good opportunity to enter at a low point because we believe that it is only a matter of time before BOX Pure Air, Direct Solar America and the recent acquisition of Boston Solar with its projected $25 Million in revenue in 2022 starts scaling up with a rapidly building orderbook and making an impact on overall market cap. Its current valuation in terms of the enterprise-value-to-revenue multiple is around 5x which is reasonable, but future acquisitions with consolidated financials can quickly change this to be significantly undervalued.. Overall, we believe that SinglePoint has a strong upside in the future and the best is yet to come.
Disclaimer
This website is a wholly owned subsidiary of Salesparq, LLC, herein referred to as Salesparq, LLC. Our publications are a commercial advertisement and are for general information purposes ONLY. We are engaged in the business of marketing and advertising companies for monetary compensation. We may receive compensation for this article on a PPC basis as an affiliate. Never invest in any stock featured on our site or emails unless you can afford to lose your entire investment. The disclaimer is to be read and fully understood before using our services, joining our site or our email/blog list as well as any social networking platforms we may use.PLEASE NOTE WELL: Salesparq, LLC and its employees are not a Registered Investment Advisor, Broker Dealer or a member of any association for other research providers in any jurisdiction whatsoever.Release of Liability: Through use of this website viewing or using you agree to hold Salesparq, LLC, its operators owners and employees harmless and to completely release them from any and all liability due to any and all loss (monetary or otherwise), damage (monetary or otherwise), or injury (monetary or otherwise) that you may incur. The information contained herein is based on sources which we believe to be reliable but is not guaranteed by us as being accurate and does not purport to be a complete statement or summary of the available data. Salesparq, LLC encourages readers and investors to supplement the information in these reports with independent research and other professional advice. All information on featured companies is provided by the companies profiled, or is available from public sources and Salesparq, LLC makes no representations, warranties or guarantees as to the accuracy or completeness of the disclosure by the profiled companies. None of the materials or advertisements herein constitute offers or solicitations to purchase or sell securities of the companies profiled herein and any decision to invest in any such company or other financial decisions should not be made based upon the information provided herein. Instead Salesparq, LLC strongly urges you conduct a complete and independent investigation of the respective companies and consideration of all pertinent risks. Readers are advised to review SEC periodic reports: Forms 10-Q, 10K, Form 8-K, insider reports, Forms 3, 4, 5 Schedule 13D. Salesparq, LLC is compliant with the Can Spam Act of 2003. Salesparq, LLC does not offer such advice or analysis, and Salesparq, LLC further urges you to consult your own independent tax, business, financial and investment advisors. Investing in micro-cap and growth securities is highly speculative and carries and extremely high degree of risk. It is possible that an investors investment may be lost or impaired due to the speculative nature of the companies profiled. The Private Securities Litigation Reform Act of 1995 provides investors a safe harbor in regard to forward-looking statements. Any statements that express or involve discussions with respect to predictions, expectations, beliefs, plans, projections, objectives, goals, assumptions or future events or performance are not statements of historical fact may be forward looking statements. Forward looking statements are based on expectations, estimates, and projections at the time the statements are made that involve a number of risks and uncertainties which could cause actual results or events to differ materially from those presently anticipated. Forward looking statements in this action may be identified through use of words such as projects, foresee, expects, will, anticipates, estimates, believes, understands, or that by statements indicating certain actions & quote; may, could, or might occur. Understand there is no guarantee past performance will be indicative of future results.In preparing this publication, Salesparq, LLC has relied upon information supplied by its customers, publicly available information and press releases which it believes to be reliable; however, such reliability cannot be guaranteed. Investors should not rely on the information contained in this website. Rather, investors should use the information contained in this website as a starting point for doing additional independent research on the featured companies. Salesparq, LLC has not been compensated for this article. The advertisements in this website are believed to be reliable, however, Salesparq, LLC and its owners, affiliates, subsidiaries, officers, directors, representatives and agents disclaim any liability as to the completeness or accuracy of the information contained in any advertisement and for any omissions of materials facts from such advertisement. Salesparq, LLC is not responsible for any claims made by the companies advertised herein, nor is Salesparq, LLC responsible for any other promotional firm, its program or its structure. Salesparq, LLC is not affiliated with any exchange, electronic quotation system, the Securities Exchange Commission or FINRA.