Featured
Skylight Health Group: This Healthcare-Tech Player Is A Must-Have In Your Portfolio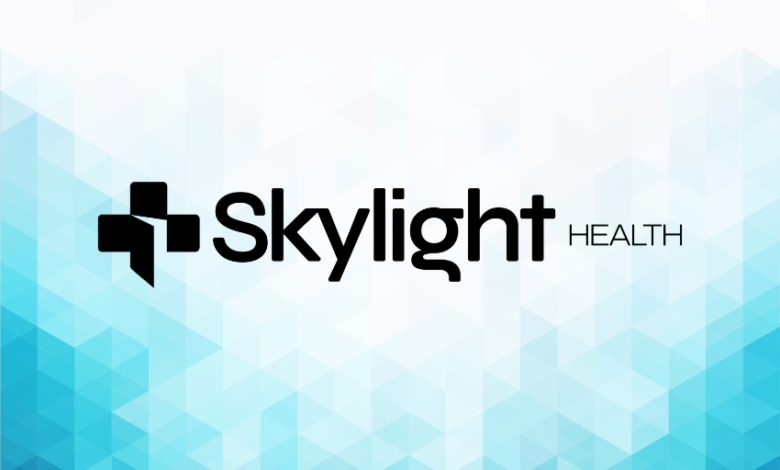 While healthcare-tech companies are often considered a particularly hot domain for investment, it is usually difficult for investors to evaluate their potential given the inherent complexity of the business models associated with the industry. This is the reason why there are many smaller healthcare-tech players that are not being valued correctly by the market. Our small cap pick for the day is one such company running a multi-state health network, offering primary care, sub-specialty care, allied health, and laboratory testing, looking to improve patients' lives by providing high-quality, affordable healthcare and integrated medical services – Skylight Health Group (NASDAQ:SLHG; TSXV:SLHG).
What Does Skylight Health Do?
Skylight Health Group is a healthcare services and technology player that focuses on improving patient outcomes. The company runs a multi-state primary care health network in the United States, with clinics offering primary care, sub-specialty care, allied health, and laboratory/ diagnostic testing. Through its proprietary technology, unique data analytics, and robust operations infrastructure, the company aims to assist small and independent practices in shifting from a conventional fee-for-service (FFS) model to value-based care (VBC).
In an FFS model, payors reimburse based on an encounter-based approach, emphasizing the volume of patients per day over positive patient outcomes. Instead of being compensated for the volume of services provided, providers in a VBC model are compensated for keeping patients healthy and lowering unnecessary health costs. In terms of the per-patient revenues, Skylight Health generated between $200-400 per patient per year under the traditional FFS model. However, after its transition to the value-based-care model, it is expected to generate between $10,000-12,000 per patient per year once they enter the full-risk model. In terms of the progress of the transition, the company currently has close to 85,000 patients, and has started to transition at least 1,000 of those patients into a VBC model in 2022.
Skylight Health Group is also known to own and operate a proprietary electronic health record system that supports the delivery of care to patients through telemedicine and other remote monitoring system integrations. The company offers a subscription-based telemedicine service for the uninsured and under-insured population. It is also known to participate in the clinical trials process through its Skylight Health Research business which is also a revenue generating business and expected to scale rapidly. The company was established in 2014 and is based in Mississauga, Ontario, Canada though all its operations are focused on the U.S. healthcare market.
Primary Care Market
Skylight Health operates in the primary care domain which is the cornerstone of a strong healthcare system that ensures good health and equity. In the last century, healthcare has shifted from focusing on disease-oriented etiologies to examining the interplay of cultural, racial/ethnic, policy, and environmental factors. In order to meet the population's health needs, such a transition required continuous and coordinated provision of person-focused and community-oriented primary care services. The primary care market is worth more than $290 billion and directly impacts more than $2 trillion in healthcare spending. Since primary care serves as a portal to all other healthcare services, more money is being invested in it to allow for downstream influence. Primary care practices (PCPs) face numerous obstacles to remaining independent, including declining FFS rates, rising administrative costs, and increased network competition, all while the market shifts to VBC, which is costly and time-consuming to implement for small and independent PCPs. Skylight Health offers partnerships in its national platform to alleviate the operational and financial challenges faced by independent PCPs across the United States, including access to technology, capital, improved contracting, and participation in VBC programs.
Restructuring & Acquisition-Led Growth
Skylight Health Group has reached to the level where it is today after a series of corporate restructuring efforts including the divestiture of its legacy businesses, Canna Care Docs, and Relaxed Clarity, as well as a number of pertinent acquisitions of PCPs. The company's legacy business provided clinical evaluations and recommendations for patients seeking medical cannabis for state-regulated conditions. However, FFS primary care providers face enormous challenges in terms of rising costs and competition, all while attempting to transition to value-based care. Therefore, the company sold their legacy business completely to New Frontier Data for a cash consideration of $8.63 million and used the proceeds from the sale to buy more PCPs and for working capital. This divestiture also allows the company to focus on its core business of traditional healthcare and support value-based primary care models. Post this divestiture, the management has been targeting the highly fragmented PCP market, seeking motivated sellers with positive EBITDAs, ideally targeting accretive acquisitions at valuations between 3x to 7x EBITDA. Through such acquisitions, the company already has an annual revenue run-rate of $35 million and should grow at a high double-digit rate in the coming years.
Joint Venture With Collaborative Health Systems
Skylight Health Group was in the news for its recent collaboration with Collaborative Health Systems (CHS), a population health management services organization and a wholly-owned subsidiary of Centene Corporation. The objective of the collaboration was to integrate essential value-based care services into Skylight Health's expanding network of primary care practices across Florida Pennsylvania, and Colorado. Through this collaboration, Skylight Health is looking to establish the core requirements for a VBC program, including collaborative efforts in payor contracting, taking on risk within Medicare Advantage, and population health improvement. It includes data and analytics to support care coordination and quality improvement programs. The first markets to join will be Denver, Colorado Springs, Harrisburg, and Jacksonville. Furthermore, the joint venture will profit from Skylight's Medicare lives served along with CHS' proven ability to accomplish downside risk in general. As a larger contracting entity, the joint venture allows for more entry into value-based care services, improving clinical outcomes as well as patient quality and satisfaction. Skylight Health will be able to enter risk-bearing contracts with payors due to the partnership, as affiliates seek more significant and robust partnerships. It is worth highlighting that CHS has been at the forefront of profitable executions on value-based care, having generated over $475 million in Medicare savings since 2012. This partnership enables Skylight Health to leverage the scale, infrastructure, and expertise of CHS and should help them to fast-track their timeline of value-based contracts by nearly 24 months.
Recent Financial Performance
Skylight Health Group's recent financial results saw strong growth as they invested in their customers, technology, and refocused business lines to support their mission of fully embracing value-based care. The company reported a top-line of $27.2 million for 2021 (excluding revenue from discontinued operations of $10.6 million) which was more than double of its 2019 revenue. Its gross margin of 56% was high but continues to have scope for further expansion given their business model. The management intends to stick to its acquisition strategy, fueled by a strong balance sheet (including a liquidity of $11.7 million) and pipeline. It also expects to compete aggressively for market share growth in three areas, including the acquisition of primary care practice groups, development of its single system of operation and clinical leadership, and conversion from fee-for-service to value-based care. The company has also witnessed strong organic growth, primarily driven by an increase in insurable services and new patients. To sum up, Skylight Health is well-positioned to meet the increasing demand for accessible and budget-friendly medical amenities in the United States while adding significant value to shareholders.
Final Thoughts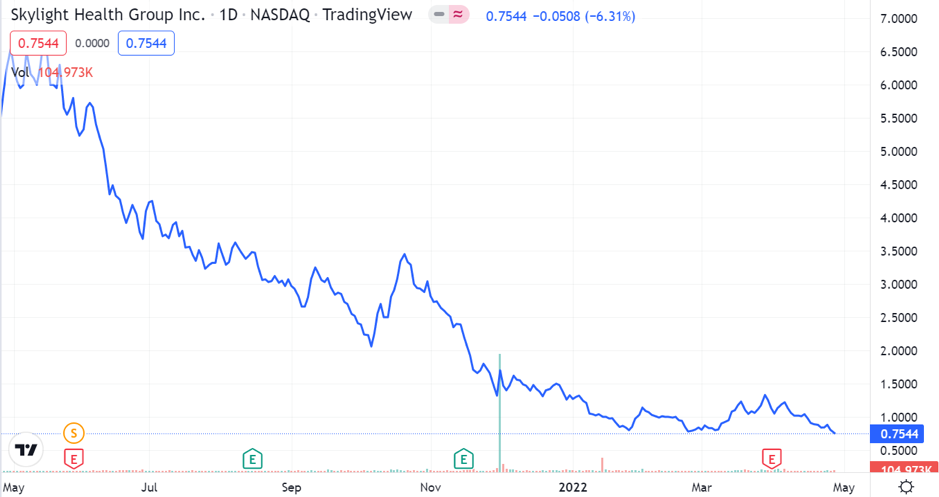 Source: TradingView As we can see in the above chart, Skylight Health's stock is an ideal bottom-fishing candidate. From a valuation standpoint, the company is trading at an Enterprise Value/ Revenue multiple as low as 1.8x, way below its healthcare-tech peers. Skylight has immense scope for growth, both organically as well as through acquisitions, as it continues to use its proprietary technology, data analytics, and infrastructure to enable the transition to value-based care. Overall, we believe that the company is a highly undervalued, healthcare-tech gem that is exceptionally well-positioned for growth in 2022 and is an excellent investment prospect for our readers at SmallCapsDaily.
---
Disclaimer
This website is a wholly owned subsidiary of Salesparq, LLC, herein referred to as Salesparq, LLC. Our publications are a commercial advertisement and are for general information purposes ONLY. We are engaged in the business of marketing and advertising companies for monetary compensation. We may receive compensation for this article on a PPC basis as an affiliate. Never invest in any stock featured on our site or emails unless you can afford to lose your entire investment. The disclaimer is to be read and fully understood before using our services, joining our site or our email/blog list as well as any social networking platforms we may use.PLEASE NOTE WELL: Salesparq, LLC and its employees are not a Registered Investment Advisor, Broker Dealer or a member of any association for other research providers in any jurisdiction whatsoever.Release of Liability: Through use of this website viewing or using you agree to hold Salesparq, LLC, its operators owners and employees harmless and to completely release them from any and all liability due to any and all loss (monetary or otherwise), damage (monetary or otherwise), or injury (monetary or otherwise) that you may incur. The information contained herein is based on sources which we believe to be reliable but is not guaranteed by us as being accurate and does not purport to be a complete statement or summary of the available data. Salesparq, LLC encourages readers and investors to supplement the information in these reports with independent research and other professional advice. All information on featured companies is provided by the companies profiled, or is available from public sources and Salesparq, LLC makes no representations, warranties or guarantees as to the accuracy or completeness of the disclosure by the profiled companies. None of the materials or advertisements herein constitute offers or solicitations to purchase or sell securities of the companies profiled herein and any decision to invest in any such company or other financial decisions should not be made based upon the information provided herein. Instead Salesparq, LLC strongly urges you conduct a complete and independent investigation of the respective companies and consideration of all pertinent risks. Readers are advised to review SEC periodic reports: Forms 10-Q, 10K, Form 8-K, insider reports, Forms 3, 4, 5 Schedule 13D. Salesparq, LLC is compliant with the Can Spam Act of 2003. Salesparq, LLC does not offer such advice or analysis, and Salesparq, LLC further urges you to consult your own independent tax, business, financial and investment advisors. Investing in micro-cap and growth securities is highly speculative and carries and extremely high degree of risk. It is possible that an investors investment may be lost or impaired due to the speculative nature of the companies profiled. The Private Securities Litigation Reform Act of 1995 provides investors a safe harbor in regard to forward-looking statements. Any statements that express or involve discussions with respect to predictions, expectations, beliefs, plans, projections, objectives, goals, assumptions or future events or performance are not statements of historical fact may be forward looking statements. Forward looking statements are based on expectations, estimates, and projections at the time the statements are made that involve a number of risks and uncertainties which could cause actual results or events to differ materially from those presently anticipated. Forward looking statements in this action may be identified through use of words such as projects, foresee, expects, will, anticipates, estimates, believes, understands, or that by statements indicating certain actions & quote; may, could, or might occur. Understand there is no guarantee past performance will be indicative of future results.In preparing this publication, Salesparq, LLC has relied upon information supplied by its customers, publicly available information and press releases which it believes to be reliable; however, such reliability cannot be guaranteed. Investors should not rely on the information contained in this website. Rather, investors should use the information contained in this website as a starting point for doing additional independent research on the featured companies. Salesparq, LLC has not been compensated for this article. The advertisements in this website are believed to be reliable, however, Salesparq, LLC and its owners, affiliates, subsidiaries, officers, directors, representatives and agents disclaim any liability as to the completeness or accuracy of the information contained in any advertisement and for any omissions of materials facts from such advertisement. Salesparq, LLC is not responsible for any claims made by the companies advertised herein, nor is Salesparq, LLC responsible for any other promotional firm, its program or its structure. Salesparq, LLC is not affiliated with any exchange, electronic quotation system, the Securities Exchange Commission or FINRA.