Featured
SOBRsafe: Technology Revolutionizing Workplace Safety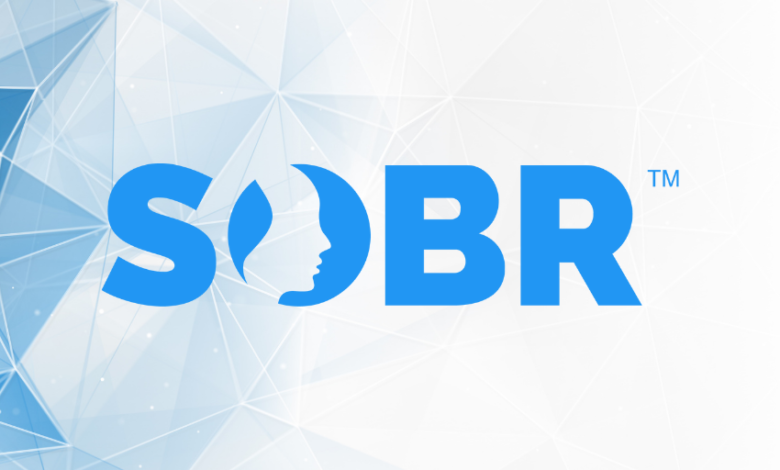 Corporate risks associated with alcohol use among workers are a particularly large addressable market. Each year, employers and insurers in the U.S. spend close to $63 billion on alcohol-related injuries, deaths, and lost productivity. Alcohol is involved in half of all industrial accidents, and commercial fleets experience over 11,000 alcohol-related accidents each year. Given this background, corporations should be more than willing to subscribe to any form of technological offering that could help mitigate and minimize these intoxication-related risks. Our small-cap pick for the day is one such company that has evolved to align with these market opportunities, recently launching the world's leading touch-based, preventive alcohol detection platform– SOBR Safe, Inc. (SOBRsafe™) (NASDAQ: SOBR).
Company Overview
Now in revenue, SOBRsafe is an emerging player dedicated to creating a culture of prevention, helping eliminate alcohol from our workplaces and roadways. The company has created the SOBRsafe technology platform for non-invasive alcohol detection and identity verification, which can be used to improve safety for last-mile service and delivery fleets, warehousing/logistics, manufacturing, youth drivers, addiction treatment and more. Their alcohol detection device measures the ethanol content in a person's perspiration to detect alcohol in their system. It plans to use SOBRsafe technology in two first products: The SOBRcheck™ system and the SOBRsure™ wearable band. SOBRcheck is the company's centralized access control product. When installed in fleet depots, manufacturing facilities, warehouses, and other locations, SOBRcheck enables finger scanning, with real-time results delivered to the employer for any necessary corrective action. SOBRsure is an alcohol-detecting, transdermal wearable band with SOBRSafe technology for real-time alcohol monitoring. The primary intended application for this band is for young individual drivers and commercial fleet management, with an additional potential application in managed care/alcohol rehabilitation. The company plans for the wearable band to be commercially available in the third quarter of 2022. SOBRsafe is based out of Denver, CO. The company was established on March 9, 2020 and has raised $17.5 million to date.
Large Addressable Market
SOBRsafe has evolved significantly from its laboratory roots, where it began as a detection technology development firm called TransBiotec Inc. The company's focus on alcohol detection and monitoring as well as non-invasive identity verification systems is directed towards addressing a large market. The cost of alcohol abuse in the United States is $249 billion per year. Alcohol is involved in nearly half of all industrial accidents that result in injuries, and 13% of U.S. commercial drivers test positive for alcohol – the highest rate wordwide. As an attempt to address this market, SOBRsafe has developed a proprietary touch-based identity verification, alcohol detection and cloud-based reporting system. The technology can be used in a variety of applications, such as personal wearables, stationary access control, and telematics integration. It is currently being deployed for last-mile service and delivery fleets, warehousing/logistics andmanufacturing, with a mobile form factor for fleet drivers, youth drivers, addiction treatment and more expected to launch in the third quarter of 2022. This patent-pending alcohol detection solution helps keep intoxicated workers off the factory floor and drivers off the road in such a way that an offender is immediately identified, and the employer is given the data to take appropriate action.
Product Offerings & Business Model
In the U.S., SOBRcheck is the first preventative, user-friendly alcohol detection and identification system. For real-time safety verification, this discrete device and powerful reporting app integrate seamlessly into an employers facility entry or vehicle release protocols. SOBRsafe's centralized product SOBRcheck is a new method for ensuring worker safety that gives employers immediate peace of mind at the touch of a finger. With its touch-based desktop device and online reporting, SOBRcheck's frontline safety screening effectively supports an employers substance policy. SOBRcheck is the solution for a variety of safety management applications, such as advanced spot testing, high-risk functions, and consistent daily screening. Daily, uniform screening results in quantifiable risk reduction, and SOBRcheck integration is already driving significant insurances savings for customers. This cost-effective device also helps in the hiring and retention of qualified drivers and helps improve employee health and wellness. The company operates using a SaaS, recurring revenue model and it has begun commercial sales using a B2B model with fleets and logistics companies, and has a flat price $30 per month per worker – or just $1.00 a day. Based on the customer pipeline and expected launch of SOBRsafe's product portfolio, the company is expected to report increasing revenues in the second half of 2022 and throughout 2023.
Value Proposition & Strategy
SOBRsafe has a unique value proposition that not only addresses alcohol-related risks but also helps corporations provide evidence to their insurance providers regarding reasonable safety measures undertaken by them to mitigate these risks. The patent-pending, proprietary SOBRcheck device solution is the world's leading preventative transdermal alcohol detection system, and it comes with a biometric identity sensor that links detection results to a specific person. Data is delivered instantaneously to human resources or occupational safety officers via SOBRsafe's cloud-based SaaS interface, allowing them to implement their existing substance policies. In addition, the company is launching soon SOBRsure, a transdermal, alcohol-spotting consumer wearable band for young drivers and rehab managed care, which is expected to be the next big strategic expansion move for the company. Its customers are bound to be sticky given insurance incentives and liability avoidance. The management team has nearly 120 years of combined leadership experience, across several product rollouts and multiple successful exits.
Final Thoughts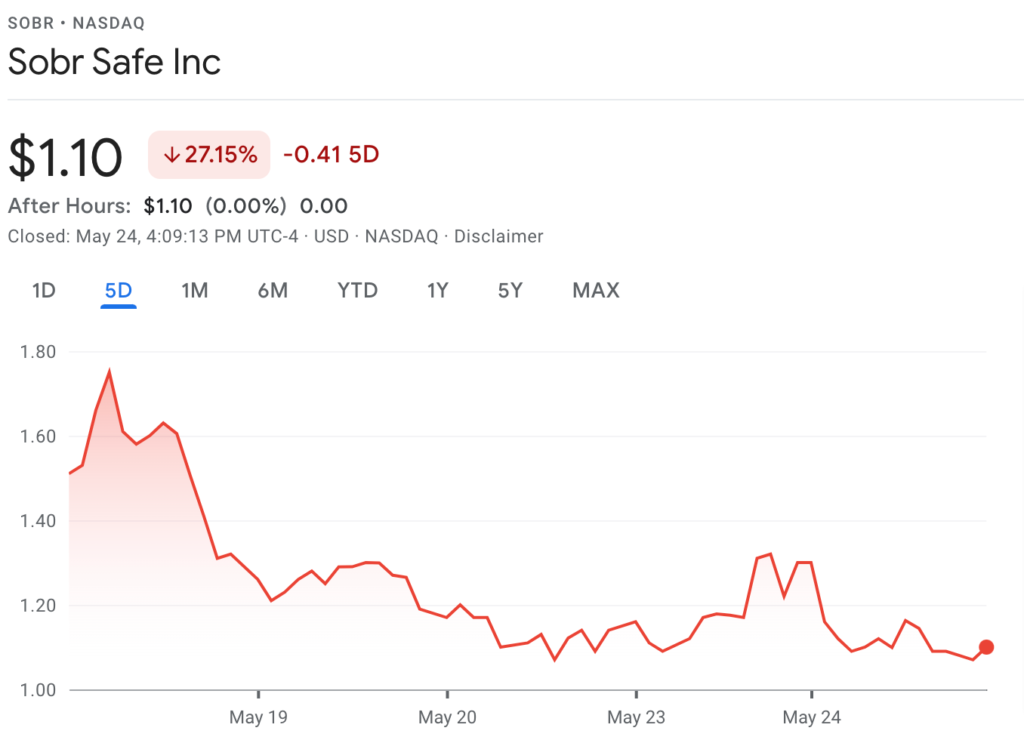 Source: TradingView
While maintaining 100% public company compliance, SOBRsafe made the strategic decision to operate in relative "stealth mode" as it focused on commercializing its technology and prior to its NASDAQ uplist. That is changing with the company starting to announce new customer engagements and report revenues in the second half of 2022. It is worth noting that the primary demand for its product stems from insurance as it has been certified as a valid 'safety measure' by a number of national insurers, resulting in significant customer savings. The insurance acceptance coupled with a cheap price point and a unique value proposition are bound to attract a large number of corporate customers to its subscription-based offering. The recurring revenue-based business model is also likely to attract a valuation premium as well. Overall, we are highly bullish on SOBRsafe and we believe that the company is an excellent emerging player in a unique domain that could become a multi-bagger in the coming years.
---
Disclaimer
This website is a wholly owned subsidiary of Salesparq, LLC, herein referred to as Salesparq, LLC. Our publications are a commercial advertisement and are for general information purposes ONLY. We are engaged in the business of marketing and advertising companies for monetary compensation. We may receive compensation for this article on a PPC basis as an affiliate. Never invest in any stock featured on our site or emails unless you can afford to lose your entire investment. The disclaimer is to be read and fully understood before using our services, joining our site or our email/blog list as well as any social networking platforms we may use.PLEASE NOTE WELL: Salesparq, LLC and its employees are not a Registered Investment Advisor, Broker Dealer or a member of any association for other research providers in any jurisdiction whatsoever.Release of Liability: Through use of this website viewing or using you agree to hold Salesparq, LLC, its operators owners and employees harmless and to completely release them from any and all liability due to any and all loss (monetary or otherwise), damage (monetary or otherwise), or injury (monetary or otherwise) that you may incur. The information contained herein is based on sources which we believe to be reliable but is not guaranteed by us as being accurate and does not purport to be a complete statement or summary of the available data. Salesparq, LLC encourages readers and investors to supplement the information in these reports with independent research and other professional advice. All information on featured companies is provided by the companies profiled, or is available from public sources and Salesparq, LLC makes no representations, warranties or guarantees as to the accuracy or completeness of the disclosure by the profiled companies. None of the materials or advertisements herein constitute offers or solicitations to purchase or sell securities of the companies profiled herein and any decision to invest in any such company or other financial decisions should not be made based upon the information provided herein. Instead Salesparq, LLC strongly urges you conduct a complete and independent investigation of the respective companies and consideration of all pertinent risks. Readers are advised to review SEC periodic reports: Forms 10-Q, 10K, Form 8-K, insider reports, Forms 3, 4, 5 Schedule 13D. Salesparq, LLC is compliant with the Can Spam Act of 2003. Salesparq, LLC does not offer such advice or analysis, and Salesparq, LLC further urges you to consult your own independent tax, business, financial and investment advisors. Investing in micro-cap and growth securities is highly speculative and carries and extremely high degree of risk. It is possible that an investors investment may be lost or impaired due to the speculative nature of the companies profiled. The Private Securities Litigation Reform Act of 1995 provides investors a safe harbor in regard to forward-looking statements. Any statements that express or involve discussions with respect to predictions, expectations, beliefs, plans, projections, objectives, goals, assumptions or future events or performance are not statements of historical fact may be forward looking statements. Forward looking statements are based on expectations, estimates, and projections at the time the statements are made that involve a number of risks and uncertainties which could cause actual results or events to differ materially from those presently anticipated. Forward looking statements in this action may be identified through use of words such as projects, foresee, expects, will, anticipates, estimates, believes, understands, or that by statements indicating certain actions & quote; may, could, or might occur. Understand there is no guarantee past performance will be indicative of future results.In preparing this publication, Salesparq, LLC has relied upon information supplied by its customers, publicly available information and press releases which it believes to be reliable; however, such reliability cannot be guaranteed. Investors should not rely on the information contained in this website. Rather, investors should use the information contained in this website as a starting point for doing additional independent research on the featured companies. Salesparq, LLC has not been compensated for this article. The advertisements in this website are believed to be reliable, however, Salesparq, LLC and its owners, affiliates, subsidiaries, officers, directors, representatives and agents disclaim any liability as to the completeness or accuracy of the information contained in any advertisement and for any omissions of materials facts from such advertisement. Salesparq, LLC is not responsible for any claims made by the companies advertised herein, nor is Salesparq, LLC responsible for any other promotional firm, its program or its structure. Salesparq, LLC is not affiliated with any exchange, electronic quotation system, the Securities Exchange Commission or FINRA.