Featured
Splash Beverage Group: A Delicious Beverage Player With A Phenomenal Growth Story In Progress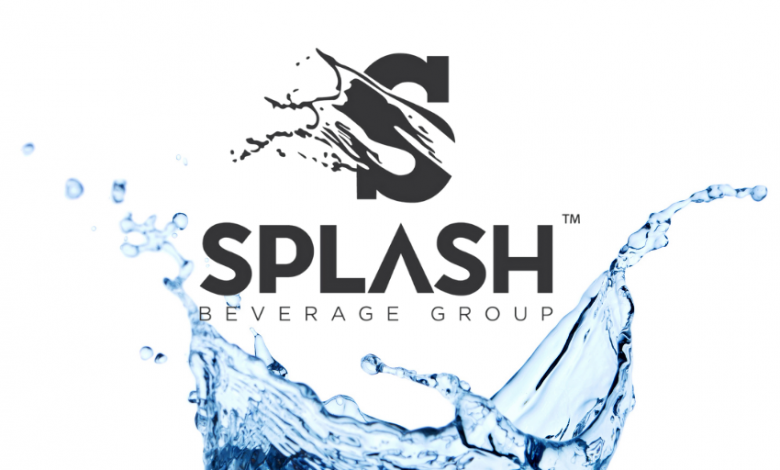 As the beverage industry battles with the rising inflation and supply chain issues, there are certain definite niches which have been relatively unperturbed by the current macroeconomic scenario in the U.S. and have shown significant resilience. Sports drinks, premium wines, and flavored alcoholic beverages are three categories where beverage giants are not only seeing good growth but also a significant ability to pass on the inflationary impact back to the consumers given the fast-growing demand. Our small cap pick for the day is one of the fastest growing beverage companies in the U.S. that has unique product offerings, strong brands and that has scaled up its distribution dramatically in the past year – Splash Beverage Group (NYSEMKT:SBEV).
Company Overview
Splash Beverage Group manufactures, distributes, and markets a wide range of beverages in the United States. Its core product line includes hydration and recovery isotonic sports drinks under the TapouT Performance brand. The company also manufactures and sells flavoured tequilas under the SALT Naturally Flavored Tequila label, premium wine under the Copa di Vino brand, and flavored Sangrias from Spain-based Pulpoloco. The Company's unique e-commerce platform, Qplash, also provides a fully integrated distribution platform for selling all its beverage categories as well as selected other grocery products. Management looks to develop early-stage companies in its portfolio as well as acquire and then accelerate brands with high visibility and create new category pioneers. Splash is led by a management team that has established and managed some of the top global beverage brands and guided sales from the point of product launch to multi-million dollar brands. The company has its headquarters in Fort Lauderdale, Florida.
Excellent Brand Portfolio
Splash offers a wide variety of beverages that should provide the company a pathway to becoming one of the leading brands in the U.S. Its biggest brand within the sports drinks domain is known as TapouT. TapouT is an international lifestyle brand that has been at the forefront of Mixed Martial Arts (MMA) since the brands creation in 1997. The TapouT brand includes a full range of high-performance sports beverages includingTapouT Performance, a 3-in-1 superior performance mix that promotes hydration and cellular recovery. TapouT Performance works to replenish what the body loses via physical effort with its unique combination of vitamins, minerals, and electrolytes. Interestingly, industry behemoths like Coca-Cola have also recognized the growth in the performance beverage domain as demonstrated by its recent acquisition of the BodyArmor sports drinks company and the increased push to their Powerade offering to compete with market leader, Gatorade (owned by PepsiCo). It is evident that consumers are looking for more variety in this category and TapouT could be the difference they are seeking. Management sees immense potential to capture market share with a high-quality, all-natural product. Splash CEO Robert Nistico, a veteran of the Red Bull Executive team that built that brand into a $1.6 billion franchise see an opportunity to replicate that success.
Robust Brand Portfolio
In addition to TapouT, Splash produces, distributes and markets high-quality brands within the alcoholic beverages space. Salt Tequila is Splash Beverages' naturally flavoured tequila drink, believed to be the first 100% blanco agave 80-proff tequila popular for its clean and sweet flavour. The product is produced and bottled in the region of Jalisco, Mexico. Salt Tequila offers a large variety of naturally flavoured tequilas, including berry, citrus, and salted chocolate.
Splash's premium wine brand, Copa Di Vino is also distinguishing itself.  Copa  makes a ready-to-drink wine glass that can be taken anywhere. No bottle, corkscrew, or glass required.  The concept of not having premium wine confined to the bottle is not a new concept, but Copa's single serve size, ergonomic shape, splash proof cap and freshness seal is a unique twist to the "single-serve wine" concept. "Launched" on the hit television series Shark Tank, Copa Di Vino is now a global leader of single serve premium wine.
Splash Beverages' other premium brand is Pulpoloco Sangria, which is made and imported from Spain. It is a light-bodied, fruity, and delicious sangria created from the finest Spanish ingredients. Each of Pulpoloco's products is filled and packed aseptically in a unique eco-friendly Carta-Can to keep the authentic aromas of real Spanish sangria while also extending shelf life without the use of preservatives. The Carta-Can is not just reclycable, but is biodegradable, a truly unique feature, and one for which Splash has the exclusive distribution rights. The company's unique approach to sustainable packaging and is one of the key factors driving gross margins as consumers increasingly embrace innovative packaging approaches that both extends shelf life and maintains high-quality taste.
Distribution Partnership With AB-InBev
Splash Beverage Group recently announced a distribution partnership with AB ONE, a subsidiary of AB-Inbev. In addition to multiple independent AB distributors, Splash will be using AB ONE's network of corporately-owned delivery operations in order to expand the accessibility of Splash Beverage's TapouT performance beverages, Copa di Vino wine by the glass, and Pulpoloco Sangria across its all-inclusive network. AB-InBev, which bought Anheuser-Busch in 2008, owns AB ONE, serves around 50,000 accounts across the United States, including retail businesses, restaurants, pubs, and venues. The AB One distribution network will expand the Splash brands' reach into significant new territories over and above the independent Anheuser Busch wholesalers that Splash had acquired in the Copa di Vino acquisition in December 2020. The distribution network of AB ONE includes significant U.S. markets such as New York, Boston, and Los Angeles and its broad coverage, execution strength and customer service should significantly scale Splash's existing multi-state distribution network This distribution deal could definitely be a defining moment for Splash Beverages and its brands, bringing millions of new customers onboard from New York to Los Angeles and will validate Splash's brand development and growth strategy.
Final Thoughts

There is no reasonable justification as to the current stock valuation of Splash Beverages today. The company's revenues should increase significantly as it scales up distribution. It is worth highlighting that apart from the AB-InBev tie-up, Splash Beverages also has agreements in place with Golden Beverage Company, Johnson Brothers, Bernie Little, and branches of Gulf Distributing Holdings, LLC. The company also announced a significant expansion into Walmart, Total Wine where its SALT Citrus flavoured tequila is now available in 42 locations. Given these factors coupled with the strong brand portfolio, the company's current enterprise-value-to-revenue multiple of 3.3x appears well below the industry averages and has immense scope for expansion. We believe that Splash Beverages is a steal at current levels and has the potential to provide triple-digit returns to small cap investors.
Disclaimer
This website is a wholly owned subsidiary of SCD Media, LLC, herein referred to as Smallcaps Daily. Our publications are a commercial advertisement and are for general information purposes ONLY. We are engaged in the business of marketing and advertising companies for monetary compensation. We may receive compensation for this article on a PPC basis as an affiliate. Never invest in any stock featured on our site or emails unless you can afford to lose your entire investment. The disclaimer is to be read and fully understood before using our services, joining our site or our email/blog list as well as any social networking platforms we may use. PLEASE NOTE WELL: Smallcaps Daily and its employees are not a Registered Investment Advisor, Broker Dealer or a member of any association for other research providers in any jurisdiction whatsoever.Release of Liability: Through use of this website viewing or using you agree to hold Smallcaps Daily, its operators owners and employees harmless and to completely release them from any and all liability due to any and all loss (monetary or otherwise), damage (monetary or otherwise), or injury (monetary or otherwise) that you may incur. The information contained herein is based on sources which we believe to be reliable but is not guaranteed by us as being accurate and does not purport to be a complete statement or summary of the available data. Smallcaps Daily encourages readers and investors to supplement the information in these reports with independent research and other professional advice. All information on featured companies is provided by the companies profiled, or is available from public sources and Smallcaps Daily makes no representations, warranties or guarantees as to the accuracy or completeness of the disclosure by the profiled companies. None of the materials or advertisements herein constitute offers or solicitations to purchase or sell securities of the companies profiled herein and any decision to invest in any such company or other financial decisions should not be made based upon the information provided herein. Instead Smallcaps Daily strongly urges you conduct a complete and independent investigation of the respective companies and consideration of all pertinent risks. Readers are advised to review SEC periodic reports: Forms 10-Q, 10K, Form 8-K, insider reports, Forms 3, 4, 5 Schedule 13D. Smallcaps Daily is compliant with the Can Spam Act of 2003. Salesparq, LLC does not offer such advice or analysis, and Smallcaps Daily further urges you to consult your own independent tax, business, financial and investment advisors. Investing in micro-cap and growth securities is highly speculative and carries and extremely high degree of risk. It is possible that an investors investment may be lost or impaired due to the speculative nature of the companies profiled. The Private Securities Litigation Reform Act of 1995 provides investors a safe harbor in regard to forward-looking statements. Any statements that express or involve discussions with respect to predictions, expectations, beliefs, plans, projections, objectives, goals, assumptions or future events or performance are not statements of historical fact may be forward looking statements. Forward looking statements are based on expectations, estimates, and projections at the time the statements are made that involve a number of risks and uncertainties which could cause actual results or events to differ materially from those presently anticipated. Forward looking statements in this action may be identified through use of words such as projects, foresee, expects, will, anticipates, estimates, believes, understands, or that by statements indicating certain actions & quote; may, could, or might occur. Understand there is no guarantee past performance will be indicative of future results.In preparing this publication, Smallcaps Daily, has relied upon information supplied by its customers, publicly available information and press releases which it believes to be reliable; however, such reliability cannot be guaranteed. Investors should not rely on the information contained in this website. Rather, investors should use the information contained in this website as a starting point for doing additional independent research on the featured companies. Smallcaps Daily has not been compensated for this article. The advertisements in this website are believed to be reliable, however, Smallcaps Daily and its owners, affiliates, subsidiaries, officers, directors, representatives and agents disclaim any liability as to the completeness or accuracy of the information contained in any advertisement and for any omissions of materials facts from such advertisement. Smallcaps Daily is not responsible for any claims made by the companies advertised herein, nor is Smallcaps Daily responsible for any other promotional firm, its program or its structure. Smallcaps Daily is not affiliated with any exchange, electronic quotation system, the Securities Exchange Commission or FINRA.