News
Start-up Express Finalists Make Their Pitches Start-up Express cohorts show tremendous traction
Stephen Liang, Assistant Executive Director of HKTDC, said the HKTDC would continue its commitment to supporting entrepreneurs in expanding their businesses into overseas markets, in addition to promoting the city's capabilities in innovation and technology.
"Since the first edition of Start-up Express in 2018, the programme has already nurtured 50 start-ups, some of which have scaled up substantially. Start-up Express has given great support to start-ups over the past five years, helping them tap into new markets and win global recognition. Through the HKTDC network, numerous start-ups successfully obtained substantial business orders and secured partners as well as investment rounds. We will continue our quest to spread the spirit of entrepreneurship in Hong Kong, helping start-ups grow their businesses to the next level and helping them gain a foothold in the global arena. The HKTDC remains committed to building a sustainable and international entrepreneurial ecosystem that promotes local economic growth and business development," Mr Liang said.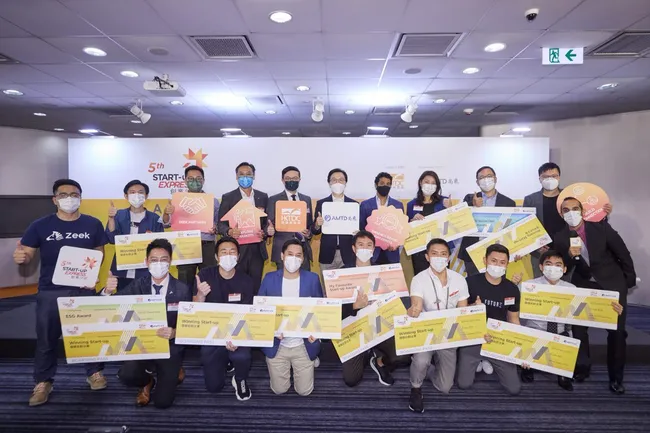 Applications stream in
Start-up Express is aimed at Hong Kong tech start-ups which plan to expand into international markets. The competition drew a record number of applications this year, with finalists from diverse sectors such as ed tech, con (construction) tech & prop tech, fintech, health tech, as well as metaverse, Web 3.0, smart city, HR tech and food tech. This year's judging panel comprises five renowned industry experts: Jason Chiu, Chairman of Hong Kong Startup Council; Anthony Chan, Chief Executive Officer of Isola Capital; Gordon Yen, Chairman of Hong Kong Business Angel Network; Ben Cheng, President and Chief Executive Officer of C Capital and Danny Yeung, Co-founder and Chief Executive Officer of Prenetics.
Live polling on physical Pitching Day
The Final Pitching Day of Start-up Express 2023 will be held in-person on 4 July at the Hong Kong Convention and Exhibition Centre. Apart from the 10 winners, one laureate will receive the ESG Award, rewarding the most sustainable and socially impactful start-up, while the My Favourite Start-up Award victor will be decided by a live audience vote. The 10 winning start-ups will have access to capability-building workshops, mentoring sessions, exploratory missions to the Guangdong-Hong Kong-Macao Greater Bay Area, marketing sessions, extensive publicity and investor-pitching opportunities. These activities will help the laureates hone business skills, gain access to the latest market insights and acquire business know-how from experienced industry leaders. The winners will also be able to interact with buyers and investors at HKTDC-organised local and overseas events. The HKTDC will arrange business-matching meetings, helping entrepreneurs connect with potential partners, increase media exposure and enhance brand awareness.
Taking the market pulse and building a global network
Mr Liang added: "Last year's winning teams stood out because of their innovative and forward-looking ideas. Through Start-up Express they were able to gain more insights into their industries, overseas market trends and investor preferences by participating in different HKTDC-organised events, including the Asia Summit on Global Health, Asian Financial Forum, exhibitions in Mainland China and overseas, and investor meetings in Hong Kong and the mainland. They have also been able to strengthen their business networks and expand their markets and businesses through the exposure they have gained. To help fuel the growth of these start-ups, the HKTDC also leveraged its network of 50 overseas offices worldwide to endorse them in international competitions and connect them to overseas investors through pitching events."
20 finalists with unique products/solutions
Start-ups selected for the shortlisted top 20 in the Final Pitching Day have all presented innovative business solutions that help address social and environmental issues. Among them:
– DimOrder provides a cloud-based ecosystem to more than 1,700 restaurants. It builds operating systems, processes transaction and offers a procurement platform.
– Meat The Next launched tiger nut vegan ice cream and tiger nut oat milk, which are dairy-free and have no added sugar.
– Moongate is a one-stop shop for brands and businesses to use utility NFTs to drive customer engagement and revenue, enabling businesses to create powerful NFT tickets and memberships to maximise customer lifetime value.
– Neuropix has invented a bilateral wireless neurostimulation system to treat major brain diseases, a non-invasive innovative wearable neurotechnology.
Start-up Express 2023 Pitching Final
Date: 4 July 2023 (Tuesday)
Time: 1:15pm Media registration; 1:30pm-6pm Start-up Express Pitching Final
Venue: S221, HKCEC 1 Expo Drive, Wan Chai
Judging panel:
– Anthony Chan, Chief Executive Officer of Isola Capital
– Ben Cheng, President and Chief Executive Officer of C Capital
– Jason Chiu, Chairman of Hong Kong Startup Council
– Danny Yeung, Co-founder and Chief Executive Officer of Prenetics
– Gordon Yen, Chairman of Hong Kong Business Angel Network
Shortlisted start-ups: Click here to view the profiles of the shortlisted start-ups. https://tinyurl.com/yy9k28ve
Start-up Express website: https://portal.hktdc.com/startupexpress/
Photo download: https://bit.ly/3PikEf6
About HKTDC
The Hong Kong Trade Development Council (HKTDC) is a statutory body established in 1966 to promote, assist and develop Hong Kong's trade. With 50 offices globally, including 13 in Mainland China, the HKTDC promotes Hong Kong as a two-way global investment and business hub. The HKTDC organises international exhibitions, conferences and business missions to create business opportunities for companies, particularly small and medium-sized enterprises (SMEs), in the mainland and international markets. The HKTDC also provides up-to-date market insights and product information via research reports and digital news channels. For more information, please visit: www.hktdc.com/aboutus. Follow us on Twitter @hktdc and LinkedIn
Media enquiries
Please contact the HKTDC's Communications & Public Affairs Department:
Jane Cheung, Tel: +852 2584 4137, Email: jane.mh.cheung@hktdc.org