Featured
Summit Wireless Technologies: Increased Home Entertainment Consumption & the New IoT Module Are Heating Things Up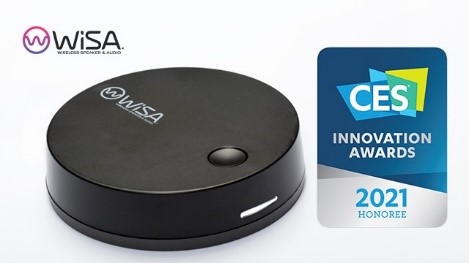 Consumer electronics is a multibillion-dollar industry that is continually expanding and advancing with technology as companies continue to introduce new product lines in response to changing lifestyles. It was one of the few industries that continued to remain strong despite temporary closure of physical stores due to the COVID-19 pandemic as the demand was met through online media. While there are many mega- and large-cap stocks in this domain that have benefitted from this rising demand, the strong macro has already been factored into the pricing of most of these companies. There are very few truly hidden gems within this sector that reside in the small cap and micro-cap space, which are truly undervalued. A timely example of an undervalued micro-cap that has plenty of growth potential, is Summit Wireless Technologies (NASDAQ:WISA).
Company Overview
Summit Wireless Technologies develops and provides reliable wireless sound technology for intelligent devices and next-generation home entertainment. The company is focused on solving many challenges faced by consumers by providing technologies that support interoperability across the audio industry. It designs customized application-specific integrated circuits (ASICs) that go to wireless modules that are predominantly built into speakers and some TVs, AVR receivers and small dongles for transmission. The company partners with some of the leading electronic brands and original equipment manufacturers (OEMs) such as Harman, a Samsung company, LG Electronics, Bang & Olufsen, and Klipsch to deliver seamless, dynamic audio experiences for high-definition content to consumers across the globe. Summit Wireless is headquartered in San Jose, CA with sales teams in Taiwan, China, Japan, and Korea.
The Proliferation of WiSA-Enabled Products
Summit was a founding member of WiSA, the wireless speaker and audio association which is an international trade organization comprised of leading audio, CE, and manufacturing brands who together, define global standards for high-resolution audio. There are currently over 70 brands participating in the WiSA association. The WiSA certified components assure an excellent wireless home entertainment experience. They are also known to have exceptionally low latency i.e., very minimal time taken for an audio signal to move from its source to a speaker. By transmitting wireless audio to speakers at Blu-ray quality, WiSA has successfully addressed the problem of concealed wiring. Given the rising demand for home entertainment systems with increasing consumption of OTT (over-the-top) and television content in the stay-at-home environment, wireless sound quality and audio synchronization are features that are increasingly appreciated by consumers, which is why it is highly likely that there is going to be a sharp rise in the demand for WiSA-enabled systems. In fact, the association recently launched the "WiSA Wave" marketing program, which is designed to educate home theatre consumers regarding WiSA and WiSA certified products. This marketing effort may create a huge opportunity for Summit Wireless to sell more of its products and to license its proprietary software technology, currently embedded in wireless modules, to other companies who can then embed its technology into other Wi-Fi-enabled smart devices. For example, Skyworth, a Hong Kong-listed company which claims the position of largest TV manufacturer in China, is expected to introduce smart TVs to the market with built-in WiSA transmitters. More TV brands supporting WiSA could imply a huge revenue increase for Summit.
The New Internet of Things (IoT) Transceiver Module
Summit Wireless has recently been in the news for the launch of its new IoT (Internet of Things) module named "Discovery" which is designed for wireless audio transmission from TVs and soundbars, to surrounds and subwoofer speakers for an immersive sound experience. This module has developed a new wireless speaker pairing process option called "ConexUs" which alleviates for consumers, the third party expertise usually required, to set up subwoofer speakers; this concern has impacted the home entertainment technology market for some time. The ConexUs pairing option uses a simple button push, which takes less than 60 seconds, to pair speakers and assign their correct audio channel, hence barring the need for router access, network passwords, special user interfaces, or mobile applications. The Discovery module meaningfully reduces cost and is suited for entry-level home entertainment systems. With the growing demand for robust wireless connectivity, this low-cost consumer-friendly module is expected to bring in higher operating margins for Summit in 2021.
Final Thoughts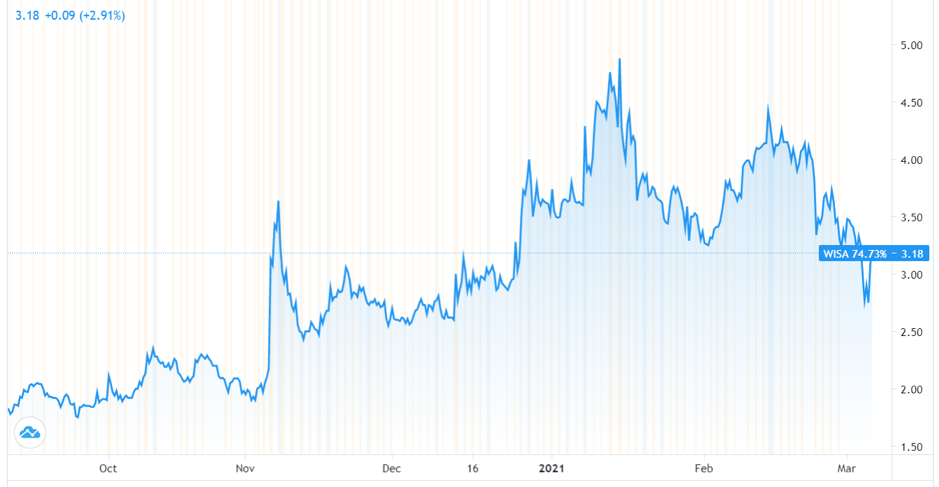 As we can see in the chart above, Summit Wireless Technologies' stock has gained strong momentum and has appreciated by a staggering 74.73% in the past 6 months. The company has grown its revenues for 2 consecutive quarters with a 45% jump in its most recent result. The company has $ 9.1 million in the form of cash and cash equivalents which appears sufficient to fund its growth for 2021. WiSA has already launched its first branded product called "SoundSend", an HDMI wireless transmitter that connects smart TVs to WiSA-certified speakers and extends the addressable market by 800 million smart TVs. In addition to that Summit's management succeeded in adding 7 new WiSA members, including Skyworth. We expect the soundbar market to rise to around 50 million units a year which is a particularly large market pie. If Summit can tap into even 5% of this market, it would result in a neat 50x return for its shareholders. To sum up, with the new low-cost IoT module, increasing demand for innovation in the industry, and manufacturer support for WiSA standards, investors can look at Summit Wireless as a robust investment an ever-changing consumer electronic market.