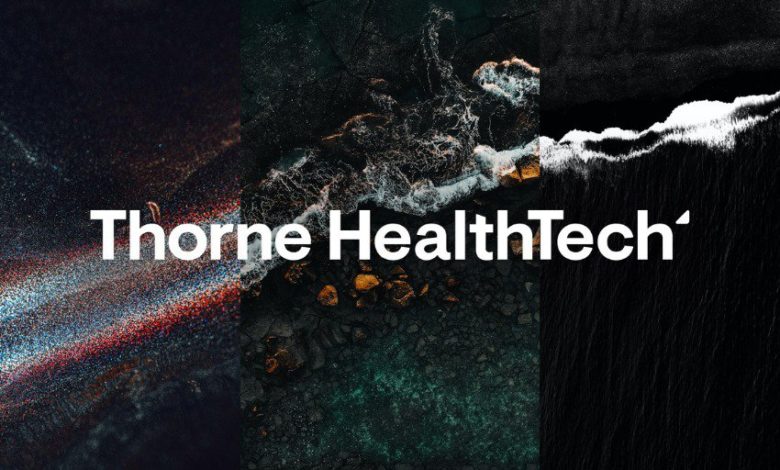 As discussed in a recent Reuters article on Thorne, Thorne HealthTech (NASDAQ:THRN) is exploring a sale of the company which could possibly make it an interesting short term investment candidate. The company, recognized for its groundbreaking solutions in personalized health and wellness, is currently having a market capitalization around the $314 million mark but could command a massive premium in the event of a sale given its solid presence across consumer, professional, and corporate wellness landscapes. The increasing demand for personalized healthcare solutions and a heightened awareness of preventive care have been key drivers of the growth in this sector and we believe that there could be several healthcare and consumer goods players that could get meaningful synergies from acquiring Thorne.
What Does Thorne HealthTech Do?
Thorne HealthTech, Inc., a globally active wellness company founded in 1984 and headquartered in New York, New York, has dedicated itself to the pursuit of personalized health and wellness solutions. Through a diverse offering of health tests including those for sleep, stress, weight management, gut health, heavy metals, and biological age, the company creates detailed molecular portraits of its customers. This intricate information forms the basis for Thorne's development of nutritional supplements and the provisioning of targeted wellness education. Leveraging the Onegevity platform, Thorne integrates and interprets individual biological attributes to paint an insightful picture of a person's overall health state. The platform's strength lies in its actionable insights, offering personalized data, products, and services tailored to each individual. It enables users to adopt a proactive approach towards enhancing and preserving their health. The primary clientele of Thorne HealthTech encompasses healthcare professionals, professional athletes, as well as professional sports and Olympic teams, thus reinforcing its reputation as a leading, science-driven provider in the field of personalized health and wellness.
Thorne's Offerings Collaborations, and Growth Strategy
Thorne's recent advances in health technology have been marked by immense innovation and collaboration, specifically with Mayo Clinic, positioning the company as a leader in the highly competitive nutraceutical space. With 11 at-home testing products on offer, Thorne allows customers to monitor their health and formulate personalized wellness plans. The latest breakthrough in this area is a new gut health test featuring Thorne's patent-pending Microbiome wipe. Coupled with an intensive focus on research and development, Thorne has been part of several studies, such as a Mayo Clinic study on the impact of its SynaQuell supplement on neurological functioning in ice hockey players. SynaQuell, designed for high-contact sports athletes, showcases the company's ability to cater to specific niches.
In addition, Thorne has also launched a new at-home blood sampling device, which has received CE Market Certification in the European Union, marking potential expansions into other markets like Japan. Apart from strong D2C growth, Thorne's diversified portfolio and investment in R&D also contribute to this success. Despite Amazon's dominance with a 37.8% market share in ecommerce, Thorne has skillfully utilized its website and user experience (UX) design to attract customers, sustaining margins around 50% over the past three years, a favorable figure in comparison to typical supplements companies' gross profit margins of 20-50%.
Thorne's product range, including over 180 supplements, addresses various health issues and includes basic as well as advanced supplements, catering to top focus areas such as multivitamins, Vitamin D, and Omega-3. Thorne's nutraceuticals for sleep, cognitive products, bone and joint health supplements, and gut health supplements align with market trends and cater to current consumer preferences, setting it on a strong growth trajectory. From offering basic melatonin supplements for sleep or advanced products like GABA supplements to going as far as tapping into growing markets like cognitive enhancement or gut health, Thorne's strategic positioning and innovation point towards a company poised for continued success in the health and wellness landscape.
Who Could Be Interested In Acquiring Thorne?
Thorne HealthTech could easily be of interest not just to private equity funds but also a wide variety of strategic buyers. Some possible examples of such companies that could potentially see the most meaningful synergies from acquiring Thorne HealthTech are:
Unilever (NYSE:UL): This multinational consumer goods player boasts a robust portfolio of health and wellness brands, including Horlicks, Pukka Herbs, and Olly Nutrition. By acquiring Thorne HealthTech, Unilever could leverage their expertise in personalized nutrition and health intelligence, gaining a foothold in the professional and corporate wellness markets.
Nestlé (OTC:NSRGY): Nestlé is the world's largest food and beverage company and has been broadening its reach into the health and wellness sector through acquisitions like Atrium Innovations, Persona Nutrition, and Vital Proteins. The company could further enhance its position in the personalized nutrition space by incorporating Thorne HealthTech's science-based solutions and testing capabilities.
Abbott Laboratories (NYSE:ABT): This global healthcare behemoth offers a diversified portfolio encompassing medical devices, diagnostics, nutritionals, and branded generic medicines. Through the integration of Thorne HealthTech's specialized solutions, Abbott could potentially bolster its existing offerings, especially in critical areas such as diabetes care, cardiovascular health, and metabolic health.
Johnson & Johnson (NYSE:JNJ): Johnson & Johnson operates across a wide spectrum of domains, including consumer health, medical devices, pharmaceuticals, and wellness. The acquisition of Thorne HealthTech could prove beneficial to them as Thorne could be a valuable addition to their innovative approach to personalized health and wellness solutions especially given its strong partnerships with organizations like Mayo Clinic and professional sports teams.
Final thoughts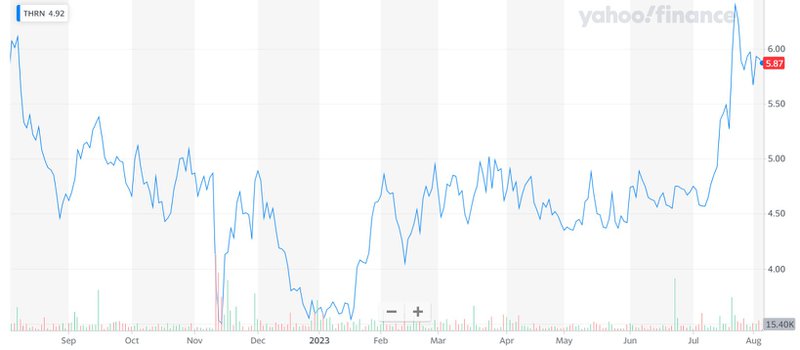 We can see Thorne's stock price being reasonably volatile and not showing much appreciation in the past year. However, the increasing rumors associated with a sale could change this. It is worth highlighting that the company's revenues have more than doubled in the past 4 years and it is also profitable now. Also, it is trading at a valuation of hardly 1.53x in terms of Enterprise Value/ Revenues. We believe the company's stock could appreciate immensely irrespective of whether it is acquired or not as there is huge scope for multiples expansion in Thorne's case especially given its scientific approach to product marketing and development that sets it apart in a crowded market with around 1,440 supplement companies in the United States. Overall, we believe that Thorne could prove to be an attractive investment opportunity given the recent developments.
Disclaimer
This website is a wholly owned subsidiary of SCD Media, LLC, herein referred to as Smallcaps Daily. Our publications are a commercial advertisement and are for general information purposes ONLY. We are engaged in the business of marketing and advertising companies for monetary compensation. We may receive compensation for this article on a PPC basis as an affiliate. Never invest in any stock featured on our site or emails unless you can afford to lose your entire investment. The disclaimer is to be read and fully understood before using our services, joining our site or our email/blog list as well as any social networking platforms we may use. PLEASE NOTE WELL: Smallcaps Daily and its employees are not a Registered Investment Advisor, Broker Dealer or a member of any association for other research providers in any jurisdiction whatsoever.Release of Liability: Through use of this website viewing or using you agree to hold Smallcaps Daily, its operators owners and employees harmless and to completely release them from any and all liability due to any and all loss (monetary or otherwise), damage (monetary or otherwise), or injury (monetary or otherwise) that you may incur. The information contained herein is based on sources which we believe to be reliable but is not guaranteed by us as being accurate and does not purport to be a complete statement or summary of the available data. Smallcaps Daily encourages readers and investors to supplement the information in these reports with independent research and other professional advice. All information on featured companies is provided by the companies profiled, or is available from public sources and Smallcaps Daily makes no representations, warranties or guarantees as to the accuracy or completeness of the disclosure by the profiled companies. None of the materials or advertisements herein constitute offers or solicitations to purchase or sell securities of the companies profiled herein and any decision to invest in any such company or other financial decisions should not be made based upon the information provided herein. Instead Smallcaps Daily strongly urges you conduct a complete and independent investigation of the respective companies and consideration of all pertinent risks. Readers are advised to review SEC periodic reports: Forms 10-Q, 10K, Form 8-K, insider reports, Forms 3, 4, 5 Schedule 13D. Smallcaps Daily is compliant with the Can Spam Act of 2003. Salesparq, LLC does not offer such advice or analysis, and Smallcaps Daily further urges you to consult your own independent tax, business, financial and investment advisors. Investing in micro-cap and growth securities is highly speculative and carries and extremely high degree of risk. It is possible that an investors investment may be lost or impaired due to the speculative nature of the companies profiled. The Private Securities Litigation Reform Act of 1995 provides investors a safe harbor in regard to forward-looking statements. Any statements that express or involve discussions with respect to predictions, expectations, beliefs, plans, projections, objectives, goals, assumptions or future events or performance are not statements of historical fact may be forward looking statements. Forward looking statements are based on expectations, estimates, and projections at the time the statements are made that involve a number of risks and uncertainties which could cause actual results or events to differ materially from those presently anticipated. Forward looking statements in this action may be identified through use of words such as projects, foresee, expects, will, anticipates, estimates, believes, understands, or that by statements indicating certain actions & quote; may, could, or might occur. Understand there is no guarantee past performance will be indicative of future results.In preparing this publication, Smallcaps Daily, has relied upon information supplied by its customers, publicly available information and press releases which it believes to be reliable; however, such reliability cannot be guaranteed. Investors should not rely on the information contained in this website. Rather, investors should use the information contained in this website as a starting point for doing additional independent research on the featured companies. Smallcaps Daily has not been compensated for this article. The advertisements in this website are believed to be reliable, however, Smallcaps Daily and its owners, affiliates, subsidiaries, officers, directors, representatives and agents disclaim any liability as to the completeness or accuracy of the information contained in any advertisement and for any omissions of materials facts from such advertisement. Smallcaps Daily is not responsible for any claims made by the companies advertised herein, nor is Smallcaps Daily responsible for any other promotional firm, its program or its structure. Smallcaps Daily is not affiliated with any exchange, electronic quotation system, the Securities Exchange Commission or FINRA.