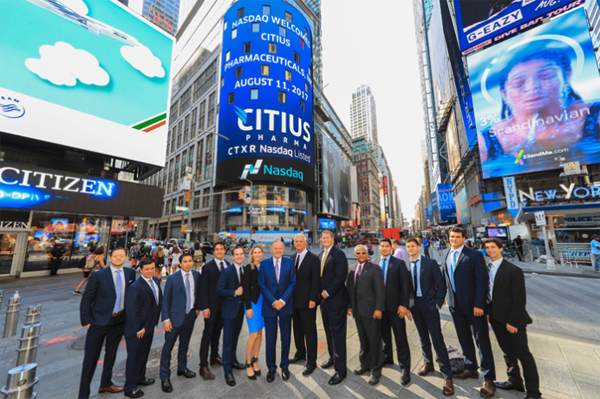 Citius Pharmaceuticals Successfully Raises $10 Million – CTXR announced today that the Company completed the largest capital raise in its history of $10 million, and insiders were responsible for supporting 50% of the raise. Mr. Myron Holubiak, President and CEO of Citius Pharmaceuticals, invested $1 Million in the Company and Mr. Leonard Mazur, Executive Chairman of Citius Pharmaceuticals invested $4 Million to bring the deal into fruition.
Myron Holubiak, President and CEO Stated: "Management once again demonstrated its confidence in a very tangible way in Citius and its late stage development program. We intend to use the capital from the raise towards our Phase 3 clinical Mino-Lok trial for the treatment of catheter related bloodstream infections (CRBSIs), and our Phase 2b clinical trial of CITI-002 for the symptomatic treatment of hemorrhoids. This raise should enable us to reach some critical milestones."
Get The Full Report Here: https://finance.yahoo.com/news/citius-pharmaceuticals-successfully-raises-10-120000460.html
CTXR has always been on our radar and for good reason. Get the Key Catalysts below:
Up-list to the NASDAQ exchange
Positive news: Citius Announced The Closing of $10Mil Underwritten Offering Priced At-the-Market
Tiny float of 3.46 million shares, according to Yahoo Finance
Significant insider ownership (About 60% according to Yahoo Finance)
Citius Pharma offers a promising pipeline of late-stage treatments.
CTXR has a long history of making double & triple digit gains for our members
CTXR received "Fast Track" designation by the FDA for the Mino-Lok™ Investigational Trial
CTXR showed results of a 95% efficacy in salvaging infected catheters for Mino-Lok™
About CTXR's Products
Mino-Lok™
The Mino-Lok™ product is an antibiotic lock solution used to treat patients with catheter-related bloodstream infections (CRBSIs). CRBSIs are very serious, especially in cancer patients receiving therapy through central venous catheters (CVCs), and in hemodialysis patients where venous access presents a challenge.
The Mino-Lok™ product is intended to salvage the CVC obviating the need to remove and replace the catheter. This is a recognized unmet medical need. There are no alternatives other than the removal and reinsertion of the CVC once the CVC becomes infected. Studies show that removal and reinsertion of CVCs have a 15 to 20% complication rate, including pneumothorax, misplacement, and arterial puncture.
The Mino-Lok™ product contains a proprietary combination of minocycline, edetate (disodium EDTA), and ethyl alcohol, all of which act synergistically to break down bacterial biofilms, eradicate the bacteria, provide anti-clotting properties to maintain patency in CVCs, and salvage the indwelling catheter.
The Mino-Lok™ product is used in two-hour locking cycles allowing the CVC to be used for its intended purposes for the remaining 22 hours each day.
Program Highlights
Partnership with a leading cancer center and support from key industry opinion leaders.
In a Phase 2b trial, the Mino-Lok™ product demonstrated a 100% efficacy rate in salvaging infected CVCs; the Mino-Lok™ product had no significant adverse events compared to an 18% serious adverse event rate when infected CVCs were removed and replaced.
FDA QIDP designation and patent protected until June 2024.
Advancing to a Phase 3 pivotal superiority trial.
Pivotal Study Coming
Mino-Lok was originally developed by clinicians and technologists at the venerable M.D. Anderson Cancer Center. Through an exclusive worldwide license (excluding South America) signed in May 2014, Citius assumed control of the technology. Mino-Lok has recently been designated by the FDA as a Qualified Infectious Disease Product (QIDP), making it eligible for priority review, the FDA's Fast Track program, and a five-year extension of market exclusivity under the Hatch-Waxman Act.
In a 90-patient Phase 2b trial, Mino-Lok demonstrated a 100% efficacy rate in salvaging infected CVCs. In addition, no significant adverse events were reported in the Mino-Lok arm compared to 18% serious adverse events in patients where the infected CVC was removed and replaced. Research on Mino-Lok shows it is able to eradicated some of the most difficult-to-treat pathogens, including Gram-positive, Gram-negative and fungi that are resistant to many of today's antibiotics.
Citius is now preparing for a 700-patient, multi-center pivotal Phase 3 study. If enrollment, anticipated to include 50-65 clinical sites, goes as scheduled and the data validates the mid-stage research, Citius believes it can have a New Drug Application approved in about 30 months.
Hydro-Lido
As discussed in a recent press release from Citius, 10 million Americans suffer from hemorrhoids, a gastrointestinal disorder characterized by pain, swelling, itching and bleeding of hemorrhoidal veins. According to the National Institute of Health, about 75% of people will have hemorrhoids at some point in their life. Over 25 million units of over the counter topical hemorrhoid-treatment products are sold annually in the U.S.; and the estimated prescription market in the U.S. is over $1.0 billion.
The Company's Hydro-Lido product is a proprietary topical formulation combining hydrocortisone and lidocaine. Hydrocortisone, an anti-inflammatory topical steroid, and lidocaine, an anesthetic product, are commonly used today to treat hemorrhoids. However, there is not a single product today, either alone or in combination, backed by safety and efficacy data collected through the clinical trial process to receive FDA approval for the treatment of hemorrhoids.
Data from a 210-patient Phase 2a study evaluating Hydro-Lido in patients with Grade I and Grade II hemorrhoids was released in February. The study was not powered to show statistical significance, but designed as a dose finding study to evaluate the optimal concentration of hydrocortisone and lidocaine in Hydro-Lido. As such, patients received either a placebo or one of six active drug treatments. Based upon patient feedback and physician assessments using the Global Score of Disease Severity, Hydro-Lido performed favorably compared to comparators with respect to faster onset of relief of symptoms and reduction in disease severity. In fact, Hydro-Lido seemed to achieve greater relief of pain, discomfort, and itching in only two days compared to either of its components alone.
Mr. Holubiak informed us that further study is needed since the Phase 2a trial was designed to identify an optimal concentration and the data are too small to jump to conclusions; but, Citius is now prepared to conduct a Phase 2b trial and get the most precise evaluation of the efficacy of combination of hydrocortisone and lidocaine.
"Our goal with Hydro-Lido is to successfully complete a Phase 2b trial and have it Phase 3 ready in order to pursue licensing opportunities," said Holubiak. "We're talking about an untapped market with an FDA-approved therapy. With a growing aging population, the market is going to get even bigger. I suspect that there will be strong interest in Hydro-Lido with compelling data from a larger trial."
The Company is preparing to initiate a 300-patient Phase 2b trial during 2017. With therapy only taking 14 days, this trial should move forward expeditiously.
Hydrocortisone and lidocaine are already both approved by the FDA separately. Citius can leverage safety data from the active ingredients to expedite development of Hydro-Lido through the FDA 505(b)(2) pathway. Not only does it shorten development time, but it also conserves cash resources and can open the possibility of other incentives, including extended market exclusivity.
All Star Management
Leonard Mazur, Chairman of the Board, Director
Mr. Mazur is an accomplished entrepreneur and pharmaceutical industry executive with notable accomplishments in founding, building and creating value and returns for investors. Mr. Mazur was the Chairman of Leonard Meron Biosciences, Inc. prior to its merger with Citius in March 2016. He is the cofounder and Vice Chairman of Akrimax Pharmaceuticals, LLC ("Akrimax"), a privately held pharmaceutical company specializing in producing cardiovascular and general pharmaceutical products. Akrimax was founded in September 2008 and has successfully launched prescription drugs while acquiring drugs from major pharmaceutical companies. From January 2005 to May 2012, Mr. Mazur also co-founded and served as the Chief Operating Officer of Triax Pharmaceuticals LLC ("Triax"), a specialty pharmaceutical company producing prescription dermatological drugs. Prior to joining Triax, he was the founder and, from 1995 to 2005, Chief Executive Officer of Genesis Pharmaceutical, Inc. ("Genesis"), a dermatological products company that marketed its products through dermatologists' offices as well as co-promoting products for major pharmaceutical companies. In 2003, Mr. Mazur successfully sold Genesis to Pierre Fabre, a leading pharmaceutical company.
Carol Webb, Director
From 2000 to 2005, Ms. Webb served as Company Group Chairman of Johnson & Johnson, and from 1987 to 2000 she served in capacities including President, Vice President, Executive Director, Product Management and Senior Product Director of Ortho Biotech. Ms. Webb has worked in various positions including Sales Representative, Sales Trainer, Product Manager and Manager of Public Policy at Roche Laboratories from 1972 to 1983. Carol has extensive experience in the oncology supportive care space and was responsible for the successful development and launch of several successful products, including PROCRIT® (epoetin alfa). Ms. Webb received her B.S. in Biology from Bowling Green State University.
Start your own research on CTXR immediately as this one is looking strong heading into next week. And, as always, stay tuned for more news and updates!