News
Cutting-edge Technologies at Hong Kong Tech Fairs Attract Over 66,000 Buyers Worldwide Hong Kong –

(NewMediaWire) – April 16, 2023 — (ACN Newswire) – Hong Kong showcased its strengths in innovation and technology (I&T) at a series of innovation and tech fairs, including the first-ever InnoEX co-organised by the Government of the Hong Kong Special Administrative Region (HKSAR) and the Hong Kong Trade Development Council (HKTDC), held concurrently with the Hong Kong Electronics Fair (Spring Edition) and Hong Kong International Lighting Fair (Spring Edition).

The three tech fairs attracted over 66,000 buyers from some 160 countries and regions, including Mainland China, the Association of Southeast Asian Nations (ASEAN), Korea, Taiwan, USA, Japan, India and Russia. The overwhelming response and lively exchange of ideas at the events highlighted Hong Kong's rapid development into an international I&T hub, which connects the world with Mainland China and ASEAN.
The three exhibitions took place in hybrid format, offering access in-person and online via the HKTDC's EXHIBITION+ platform, which enables exhibitors and buyers from around the world to continue conducting business online until 22 April. With the Click2Match smart business matching platform, the fairs have facilitated over 3,000 business meetings so far.
Sophia Chong, HKTDC Deputy Executive Director, said, "It is encouraging to see that the three tech fairs brought together nearly 3,000 exhibitors from 20 countries and regions to present a wide range of innovative solutions, cutting-edge technologies and electronic products, to create business opportunities across regions and industries and to explore the unlimited potential of innovation and technology cooperation."
"Many exhibitors were pleased to receive orders on the spot and secure business partnerships. We are pleased to see the three tech fairs playing a major role in the innotech ecosystem of the Guangdong-Hong Kong-Macao Greater Bay Area (GBA), which attracts the participation of ASEAN and Asia markets, and those further afield in Europe and the Americas. The success of these events reflects Hong Kong's determination to develop at full speed into an international centre for innovation and technology and reaffirms the status of the city as an international trade and exhibition centre," she added.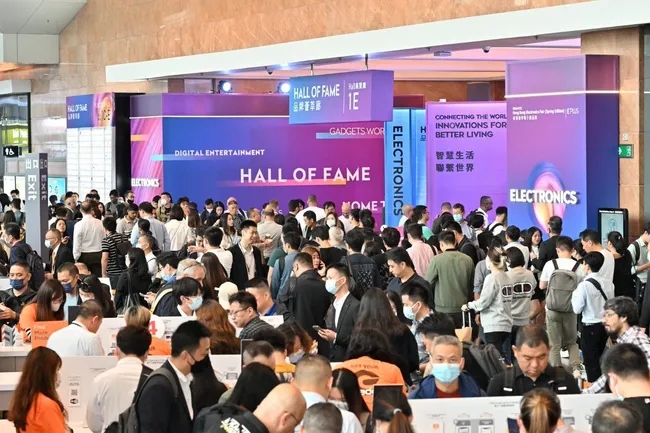 InnoEX and the Hong Kong Electronics Fair were flagship events of the inaugural Business of Innovation & Technology Week (BITWeek), which also included the Digital Economy Summit, co-organised by the HKSAR Government and Cyberport. Together, the three BITWeek events recorded a total attendance of over 50,000 local and overseas visitors.
The three tech fairs of the HKTDC featured more than 100 innovative solutions to drive smart city development in Hong Kong presented by the Smart Hong Kong Pavilion, artificial intelligence (AI) and robotics projects undertaken by 14 research laboratories in collaboration with world-renowned universities introduced by the InnoHK initiative under the Innovation and Technology Commission, the latest electronics and smart lighting solutions as well as a series of forums, panel discussions and seminars featuring distinguished experts to share their insights on the latest technological trends.
AI, smart city and metaverse dominating the conversation
More than 50 events were held during the fairs, including the InnoEX Forum, Under 30 – Tech Trends Symposium for the Next Generation, Asian Lighting Forum, and the "France in the Game – Sustainable Development for the Cities of Tomorrow" organised by So French So Innovative pavilion, and the "Collaborate & Build Data Ecology between Twin Cities" event organised by the Office of the Government Chief Information Officer (OGCIO) and Shanghai Municipal Commission of Economy and Informatization. Robust discussions on trending topics, such as AI, smart city and metaverse attracted a large number of industry participants.
Over 80% of I&T industry expects sales to grow in the next one to two years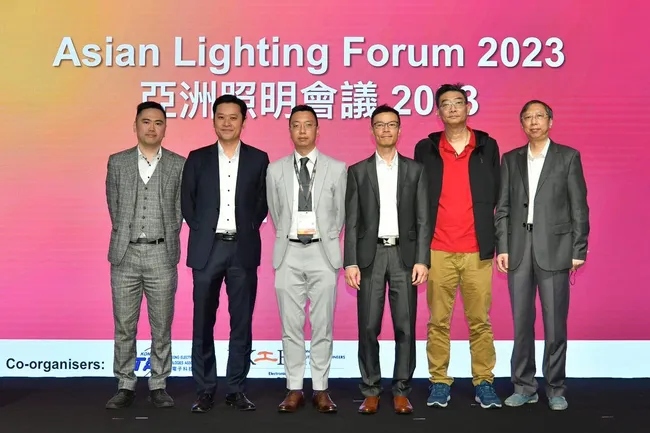 The majority of the over 1,000 exhibitors and buyers, responding to independent surveys commissioned by the HKTDC at the fairs, held optimistic views on their upcoming business development and sales. They agreed that Hong Kong offers the advantage of connecting the world with the GBA and ASEAN.
According to the survey, 75% of respondents at InnoEX believe that overall sales will increase in the next six months to a year. A total of 86% of respondents expect their overall sales to increase in the next one to two years.
Respondents believe that the biggest advantage of Hong Kong's innovation sector lies in the city's highly skilled and multicultural talent pool (26%), creative technology solutions (25%) and its unique role as an intermediary between Mainland China and the world (21%).
In addition, with the support of policies, many companies are committed to expanding into ASEAN markets. 38% of local exhibitor respondents are trying or planning to expand into the ASEAN countries, while 31% of respondents plan to expand into the GBA and 89% of them were optimistic about opening up their businesses in the GBA market. 21% of respondents plan to expand into other non-GBA Chinese cities.
Furthermore, around 50% and some 30% of local exhibitor respondents, respectively, believe that policy support from the Hong Kong and mainland governments and/or assistance from other organisations in both places, the willingness to cooperate by mainland and international corporations as well as leveraging the complementary advantages of Hong Kong and other GBA cities are favourable for Hong Kong innovation companies to explore the GBA mainland cities market.
Among the respondents of the Hong Kong Electronics Fair (Spring Edition) and Hong Kong Lighting Fair (Spring Edition), 58% of the respondents believed that overall sales would increase in the next six months to one year. A total of 72% of respondents expect their overall sales to increase in the next one to two years. In terms of product trends, respondents at the Hong Kong Electronics Fair (Spring Edition) identified household appliances (21%), audio-visual products (21%) and electronic or electrical accessories (20%) as having the greatest growth potential in key sales markets this year.
As for the Hong Kong Lighting Fair, more than 51% of the respondents believe that LED type of lighting products have the greatest growth potential among the major sales markets, followed by commercial lighting (33%), outdoor & public lighting (27%) and residential lighting (20%).
Smart products demand drives engaging business negotiations at tech fairs
Shanghai Yuweia Technology Co., Ltd. promoted its virtual reality products at InnoEX. Mr Ryan Zhu, Chief Marketing Officer of the company, stated: "This fair was a huge success! Buyers from both domestic markets and abroad highly praised our products. In addition to meeting hundreds of potential clients, we received orders from Japan, Canada, the United States, Indonesia, Singapore and other places. We intend to take part in the fair again next year and bring our latest products to consumers worldwide."
During the fairs, government officials from ASEAN countries, Mainland China and Hong Kong met with exhibitors from various countries and regions at the ASEAN Smart City Development Roundtable to exchange ideas. Mr Lim Chinn Hwa, Senior Director of GovTech of Singapore, said, "Hong Kong and Singapore can potentially collaborate on investing in technologies relevant to smart cities. Together, we can also work on aspects, like handling the different data collected, dealing with the differences in the two places' governance approach, identifying talents who can serve the needs of both places and facilitating knowledge exchange. Sharing ideas and policies in these areas is highly beneficial."
Hong Kong exhibitor Doss (H.K.) Limited promoted its Bluetooth speakers at the Hong Kong Electronics Fair (Spring Edition). According to Ms Vivian Liang, Sales Manager of the company, "We aim to explore new markets and strengthen relationships with existing customers through the fair. Face-to-face interactions with customers during the fair helped us foster long-lasting relationships and generate more orders. This fair produced positive outcomes. We met with about 50 new buyers, mostly from Europe and the United States. We anticipate receiving orders totalling US$100,000."
Robust global purchasing power through Hong Kong
The resumption of customs clearance between the mainland, Hong Kong and the world attracted buyers from all over the world to the fairs, with robust sales activity generated on-site and online. Mr Arvine Quizon, Head of Technology of Leading Edge based in Australia travelled to Hong Kong and sourced at the Electronics Fair. He highly appreciated the fair, saying "It's a great place for horizon scanning, finding new trends and the focus for the industry. I've always loved the fair in Hong Kong. It's the best in the world for sourcing new products. It's great to be back since the pandemic and I'll certainly be back more often."
Exhibitor Ms Vivian Wu, General Manager of Zhongshan Obals Lighting & Electric Co., Ltd from Mainland China obtained a huge order at the fair. She said, "We are thrilled to have received an onsite order worth US$3 million for our LED commercial lighting products from a long-term customer from Australia on the first day of the fair. Buyer traffic has been heavy at the fair. We have established more than 300 new contacts with quality buyers from new markets, such as Africa, Asia and the Middle East. And about 30 new buyers came from large companies, which have their own brands."
Websites
– InnoEX: https://www.hktdc.com/event/innoex/en
– Hong Kong Electronics Fair (Spring Edition): https://www.hktdc.com/event/hkelectronicsfairse/en
– Hong Kong International Lighting Fair (Spring Edition): https://www.hktdc.com/event/hklightingfairse/en
– The HKTDC's Media Room: http://mediaroom.hktdc.com/en
– Photo download link: https://bit.ly/3UBGlaG
About HKTDC
The Hong Kong Trade Development Council (HKTDC) is a statutory body established in 1966 to promote, assist and develop Hong Kong's trade. With 50 offices globally, including 13 in Mainland China, the HKTDC promotes Hong Kong as a two-way global investment and business hub. The HKTDC organises international exhibitions, conferences and business missions to create business opportunities for companies, particularly small and medium-sized enterprises (SMEs), in the mainland and international markets. The HKTDC also provides up-to-date market insights and product information via research reports and digital news channels. For more information, please visit: www.hktdc.com/aboutus. Follow us on Twitter @hktdc and LinkedIn.
Media enquiries
For more information, please contact Raconteur:
Molisa Lau, Tel: +852 6187 7786, Email: molisalau@raconteur.hk
Betsy Tse, Tel: +852 9742 7338, Email: betsytse@raconteur.hk
The HKTDC's Communications and Public Affairs Department:
Eric Wong, Tel: +852 2584 4575, Email: eric.ks.wong@hktdc.org
Clementine Cheung, Tel: +852 2584 4514, Email: clementine.hm.cheung@hktdc.org