Healthcare
News
Evitrade Health Systems (EVA-CNX) Setting Up to be the Breakout Stock of 2018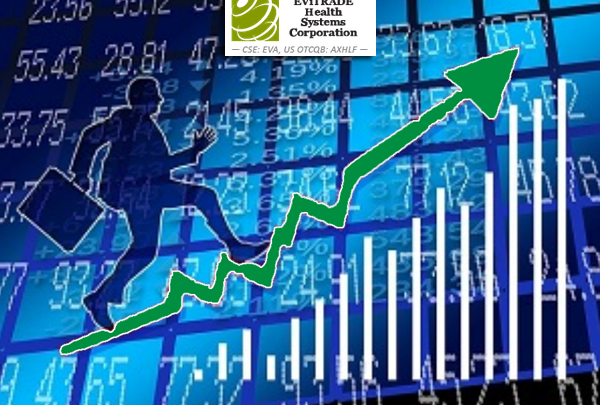 Put EVA on the top of your Watchlist Now! (EVA-CNX)
Plants are the foundation of all modern medical science. Even today, essential oils and other chemicals from the farm and garden make their way into high-tech therapies for huge targets — tobacco derivatives can cure ebola, here's a company treating Alzheimer's disease with daffodil bulbs, the list goes on and on.
Never mind nutraceuticals, high-end cosmetics and "herbal medicine," which is easily a $70 billion industry. Never mind coffee and chocolate translating mood-altering effects into gigantic export markets. Those are sideshows compared to the role plants play in the Big Pharma machine.
Poppies grown in British fields end up in $13 billion prescription painkillers. Access to the humble Peruvian shrub that fights malaria turned the course of World War 2. And now demand for active pharmaceutical ingredients is so fierce that the big boys are rolling out sophisticated "bio reactors" to feed the need.
But that's the challenge. Mother Nature doesn't obey standard manufacturing guidelines. Every plant produces different levels of active ingredients and every step in the extraction process can warp the active profile in the molecules. To put it at its simplest, quality control is a problem.
Of course every "problem" for Big Pharma is an opportunity that an ambitious start-up with vision and the right collection of strategic assets can exploit. I'm thinking EVITRADE Health Systems Corp. (EVA-CNX or in the States OTCQB:AXHLF) has what it takes to become just that kind of disruptive player.
EVA is small right now, barely $10 million in market cap. We're in the early stages here, literally ground floor and some of the connections are extremely low profile — very few people on Bay Street or Wall Street have even started connecting all the dots.
The story starts back in December with a $2.25 million financing round that was a lot more successful than expected. Management originally only wanted to close the door at $1 million, but four days later demand for the deal was so intense that they upsized the offer to let early-stage investors grab another 10 million shares.
A day later, 85% of that additional supply was already absorbed and EVA had $2.25 million to start rolling up the assets they'd need to become a vertically integrated player in plant-based medicine. Now the REAL fun can start!
image
The first item on the shopping list was Cantech Molecular Research, a niche genetics lab that specializes in plant-based biotch — everything from analyzing samples on high-end systems like the ones used in major universities to breeding mass quantities of identical vegetable clones. The company calls these products "elite plants."
As EVA management points out, "the significance of this genetics technology is that it can be coupled along with advanced drug development software," effectively turning what was once the hit-and-miss of Mother Nature into reliable raw materials for Big Pharma drug discovery.
Every "elite plant" Cantech grows produces the same mix of essential oils, alkaloids and other active ingredients. And if that mix doesn't hit Big Pharma's clinical goals, just go back into the lab and breed something better!
While some species obviously have more tempting development prospects than others, this isn't just just a one-sprout wonder. The ultimate goal here is "creating large genetic mapping databases using the latest in next generation genetic sequencing platforms. The mapping will be done at a molecular level and will have the opportunity to identify the organisms' general health."
In that scenario, EVA becomes the gatekeeper to the entire universe of plant-based medicine, manufacturing and even healthier agriculture. Think of a farmer looking for certain genetically modified crops to plant. Or on the other hand, consider an organic-only food packager looking for a way to certify beyond scientific doubt that there aren't any "unwelcome" genes in the corn or the sugar or the chocolate or the coffee.
image
Certification is the key word. Even the process of deciding if food is organically grown is full of glitches. Moving up to the pharmaceutical world layers on higher standards and what amounts to an obsession with reliability, predictability, making the same pill from the same ingredients every single time.
Doing that with plants requires a lot of expensive equipment and complicated science. But if you know in advance that every single sprout is going to be identical, satisfying the regulators gets a whole lot easier. (Compliance eats up 25% of all pharma manufacturing costs so factory by factory a little investment in knowing the ingredients can save the industry BILLIONS a year.)
And then there's the $34 billion nutraceutical industry, where the effectiveness of each supplement or capsule varies widely according to the ingredient quality . . . and yet, almost perversely, the closer those ingredients get to the wildness of nature, the more health-hungry consumers will pay.
EVA can certify exactly how much of each essential oil or flavonoid or enzyme each plant makes. Once it maps the tissues and organizes the strains, that leads to a more reliable product, from farm to pharmacy.
A few short weeks ago, that value chain got tighter. Turns out EVA is ALSO negotiating to buy a health product marketing company, Artillery Labs.
Image
This one looks like an all-stock deal. In exchange for up to 5 million EVA shares, investors get a revenue-positive business. They also get a seat at the negotiating table beside the nutraceutical companies that already work with Artillery.
There's PreveCeutical, which sells peptide water enhanced with scorpion extract. They say it relieves pain and inflammation. Whatever the science is behind the claims, a company like EVA can check the molecules and confirm what's in each bottle.
SierraSil offers all-natural joint pain relief. And so and so forth, across the Artillery client line. These are the kinds of companies that have promising products but could benefit from a competitive edge . . . better metrics on the label, more efficient manufacturing systems, you name it. One way or the other, EVA can provide.
And here's the deal: doing the math, I don't think EVA has even come close to finishing its strategic M&A cycle. There's still cash left over from that December offering and besides, Artillery management decided to take the STOCK payout instead!
We may get a few more "dots" here to connect over the next few months. Where will they take the company? I have no idea, but it's clear that management is thinking in big-picture terms.
They're not just making a new vitamin. They're not just growing a new strain of Plant A or Plant B. They're looking at the entire process of sourcing drug ingredients, food ingredients, nutraceuticals. Think about ultra-elite chocolates and coffee, sourced by plant and certified to justify the premium price.
It's going to be a long journey. If you want to take it with them, you know where to reach them. The future is HERE.
Disclaimer :
This article is not financial advice. All individuals should verify all claims and perform their own due diligence on ​​EVA (and / or any other mentioned companies and / or securities), and read this disclaimer in its entirety.
Small Caps Daily profiles are not a solicitation or recommendation to buy, sell or hold securities. Small Caps Daily is a paid advertiser and is not offering securities for sale. Neither Small Caps Daily nor its owners, operators, affiliates or anyone disseminating information on its behalf is registered as an Investment Advisor under any federal or state law and none of the information provided by Small Cap Exclusive its owners, operators, affiliates or anyone disseminating information on its behalf should be construed as investment advice or investment recommendations.
Small Caps Daily does not recommend that the securities profiled should be purchased, sold or held and is not liable for any investment decisions by its readers or subscribers.
Information presented by Small Caps Daily may contain "forward-looking statements " within the meaning of Section 27A of the Securities Act of 1933 and Section 21E of the Securities Exchange Act of 1934. Any statements that express or involve discussions with respect to predictions, expectations, beliefs, plans, projections, objectives, goals, assumptions, or future events or performance, are not statements of historical fact and may be "forward-looking statements." Forward-looking statements are based on expectations, estimates and projections at the time the statements are made that involve a number of risks and uncertainties which could cause actual results or events to differ materially from those presently anticipated. Forward-looking statements may be identified through the use of words such as "expects, " "will, " "anticipates," "estimates," "believes," "may," or by statements indicating that certain actions "may," "could," or "might" occur.
THIS SITE IS PROVIDED BY SMALL CAPS DAILY ON AN "AS IS" AND "AS AVAILABLE" BASIS. SMALL CAPS DAILY MAKES NO REPRESENTATIONS OR WARRANTIES OF ANY KIND, EXPRESS OR IMPLIED, AS TO THE OPERATION OF THIS SITE OR THE INFORMATION, CONTENT, MATERIALS, OR PRODUCTS INCLUDED ON THIS SITE. YOU EXPRESSLY AGREE THAT YOUR USE OF THIS SITE IS AT YOUR SOLE RISK.
TO THE FULL EXTENT PERMISSIBLE BY APPLICABLE LAW, SMALL CAPS DAILY DISCLAIMS ALL WARRANTIES, EXPRESS OR IMPLIED, INCLUDING, BUT NOT LIMITED TO, IMPLIED WARRANTIES OF MERCHANTABILITY AND FITNESS FOR A PARTICULAR PURPOSE. SMALL CAPS DAILY DOES NOT WARRANT THAT THIS SITE, IT'S SERVERS, OR E-MAIL SENT FROM SMALL CAPS DAILY ARE FREE OF VIRUSES OR OTHER HARMFUL COMPONENTS. SMALL CAPS DAILY, ITS MEMBERS, MANAGERS, OWNERS, AGENTS, AND EMPLOYEES WILL NOT BE LIABLE FOR ANY DAMAGES OF ANY KIND ARISING FROM THE USE OF THIS SITE, INCLUDING, BUT NOT LIMITED TO DIRECT, INDIRECT, INCIDENTAL, PUNITIVE, AND CONSEQUENTIAL DAMAGES.
CERTAIN STATE LAWS DO NOT ALLOW LIMITATIONS ON IMPLIED WARRANTIES OR THE EXCLUSION OR LIMITATION OF CERTAIN DAMAGES. IF THESE LAWS APPLY TO YOU, SOME OR ALL OF THE ABOVE DISCLAIMERS, EXCLUSIONS, OR LIMITATIONS MAY NOT APPLY TO YOU, AND YOU MIGHT HAVE ADDITIONAL RIGHTS.
By using Small Caps Daily, you agree, without limitation or qualification, to be bound by, and to comply with, these Terms of Use and any other posted guidelines or rules applicable.
The website contains links to other related World Wide Web Internet sites and resources. Small Caps Daily is not responsible for the availability of these outside resources, or their contents, nor does Small Caps Daily endorse nor is Small Caps Daily responsible for any of the contents, advertising, products or other materials on such sites. Under no circumstances shall Small Caps Daily be held responsible or liable, directly or indirectly, for any loss or damages caused or alleged to have been caused by use of or reliance on any content, goods or services available on such sites. Any concerns regarding any external link should be directed to its respective site administrator or webmaster.
You agree to indemnify and hold Small Caps Daily, its officers, directors, owners, agents and employees, harmless from any claim or demand, including reasonable attorneys fees, made by any third party due to or arising out of your use of the website, the violation of these Terms of Use by you, or the infringement by you, or other user of the website using your computer, of any intellectual property or other right of any person or entity. We reserve the right, at our own expense, to assume the exclusive defense and control of any matter otherwise subject to indemnification.
Small Caps Daily, reserves the right, at its sole discretion, to change, modify, add and/ or remove all or part of this Disclaimer and / or Terms of Use at any time.