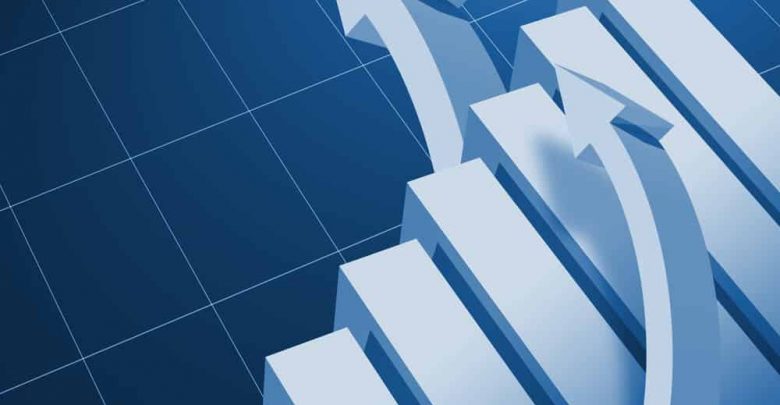 In 2018, the world is going to see one of the largest supply/demand imbalances in history.
---
(OTCMKTS:CBWTF) Cannabis Wheaton Income  
---
Canadian Prime Minister Justin Trudeau will legalize cannabis by Canada's 151st birthday, Canada Day, on July 1, 2018, and with the legalization will come a wave of demand for the product, both for medical purposes and recreational.
Already, however, and under the current laws that only allow for medical cannabis consumption, growers, distributors and retailers struggle to satiate the market. As CBC reported back in June, 2017:
"Licensed medical marijuana producers are trying to keep pace with extraordinary growth in the number of patients signing up for Health Canada's legal regime."
Analysts expect that the recreational market will treble the current market in Canada alone to $8 billion – and the industry is struggling to meet demand now.
As reported by Forbes back in April, 2017:
---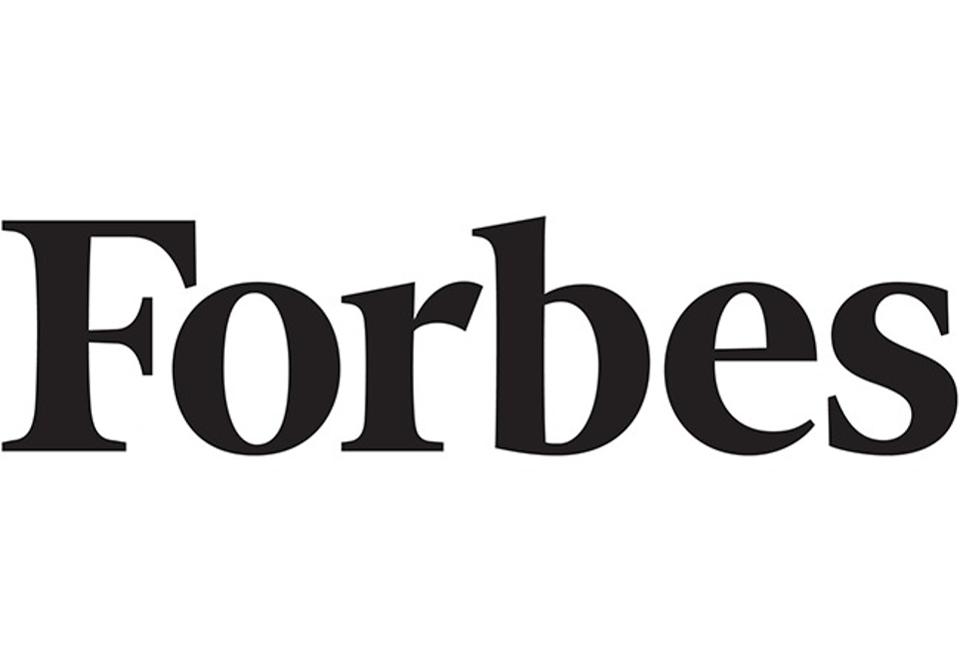 "In order to meet the low end of the estimates for the adult-use market, Canada would have to produce over 600,000 kg of cannabis a year. This is a significant increase over current levels and has sparked a rush to build new grow facilities."
Of course, for investors, a supply crunch can be an incredible opportunity. Take a position in a company that's set up to help remedy the supply/demand imbalance and you could be looking at explosive returns in a very short period of time.
With this opportunity in mind, our team of analysts set out to find a stock that is positioned to take advantage of the situation and that also – right now – remains somewhat under the radar, maximizing the potential for gains over the next twelve months.
And we found one – Cannabis Wheaton Income Corp (OTCMKTS:CBWTF).
But this isn't your standard cannabis company, it's much more than that, and that's why we like it so much.
A unique model… sort of
---
Anybody familiar with the mining industry – gold, silver, etc. – will likely already be familiar with the streaming model. For those that aren't, it's a system through which one entity finances a natural resource explorer, miner or producer in return for a royalty derived from, or a set amount of, the natural resource that comes out of whatever operations are in place.
Wheaton Precious Metals Corp (NYSE:WPM) is one of the most well-known companies in this space (yes, we noticed the name similarity too, and we like it). Wheaton Precious Metals lends money to gold mining companies and gets a portion of the gold that the miner produces down the line.
The benefits of this model are relatively straightforward. Mining and natural resource production is capital intensive but mining companies, and especially the younger ones, can often only gain access to the capital they require on unfavorable terms. Additionally, if they raise through the equities markets, shareholders will often get heavily diluted.
The cash that streaming companies provide is generally nondilutive and it's on terms that are far more favorable to the miner or producer that needs it.
Why are we rambling on about gold mining?
Well, here's the thing – Cannabis Wheaton has taken this model and applied it to the cannabis industry. That's why it's (sort of) unique.
The company gives cannabis growers and producers money to fund their operations in return for a share of what's grown and harvested. It also acquires entities in the space and is currently building out a large and well-established distribution network (more on both of these points shortly).
There's an old saying that goes something like this:
If you want to make money, don't waste time reinventing the wheel – take something that works in one industry and apply it to another.
And that's exactly what CBWTF is doing.
Fast Moving Operations
---
There's no time to hang around as the supply crunch is just around the corner and so one of the criteria we stipulated when our team set out on a search for a top opportunity in this space was that it was already established as a big player and that it was taking numerous, decisive steps towards increasing its presence in the North American cannabis market.
Cannabis Wheaton ticks both of these boxes.
Take a look at some of these recent developments – all achieved during the second half of this 2017:
September 20, 2017 – Exclusive Distribution Alliance:
Cannabis Wheaton Income Corp. (TSX VENTURE: CBW) ("Cannabis Wheaton", "CW", or the "Company") is happy to announce that it has entered an exclusive distribution alliance with the corporate owner of a national chain of independent pharmacies (the "Pharmacy Group") to develop and implement medical cannabis distribution and retail sale opportunities at all Pharmacy Group locations (collectively, the "Responsible Retailing Program").
October 05, 2017 – D.O.P.E Note Definitive Agreement Signed:
Cannabis Wheaton Income Corp. (TSX VENTURE: CBW) ("Cannabis Wheaton"or"CW") and Beleave Inc. (CSE: BE) (CSE: BE.CN) (CNSX: BE) (OTCQX: BLEVF) ("Beleave" or the "Company") are pleased to announce that they, along with Beleave's wholly-owned operating subsidiary Beleave Kannabis Corp., have entered a definitive agreement whereby Cannabis Wheaton will provide Beleave with up to $10,000,000 in non-dilutive debt financing by way of an instrument evidencing a debt obligation repayable in product equivalents (the "D.O.P.E. Note"). The proceeds of the D.O.P.E. Note will be used by Beleave to fund the construction of an expansion facility which will be situated adjacent to Beleave's current facility outside of Hamilton, Ontario.
November 01, 2017 – Outright Acquisition:
Cannabis Wheaton Income Corp. (d/b/a Wheaton Income) (TSX VENTURE: CBW)("Cannabis Wheaton" or the "Company") is pleased to announce the closing of the acquisition (the "Acquisition") of all of the issued and outstanding shares of RockGarden Medicinals (2014) Inc. ("RockGarden") pursuant to the terms of a definitive share purchase agreement (the "Share Purchase Agreement") dated October 31, 2017 (the "Closing Date").
December 21, 2017 – Join Venture:
Cannabis Wheaton Income Corp. (d/b/a Wheaton Income) (TSX.V:CBW) ("Wheaton Income" or "Wheaton" or the "Company") is pleased to announce that it has entered into a letter of intent (the "Agreement") with FV Pharma Inc. ("FV Pharma" or "FV"), a licensed producer pursuant to the ACMPR having received its cultivation license on October 13, 2017. Under the terms of the agreement, the Company will develop all aspects of FV's cannabis cultivation facility in mutually agreed staged phases (the "Facility Development"), creating the largest indoor cannabis cultivation and processing facility in the world.
An incredible team
---
When a company employs this sort of model, in whatever industry, a few things are very important. At the top of the list is the experience, industry knowledge and network reach of the team that's steering the ship.
And this is yet another box checked for Cannabis Wheaton.
Chairman & Chief Executive Officer is Chuck Rifici, pioneer of the North American cannabis industry who founded Canopy Growth (formerly Tweed Marijuana) and built it into 500,000 square feet of marijuana grow capacity as its CEO. He's also the Chairman of National Access Cannabis, a care center chain helping patients access the Canadian federal medical cannabis program. That's a nice distribution contact on its own.
Hugo Alves is Cannabis Wheaton's President & Director and he's known as Canada's leading advisor in the cannabis industry. He has acted as lead counsel or played a key role in a wide variety of transactions since the inception of the cannabis industry in Canada and is widely regarded as a Canadian cannabis industry pioneer.
And there are more big names on the list.
Mike Lickver is the company's Executive Vice President of Strategy. Jeff Tung, CFA is Chief Financial Officer & Chief Operating Officer. Brad McNamee is CBWTF's Chief Infrastructure Officer.
Check out the entire team here.
External recognition
---
Unfortunately, we weren't the first ones to recognize the incredible positioning of Cannabis Wheaton in this industry. Luckily, however, those that beat us to it in the business of highlighting incredible opportunities to traders and investors.
Instead, it was the panel of judges at the 2017 Canadian Cannabis Awards gala, which was held at The Carlu in Toronto earlier in 2017.
On December 4, Wheaton Cannabis announced that it was awarded Startup of the Year at the awards. The Canadian Cannabis Awards are styled as an annual celebration recognizing the people, companies and products that make it great. The majority of awards were decided by the public and a select committee of industry stakeholders.
This means industry insiders as well as members of the public (so, the people that are going to be buying the cannabis that CBWTF is funding the growth of) recognize what Cannabis Wheaton is trying to do (and very much succeeding in doing) in this industry right now.
There's still time… but not much.
As we've said, luckily for us, markets are yet to fully latch on to this opportunity and Cannabis Wheaton remains somewhat under the radar. It's not going to stay that way for long, however.
Take a look at the chart below and you'll get a sense of what we're talking about:
CBWTF Daily Chart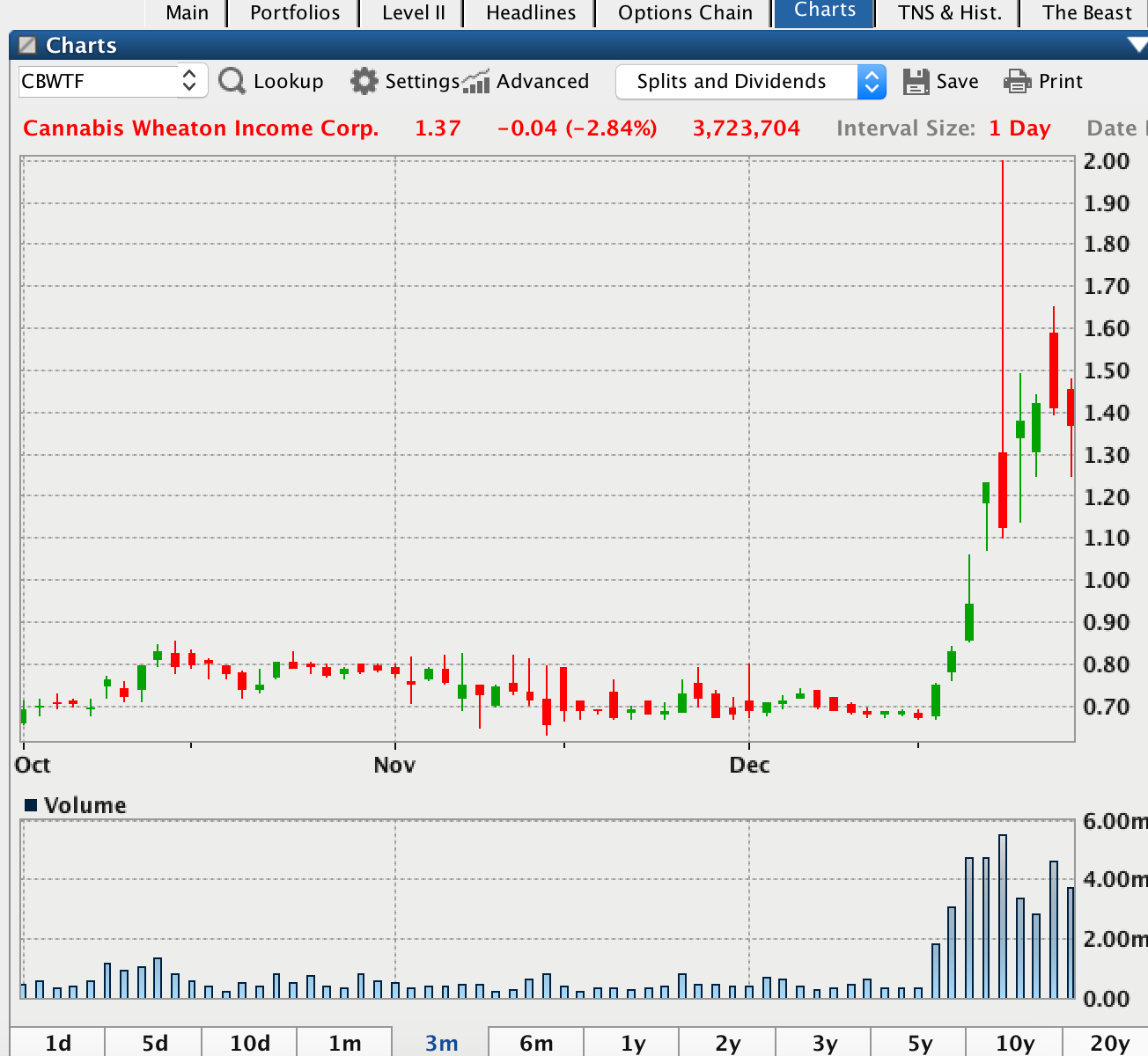 As the chart illustrates, the final two weeks of 2017 brought with them a large influx of volume for the company and, with it, a spike in Cannabis Wheaton's share price to more than $2 a share.
This could be just the beginning of a much larger upside revaluation and, right now, the company's shares are available at a circa 30% discount to December 2017 highs.
So let's sum up the opportunity here.
Here's why you need to put this company on your watchlist right now:
A huge supply/demand imbalance is just around the corner in the North American cannabis market.
Cannabis Wheaton is using a tried and tested model from another industry to position itself to take advantage of the explosive industry growth.
The company has a management team comprised of some of the industry's top names.
Operationally, CBWTF has achieved an incredible amount in a relatively short period of time during 2017.
External recognition is already in place and as the recent volume boost shows, markets are starting to take notice of the company and its potential.
So what are you waiting for? Start your research today and make sure you don't miss out on this incredible opportunity. You'll be glad you did.
Disclaimer :
This is not investment advice. All individuals should verify all claims and perform their own due diligence on ​​EVA (and / or any other mentioned companies and / or securities), and read this disclaimer in its entirety.
Small Caps Daily profiles are not a solicitation or recommendation to buy, sell or hold securities. Small Caps Daily is a paid advertiser and is not offering securities for sale. Neither Small Caps Daily nor its owners, operators, affiliates or anyone disseminating information on its behalf is registered as an Investment Advisor under any federal or state law and none of the information provided by Small Cap Exclusive its owners, operators, affiliates or anyone disseminating information on its behalf should be construed as investment advice or investment recommendations.
Small Caps Daily does not recommend that the securities profiled should be purchased, sold or held and is not liable for any investment decisions by its readers or subscribers.
Information presented by Small Caps Daily may contain "forward-looking statements " within the meaning of Section 27A of the Securities Act of 1933 and Section 21E of the Securities Exchange Act of 1934. Any statements that express or involve discussions with respect to predictions, expectations, beliefs, plans, projections, objectives, goals, assumptions, or future events or performance, are not statements of historical fact and may be "forward-looking statements." Forward-looking statements are based on expectations, estimates and projections at the time the statements are made that involve a number of risks and uncertainties which could cause actual results or events to differ materially from those presently anticipated. Forward-looking statements may be identified through the use of words such as "expects, " "will, " "anticipates," "estimates," "believes," "may," or by statements indicating that certain actions "may," "could," or "might" occur.
THIS SITE IS PROVIDED BY SMALL CAPS DAILY ON AN "AS IS" AND "AS AVAILABLE" BASIS. SMALL CAPS DAILY MAKES NO REPRESENTATIONS OR WARRANTIES OF ANY KIND, EXPRESS OR IMPLIED, AS TO THE OPERATION OF THIS SITE OR THE INFORMATION, CONTENT, MATERIALS, OR PRODUCTS INCLUDED ON THIS SITE. YOU EXPRESSLY AGREE THAT YOUR USE OF THIS SITE IS AT YOUR SOLE RISK.
TO THE FULL EXTENT PERMISSIBLE BY APPLICABLE LAW, SMALL CAPS DAILY DISCLAIMS ALL WARRANTIES, EXPRESS OR IMPLIED, INCLUDING, BUT NOT LIMITED TO, IMPLIED WARRANTIES OF MERCHANTABILITY AND FITNESS FOR A PARTICULAR PURPOSE. SMALL CAPS DAILY DOES NOT WARRANT THAT THIS SITE, IT'S SERVERS, OR E-MAIL SENT FROM SMALL CAPS DAILY ARE FREE OF VIRUSES OR OTHER HARMFUL COMPONENTS. SMALL CAPS DAILY, ITS MEMBERS, MANAGERS, OWNERS, AGENTS, AND EMPLOYEES WILL NOT BE LIABLE FOR ANY DAMAGES OF ANY KIND ARISING FROM THE USE OF THIS SITE, INCLUDING, BUT NOT LIMITED TO DIRECT, INDIRECT, INCIDENTAL, PUNITIVE, AND CONSEQUENTIAL DAMAGES.
CERTAIN STATE LAWS DO NOT ALLOW LIMITATIONS ON IMPLIED WARRANTIES OR THE EXCLUSION OR LIMITATION OF CERTAIN DAMAGES. IF THESE LAWS APPLY TO YOU, SOME OR ALL OF THE ABOVE DISCLAIMERS, EXCLUSIONS, OR LIMITATIONS MAY NOT APPLY TO YOU, AND YOU MIGHT HAVE ADDITIONAL RIGHTS.
By using Small Caps Daily, you agree, without limitation or qualification, to be bound by, and to comply with, these Terms of Use and any other posted guidelines or rules applicable.
The website contains links to other related World Wide Web Internet sites and resources. Small Caps Daily is not responsible for the availability of these outside resources, or their contents, nor does Small Caps Daily endorse nor is Small Caps Daily responsible for any of the contents, advertising, products or other materials on such sites. Under no circumstances shall Small Caps Daily be held responsible or liable, directly or indirectly, for any loss or damages caused or alleged to have been caused by use of or reliance on any content, goods or services available on such sites. Any concerns regarding any external link should be directed to its respective site administrator or webmaster.
You agree to indemnify and hold Small Caps Daily, its officers, directors, owners, agents and employees, harmless from any claim or demand, including reasonable attorneys fees, made by any third party due to or arising out of your use of the website, the violation of these Terms of Use by you, or the infringement by you, or other user of the website using your computer, of any intellectual property or other right of any person or entity. We reserve the right, at our own expense, to assume the exclusive defense and control of any matter otherwise subject to indemnification.
Small Caps Daily, reserves the right, at its sole discretion, to change, modify, add and/ or remove all or part of this Disclaimer and / or Terms of Use at any time.