Featured
Excellent Safety Data For COVID-19 Drug Candidate Plus $15 Million In Cash Put NanoViricides In The Driver's Seat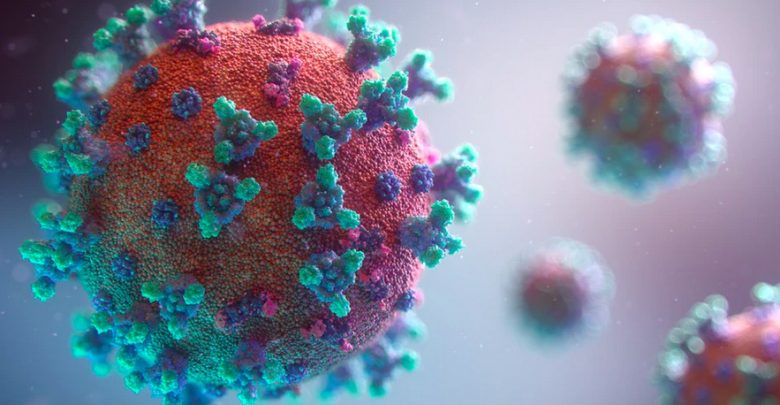 Anti-viral research has become one of the biggest priorities of the healthcare industry across the globe as the world awaits a potential solution to counter the COVID-19 pandemic. A number of pharma and biotech companies have their candidates going through different stages of trials as the coronavirus continues to spread with the total number of confirmed cases across the globe has crossed the 13 million mark and over 3.4 million in the U.S. alone. Governments have thus been putting increasing pressure on scientists and pharmaceutical companies to come up with a drug or a vaccine to handle the situation. The process has been slow, which was expected as a successful treatment has never before been developed for any other type of coronavirus, and some companies are performing better than others. One biopharma company which has emerged as a true dark horse in this COVID-19 drug race which has been extensively covered by us in the past is Connecticut-based anti-viral research specialist, NanoViricides, Inc (AMEX:NNVC).
NanoViricides' COVID-19 Drug Progress Till Date
The NanoViricides research team has been working on the development to a drug treat the SARS-COV-2 infection since January, 2020. Apart from having a strong history of antiviral research, the company's top management, specifically CEO Dr. Anil Dewan had been involved in R&D associated with the Middle East Respiratory Syndrome (MERS) in 2014. Since the MERS was also a coronavirus, NanoViricides has always had an edge in the drug development process for the SARS-COV-2. Its unique 'nanoviricide' technology of trapping virus particles the same way as a Venus-fly-trap captures and consumes insects has a very wide antiviral application. The company has gone ahead and developed broad-spectrum anti-coronavirus drug candidates and carried out initial tests using cell culture assays as well as through an animal model. In its tests using cell culture assays of two different coronaviruses, namely hCoV-229E, and hCoV-NL63, the company's drug candidates have proven to be far more effective than favipiravir, a popular antiviral medication being used against the SARS-CoV-2 virus today. The fact is that while the coronaviruses used in the cell culture assays are different from the SARS-CoV-2, they have related cellular receptors, namely APN which provides a rational basis to the research team. It implies that even if the SARS-CoV-2 mutates, the drug candidates can be expected to continue to remain effective.
Animal Model Results Show Superior Performance To Remdesivir
After the testing using the cell culture assays, NanoViricides tested its candidates using an animal model of human coronavirus disease. This time the results were compared with remdesivir, the hugely popular broad spectrum antiviral medication that has been developed by Gilead Sciences (NASDAQ:GILD). It is worth highlighting that remdesivir is in huge demand across the globe today with the U.S. buying more than 90% of Gilead's estimated production for the coming months. NanoViricides' candidates showed significantly superior results to remdesivir in the animal model. For the animal study, the researchers employed the hCoV-NL63, the same coronavirus used in the cell culture assays as it to the same cell receptor, ACE2, as does the SARS-CoV-2 and the original SARS-CoV that spread in 2002. While this is milder than the SARS-COV-2, it acts as an excellent surrogate for the study that can be done in the company's BSL-2 lab (carrying out similar studies using the actual SARS-CoV-2 strain require BSL-3 or BSL-4 labs) and the results appear to be really promising.
The Safety Test Results Are Also Rock Solid
The most recent update from NanoViricides came in the form the safety and tolerability test results. The company tested three different drug candidates at three different dosage levels and vehicle control through separate groups of mice intravenously in its safety and tolerability study, which provided excellent results. As a part of the test, sixteen mice in each group, half males and half females, were administered one of the three drug candidates at one of the three dose levels, and additionally, one group was administered vehicle control, for seven days by daily tail-vein intravenous infusion in this blinded study with additional evaluations on the eighth day. This non-GLP safety and tolerability study was conducted under GLP-like conditions by AR BioSystems in Tampa, Florida. The results indicated that tested drug candidates were safe and well-tolerated with no clinical signs of immune or allergic reactions. The results showed no observable changes in any organs, including the large intestine or colon, on post mortem in gross histology. The only reportable changes observed were, in the high dosage groups of two of the three drug candidates tested, associated with the non-absorption of water, in the colon. This is consistent with the clinical observation of very loosened stools in the same groups. The positive result has now cleared the path for NanoViricides for further development of its candidates and moving forward to human trials.
Recent Fundraising
After the recent surge in the stock price, the NanoViricides management announced that it has completed a gross fundraise to the tune of $11.5 million through an underwritten public offering. The company issued 1,369,863 shares and a fully exercised underwriters' over-allotment option of 205,479 additional shares of NanoViricides' common stock at the public offering price of $7.30 per share which was at a 17% discount over the stock's closing price last week of around $8.71. The issue was underwritten by Kingswood Capital Markets, a division of Benchmark Investments, Inc., who acted as sole bookrunner for the public offering. The overall net proceeds with the company after the payout of commission and other transaction fees is approximately $10.53 million which add to the existing cash pile of close to $6.11 million. As a result of this fundraise, NanoViricides is flushed with over $15 million of cash which can comfortably be used for funding its COVID-19 research as well as the human trials process of its core product i.e. its topical cream for shingles.
Key Takeaways
Before going ahead with human clinical trials, the management plans on conducting studies to carry out clinical candidate selection and possibly request a pre-IND (Investigational New Drug) meeting with the FDA for regulatory guidance. The company's progress has been truly remarkable, which is why its stock has seen a triple-digit appreciation over the past year.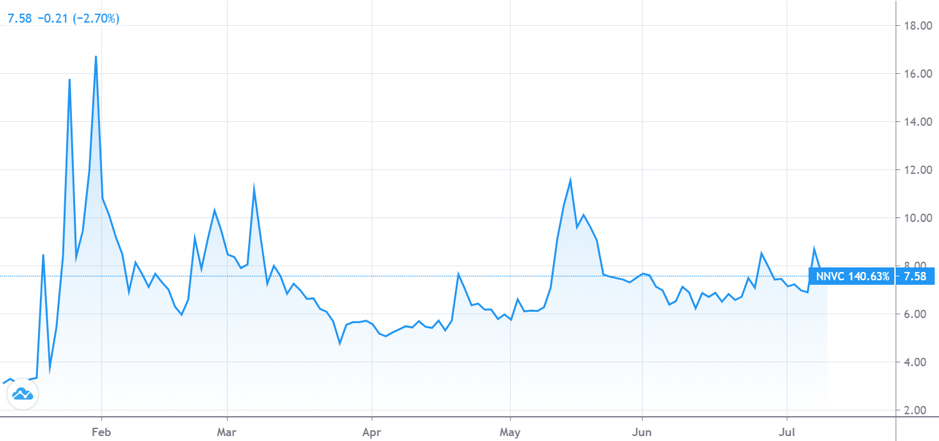 NanoViricides has appreciated 140.63% in the past 6 months providing excellent returns to its shareholders. The company is currently trading at a Price to Book ratio of 4.03x which is well below the biotechnology industry median of 4.58x as per Gurufocus industry data. There is immense scope for multiples expansion with a strong potential upside not just from the COVID-19 drug but also from the topical cream for shingles, the company's star drug candidate which will be entering the human trials phase very soon. The company could engage in strong collaborations in the future and can also expect cash flows expected through licensing once its candidates for shingles as well as the COVID-19 start clearing the initial phases of human trials. Overall, the company's stock has the potential to become a true multi-bagger for biotech investors and certainly deserves a place on your watch list if not in your portfolio.
Disclaimer
Except for the historic data introduced herein, issues mentioned in this text comprise forward-looking statements which might be topic to sure dangers and uncertainties that would trigger precise outcomes to differ materially from any future outcomes, efficiency or achievements expressed or implied by such statements. Salesparq, LLC which owns SmallcapsDaily.com will not be registered with any monetary or securities regulatory authority and doesn't present nor claims to present funding recommendation or suggestions to readers of this launch. Salesparq, LLC, which owns SmallcapsDaily.com, could also be compensated for its companies in the type of cash-based compensation for the businesses it writes about. For making particular funding choices, readers ought to search their very own recommendation. Pursuant to an agreement between TraDigital IR and Salesparq, LLC, which owns SmallcapsDaily.com, has been retained for a interval from 7/15/2020 – 7/31/2020 to publicly disseminate details about Nanoviricides, Inc., together with on the Website, electronic mail and different media together with online and social media. We have been compensated ten thousand dollars for our services during this period. We own zero shares of Nanoviricides, Inc. We don't intend to purchase shares of Nanoviricides Inc. in the open market at any time. Please read our full disclaimer here: https://smallcapsdaily.com/disclaimer/
Disclaimer
This website is a wholly owned subsidiary of SCD Media, LLC, herein referred to as Smallcaps Daily. Our publications are a commercial advertisement and are for general information purposes ONLY. We are engaged in the business of marketing and advertising companies for monetary compensation. We may receive compensation for this article on a PPC basis as an affiliate. Never invest in any stock featured on our site or emails unless you can afford to lose your entire investment. The disclaimer is to be read and fully understood before using our services, joining our site or our email/blog list as well as any social networking platforms we may use. PLEASE NOTE WELL: Smallcaps Daily and its employees are not a Registered Investment Advisor, Broker Dealer or a member of any association for other research providers in any jurisdiction whatsoever.Release of Liability: Through use of this website viewing or using you agree to hold Smallcaps Daily, its operators owners and employees harmless and to completely release them from any and all liability due to any and all loss (monetary or otherwise), damage (monetary or otherwise), or injury (monetary or otherwise) that you may incur. The information contained herein is based on sources which we believe to be reliable but is not guaranteed by us as being accurate and does not purport to be a complete statement or summary of the available data. Smallcaps Daily encourages readers and investors to supplement the information in these reports with independent research and other professional advice. All information on featured companies is provided by the companies profiled, or is available from public sources and Smallcaps Daily makes no representations, warranties or guarantees as to the accuracy or completeness of the disclosure by the profiled companies. None of the materials or advertisements herein constitute offers or solicitations to purchase or sell securities of the companies profiled herein and any decision to invest in any such company or other financial decisions should not be made based upon the information provided herein. Instead Smallcaps Daily strongly urges you conduct a complete and independent investigation of the respective companies and consideration of all pertinent risks. Readers are advised to review SEC periodic reports: Forms 10-Q, 10K, Form 8-K, insider reports, Forms 3, 4, 5 Schedule 13D. Smallcaps Daily is compliant with the Can Spam Act of 2003. Salesparq, LLC does not offer such advice or analysis, and Smallcaps Daily further urges you to consult your own independent tax, business, financial and investment advisors. Investing in micro-cap and growth securities is highly speculative and carries and extremely high degree of risk. It is possible that an investors investment may be lost or impaired due to the speculative nature of the companies profiled. The Private Securities Litigation Reform Act of 1995 provides investors a safe harbor in regard to forward-looking statements. Any statements that express or involve discussions with respect to predictions, expectations, beliefs, plans, projections, objectives, goals, assumptions or future events or performance are not statements of historical fact may be forward looking statements. Forward looking statements are based on expectations, estimates, and projections at the time the statements are made that involve a number of risks and uncertainties which could cause actual results or events to differ materially from those presently anticipated. Forward looking statements in this action may be identified through use of words such as projects, foresee, expects, will, anticipates, estimates, believes, understands, or that by statements indicating certain actions & quote; may, could, or might occur. Understand there is no guarantee past performance will be indicative of future results.In preparing this publication, Smallcaps Daily, has relied upon information supplied by its customers, publicly available information and press releases which it believes to be reliable; however, such reliability cannot be guaranteed. Investors should not rely on the information contained in this website. Rather, investors should use the information contained in this website as a starting point for doing additional independent research on the featured companies. Smallcaps Daily has not been compensated for this article. The advertisements in this website are believed to be reliable, however, Smallcaps Daily and its owners, affiliates, subsidiaries, officers, directors, representatives and agents disclaim any liability as to the completeness or accuracy of the information contained in any advertisement and for any omissions of materials facts from such advertisement. Smallcaps Daily is not responsible for any claims made by the companies advertised herein, nor is Smallcaps Daily responsible for any other promotional firm, its program or its structure. Smallcaps Daily is not affiliated with any exchange, electronic quotation system, the Securities Exchange Commission or FINRA.