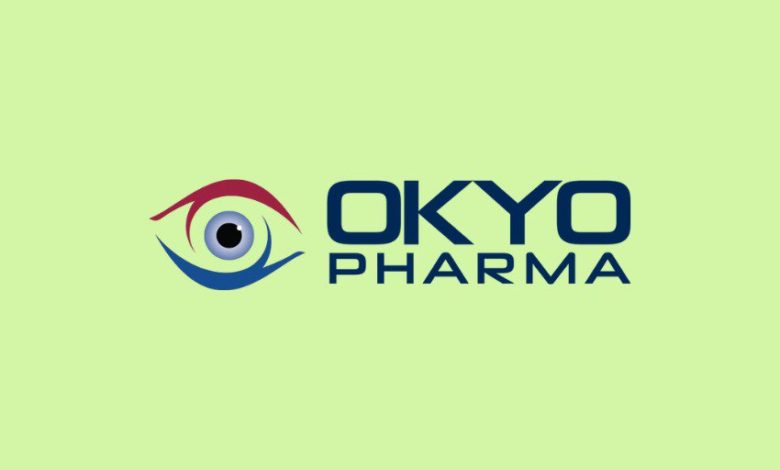 The markets have been particularly rough for the biopharma sector off-late. Investor are becoming more and more risk averse, particularly with respect to investing in clinical stage biopharma companies, and logically so. Obviously, these are high-risk high-return investments and the success of their main drug is largely dependent on the outcome of clinical trials and the ability of their drug making it to the market. However, this inherent risk is significantly mitigated if the company's main drug has already surpassed Phase 1 and reached Phase 2. Our small-cap pick for the day is one such company catering to niches within the domain of ophthalmic diseases and is expected to see its core drug candidate in Phase 2 of clinical trials in the very near future – OKYO Pharma (NASDAQ:OKYO).
Company Overview
OKYO Pharma is a preclinical biopharmaceutical company focused on the development of innovative treatments for ophthalmic diseases. The company is working towards creating innovative treatments for individuals suffering from inflammatory eye diseases and eye pain. Its primary product under development is OK-101, which is intended for the treatment of dry eye disease (DED). In addition, the company is also exploring the potential of OK-101, for the treatment of neuropathic ocular pain. OKYO Pharma was established in 2018 and has its headquarters located in London, United Kingdom.
Large Addressable Market For DED
Their lead preclinical product candidate, OK-101, is specifically designed to target keratoconjunctivitis sicca, commonly referred to as dry eye disease (DED). This is a multifactorial disease characterized by the lack of lubrication and moisture in the eye, causing discomfort, irritation, inflammation and pain. Approximately 49 million people in the U.S. alone suffer from DED, with the prevalence expected to increase in the next 10-20 years. The global DED market was estimated at $5.22 billion in 2019 and is expected to reach $6.54 billion by 2027. Despite the availability of 5 prescription drugs, DED continues to be a major unmet medical need, with many patients not responding well to available treatments. The development of new drugs to treat DED has been challenging due to the heterogeneous nature of the patient population and difficulties in demonstrating improvement in well-controlled clinical trials. However, research suggests that the underlying element of DED is inflammation, and development of new therapeutic agents that target inflammatory pathways is an attractive approach. Overall, DED remains a major unmet medical need, with current approved drugs leaving many patients dissatisfied, creating a multi-billion-dollar market opportunity for a drug with minimal side effects.
OK-101 – Overview Of The Lead Candidate For DED
With its potential to reduce inflammation and neuropathic pain, OKYO Pharma is developing OK-101 as a treatment for DED. The company continues to evaluate the structure-activity relationships of the lipidated-chemerin analogues and determine their effectiveness in treating DED through various preclinical studies and dry eye animal model studies. OKYO Pharma's OK-101 is a lipidated-chemerin analogue that targets the chemerin receptor (CMKLR1), which is expressed on select populations of cells including inflammatory mediators and neurons. The development of OK-101 was based on membrane-tethered ligand technology and showed promise in reducing corneal permeability and down-regulating immune response in mouse models of acute DED. OK-101 also demonstrated potent ocular pain-reducing activity in a ciliary nerve ligation mouse model of corneal neuropathic pain. Rabbit ocular tolerance tests showed no adverse signs of local irritation or inflammation.
Other Applications Of OK-101
One of the target indications of OKYO Pharma's chemerin-based technology is uveitis, which is the third leading cause of blindness globally. Commonly treated with corticosteroids, long-term use of these drugs can increase the risk of cataracts and glaucoma. OKYO Pharma believes that their drug candidate, OK-101, has the potential to not only treat DED, but also allergic conjunctivitis and uveitis, and plans to evaluate its ability to suppress inflammation associated with these conditions once they have an IND in place.
Speedy Progress Of OK-101 In Clinical Trials
OKYO Pharma announced in November, 2022 that it filed with FDA an IND for OK-101 to treat DED, with a follow-on announcement in December that the IND filing was cleared by FDA for moving forward with a Phase 2 clinical trial in DED patients. AmbioPharm a well-known peptide-focused manufacturer was previously announced by the company as playing a key role in peptide manufacturing and development. The company has developed OK-101, a lipid-peptide analog, using a cutting-edge membrane-anchored peptide (MAP) technology. The drug is composed of a 12 amino acid peptide sequence, a connecting component, and a lipid domain that enhances the drug's residence time in the eye. This design improves potency and prevents the drug from being washed out from the ocular surface. OK-101 has shown strong anti-inflammatory effects in animal models of DED and also reduces corneal neuropathic pain in a ciliary nerve ligation animal model. As inflammation and pain are the two main symptoms of DED, and inflammation is believed to be a major cause of the disease, OK-101 has significant potential.
The drug has a unique opportunity to quickly enter the market, as it can bypass a Phase I trial since it is applied topically and its Phase 2 trial can serve as a Phase 3 registration trial. Furthermore, animal studies have not indicated any adverse effects. In the first quarter of 2022, OKYO had a successful pre-IND meeting with the FDA, and the agency agreed with OKYO's plan to specify co-primary efficacy endpoints for DED in the upcoming Phase 2 trial. If successful, this trial, which is designed to function as a Phase 3 registration trial, would hasten the timeline for a new drug application (NDA).
Ora Inc. a premier ocular-focused contact research organization has been working with the company on both its preclinical and clinical activities over the past 18 months and will be supporting the OK-101 program by managing the upcoming phase 2 clinical trial.
OK-201 – The Other Key Candidate
In addition to OK-101, OKYO Pharma has developed another drug candidate, OK-201, which is a promising candidate for treating neuropathic and inflammatory pain. OK-201 is an agonist of the MRGPR receptor, which is involved in the perception of pain, and has been licensed from Tufts Medical Center (TMC). In 2019, OKYO Pharma entered into a collaborative agreement with TMC and a principal investigator at Tufts University to evaluate OK-201 for the suppression of corneal neuropathic pain. The results of preclinical studies with OK-201 have demonstrated its potential as a non-opioid analgesic for ocular pain. However, due to the subsequent success of OK-101 in treating DED, OKYO Pharma has decided to maintain OK-201 at an exploratory level while they focus their primary efforts on OK-101.
Final Thoughts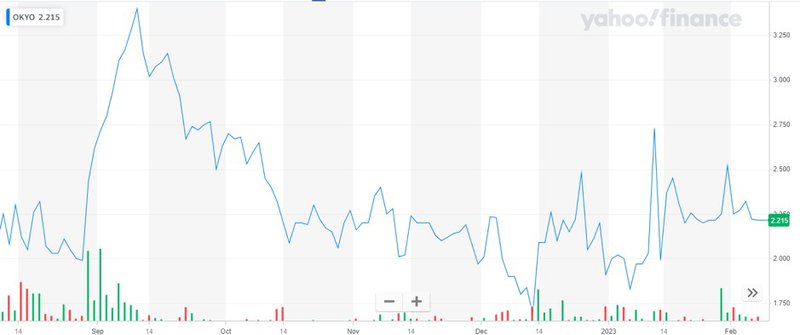 We can see the usual volatility of any pre-revenue biopharma company's stock in OKYO Pharma. Obviously, given its absence of revenues, it is very difficult to value the company today. However, it must be noted that after their recent fundraise of $10 million, OKYO Pharma has sufficient cash to sail through the Phase 2 trials of OK-201. At this point, the company could easily become an acquisition target for large pharma including leading names in ophthalmology drugs such as Regeneron Pharmaceuticals, Novartis, AbbVie, and so on. We believe that OKYO is an excellent acquisition play and a successful Phase 2 could easily help investors at current levels generate 3x-4x returns given the large addressable market that the company is catering to. Overall, we are bullish on OKYO Pharma and we believe that it is a good investment opportunity for smallcap investors.