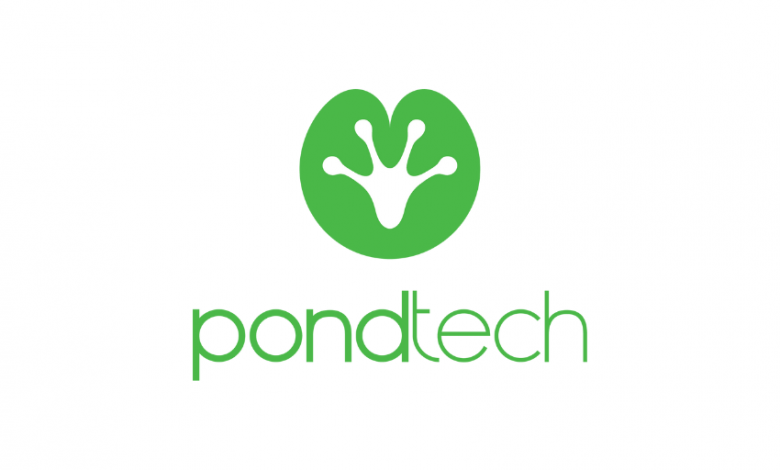 With increasing industrial activity resulting in a significant impact on the environment, CO2 abatement has become an urgent need for many industries. Every major industry that produces carbon dioxide through its operationsis required to have a green strategy involving carbon dioxide abatement and a low carbon emissions strategy. With the importance of low-carbon technologies growing by the day, companies that provide natural solutions to reduce carbon dioxide emissions are gaining more contracts and seeing their revenues skyrocket. Today we will take a deep dive into a company that has a vertically integrated setup with the ability to sequester carbon in algae biomass based on its its intellectual property and convert harmful CO2 emissions into valuable products with applications in food, beverage, pharma, heavy industry and the nutraceuticals industry – Pond Technologies Holdings, Inc. (TSX:POND; OTCQB:PNDHF).
Company Overview
Pond Technologies is a Canadian technology company that provides profitable global solutions to nutrition and climate change challenges. It has created a proprietary algae growth platform to absorb carbon dioxide, transforming it into valuable biomass. This conversion of carbon dioxide into valuable algae-based products such as spirulina, chlorella, and astaxanthin for human consumption and protein for animal food generates new revenue streams for greenhouse gas emitters. Its resultant algae are used to produce algae-based biomaterials, bio foams, and other algae-derived products, as well as superfoods, nutraceuticals, feedstocks, aquaculture, and animal feed. Pond Technologies enables nutraceutical companies to produce high-quality, contaminant-free products for human consumption sustainably and reliably. In addition, the company enables industries to monetize their waste emissions while lowering their carbon footprint. Pond Technologies can also produce recombinant proteins with applications in diagnostics and therapeutics producing high-quality complex proteins at a lower cost than current alternatives. It is headquartered in Markham, Ontario.
Divisions & Addressable Market
Pond Technologies' business is divided into three segments – Pond Naturals, Pond Carbon, and Pond Biotech. Pond Carbon is engaged in the sale and licensing of its CO2 abatement technology to project developers, funders, engineering companies, and others in partnership with industrial emitters. On the other hand, Pond Biotech can  grow genetically modified algae that express complex proteins used in diagnostics, therapeutics and medicines. Pond Naturals is engaged in the production, formulation and creation of custom blended nutrition products.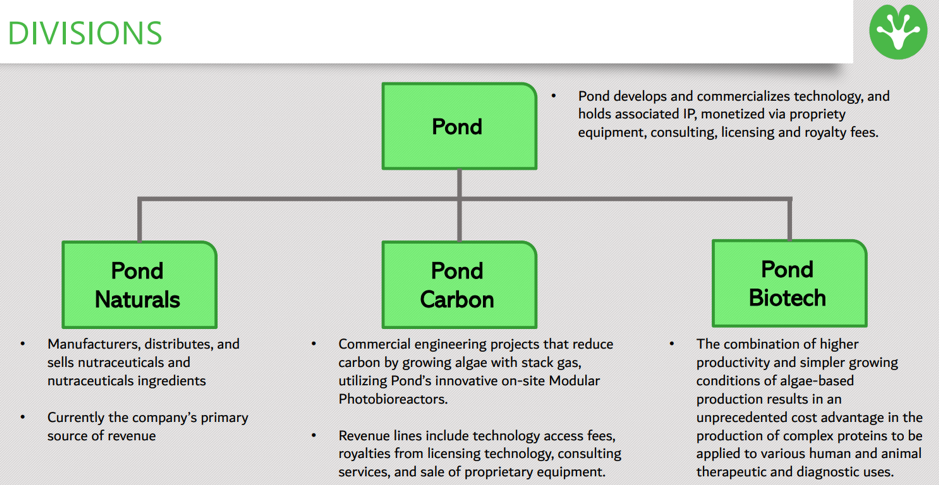 The above extract accurately summarizes the three divisions of the company accurately. It is worth mentioning that Pond Carbon is the core division which holds majority of the IP assets and is the main revenue earner as well while Pond Biotech is the division that has gained significant momentum off late with industry collaborations and the validation of its technology.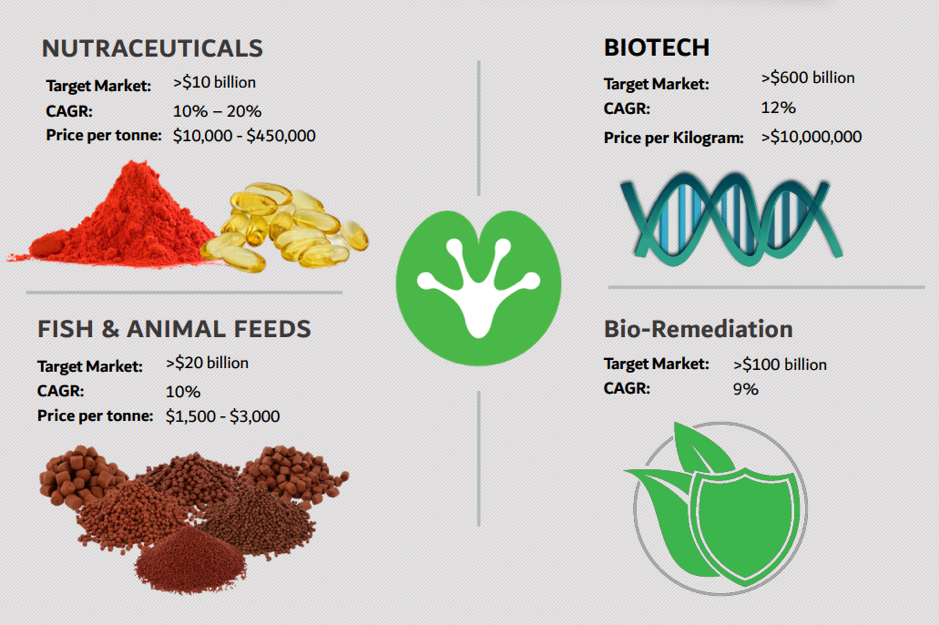 The addressable market that Pond Technologies caters to is particularly large as it caters to multiple different sectors. The above snapshot gives an accurate depiction of 4 sectors to which Pond caters – nutraceuticals, fish and animal feed, biotechnology, and bioremediation. The combined addressable market of these is more than $730 billion Over and above these sectors, the fact that company's technologies also reduces the greenhouse gas emissions from industries like oil and gas, metals and mining, manufacturing, and all forms of industrial activity that leads to heavy carbon emissions. It can provide an end-to-end ESG strategy to minimize carbon emissions to corporates.
Three-Pronged Approach To Climate Change
Pond Technologies is creating cutting-edge solutions that have the potential to finally nudge those slow-to-transition industries toward more sustainable business models. Using its patented algae-based technology, the Ontario, Canada-based environmental, social, and governance (ESG) firm has pioneered a novel three-pronged method for capturing carbon emissions and converting them into revenue streams. Pond Carbon provides a leading scalable algae-based carbon capture platform to enter into the $6.7 billion carbon market.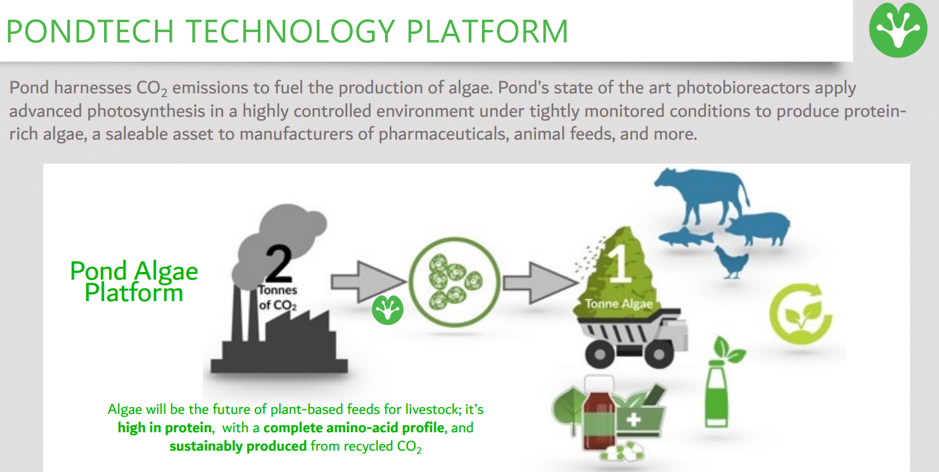 As shown in the above extract, Pond's innovative business model is built on its patented algae-based platform. Like trees and other plants, algae inhales carbon and other gases from the air before exhaling the clean, filtered oxygen that humans and other species rely on. It is so effective at absorbing carbon emissions that 1 ton of algae can trap around 2 tons of carbon. As exciting as it is, cultivating enough algae to produce a significant dent in carbon production has proven difficult. Existing systems depend on large outdoor ponds that are exposed to multiple sources of contamination and rely on natural sunlight. It is worth highlighting that algae can only grow a few inches below the water's surface in these outdoor systems. Because algae grow so slowly, building algae farms large enough to capture the emissions from even a single factory would require hundreds of acres of land. Even if enough land is available, the algae that grow may be unsuitable for many applications due to the contamination that can occur in these outdoor systems. These difficulties prompted the creation of Pond's unique platform. Rather than using outdoor systems, Pond employs tanks equipped with LED lights and sensors, all of which work closely to create the ideal growing environment for algae while occupying only a fraction of the land and controlling contamination. Because of their small size, these algae systems are easy to scale to whatever size a company requires to offset its carbon emissions, making them a cost-effective solution for industry leaders like Associated British Foods (OTCMKTS:ASBFY) in the agricultural sector to CSV in the oil and gas sector. Furthermore, the algae harvested from the tanks can then be used to make a variety of exciting and profitable products.
The Pond Naturals Business
Pond Naturals, a major contributor to the Pond top-line, has a broad distribution channel for its natural products as well as manufacturing operations. Through this subsidiary, the company develops and distributes various algae-based products ranging from bulk ingredients to white-label as well as branded consumer products. The company develops and sells astaxanthin under its own brand – Regenurex and through white label arrangements. It isolates astaxanthin oleoresin using a proprietary wet extraction method that doesn't rely on harsh compounds or dehydration techniques. In addition, the company is working on new algae products, such as phycocyanin, the only FDA-approved blue food coloring substance. It is worth highlighting that every product bears the 'Made in Canada' label, which means it can be sold as bulk wholesale, white-labeled, or incorporated into their branded product to provide customers with supply security when compared to overseas producers. The management revealed that they are planning to build other algae-based product manufacturing facilities to support their increased sales of algae-based products such as Spirulina. This line of business is expected to generate significant revenue in the coming years.
The Pond Carbon Offering
Pond Carbon forms the core of Pond Technologies and owns all the intellectual property associated with the company. This segment is committed to making Pond Technology the world's leading solution for the commercial-scale deployment of algae photobioreactors capable of reducing carbon emissions and producing algae in the food, feed, and biofertilizer markets. It creates specific algae-based carbon capture projects and provides operational resources from initial consultation to project completion. It provides resources such as labs and engineering to develop commercial carbon dioxide-reduction processes. Pond Carbon has renovated algae bioreactor technology for royalty revenue and licensing in commercial systems as well as R&D demonstration systems. They also design and implement each carbon-reduction project to meet the customer's needs, transforming carbon into a valuable product. It is worth mentioning that the management is focused on assisting customers with the deployment of algae systems, including supporting systems and proprietary bioreactors. Pond Carbon typically targets customers with stack gas, a carbon footprint, and interest in algae-based products. Furthermore, the company has taken on projects from a variety of industries, such as animal feed companies, natural resource organizations, and human nutraceutical companies. The animal feed company intends to commercialize its premium algae-based animal and aquaculture feed additives in order to become a significant global producer and distributor of animal feed.
Pond Biotech – A Key Growth Driver
Pond Biotech represents an immediate and long-term value creation opportunity by manufacturing and developing valuable algae strains in human and animal therapeutic solutions using Pond Technology's algae-based system. Pond Biotech has also grown genetically reformed algae that express COVID-19 and other antigens for diagnostic purposes under contract with a major Canadian industrial corporation. Algae are a cost-effective solution for growing various recombinant proteins compared to mammalian cell lines. And therefore, the company is determined to develop several recombinant proteins expressed in algae. Furthermore, the management intends to position Pond Biotech as the leading solution for the low-cost production of vaccines, diagnostics, and therapeutics using algal production systems. Pond has provided pharma and biotech companies with an excellent controlled growth environment in which they can quickly produce genetically modified algae strains expressing quality proteins for diagnostics and therapeutics.
The AB Agri Partnership
Until now, the technology to produce algae on a large scale with the required quality and cost to be an affordable ingredient for animal feed has remained elusive. However, the situation has changed after the recent collaboration between Pond Technology (through its Pond Carbon segment) and Livalta, the alternative protein division of AB Agri, a part of Associated British Foods, a multinational giant in the production of sugar, yeast, mulsifiers, enzymes and lactose. This collaboration is expected to produce algae-based animal feed ingredients from carbon dioxide emissions. This exclusive partnership will bring together Pond's innovative technology with Livalta's expertise in new proteins for animal feed. Their first product will be spirulina, which will contain 60% protein, and essential vitamins and minerals. Under the terms of the agreement, AB Agri will pay CA$2.2 million to Pond for an algae demonstration system that will be settled at British Sugar's Wissington site in Norfolk in 2022. The plan is to follow the pilot project by a commercial-scale plant at the same location that will produce 20,000 tons of spirulina from carbon dioxide emissions. Pond will also receive up to CA$2 million in technology access fees and an ongoing royalty based on the production from any future commercial algae plants deployed as part of this agreement. According to Grant Smith, CEO of Pond Technology, this partnership gives Pond access to the multibillion-dollar animal feed market. He also stated that additional validation of their model would provide significant momentum in expanding their sales funnel.
The Oil & Gas Partnership
Pond Technologies announced a CA$1 million agreement with a major North American oil and gas company to grow Covid-19 antigens that will be used to develop a rapid diagnostics test for the virus. The agreement could lead to the commercialization of a highly accurate, rapid diagnostics test kit, as well as the scaling of Pond's technology and production of innovative, algae-grown therapeutics and wellness products. Moreover, Pond will grow Covid-19 antigens from a unique strain of algae that it will cultivate as part of the agreement. The North American oil and gas company will pay Pond Technologies a sum of CA$150,000 upon signing and the remaining CA$1 million in installments as the company meets production volume and quality milestones. Additionally, they hope to conclude a contract with a diagnostics test kit manufacturer to develop a commercially accessible rapid Covid-19 test using the algae-grown antigens once it has reached its target production capacity for the antigens. The revenue generated from the sale of this rapid Covid-19 test and other algae-grown antigens or antibodies will go toward funding other revenue-generating products Pond is developing. Pond is working to finalize a commercial supply agreement with a manufacturer of diagnostic test kits that will use Pond's recombinant proteins or antigens. The company expects to enter into commercial agreements to cell antigens and antibodies derived from genetically modified algae as part of this agreement, which will generate additional revenue.
According to Peter Howard, Vice President of Projects, the collaboration is a significant milestone for Pond. With the development of both rapid and trustworthy gene sequencing technology and precise gene-editing techniques, it is now possible to modify micro-algae to produce human proteins. While major players such as ExxonMobil (NYSE:XOM) have been investigating the potential of algae as an eco-friendly biofuel, Pond has developed a diverse portfolio of algae-based products across multiple markets, all while providing a readily available means of reducing CO2 emissions today. It is a clear validation of Pond's technology and is an indicator of its huge potential. This appears to be the first of many such agreements in the years to come as most oil and gas majors are heavy emitters of CO2 and are in need of ESG plans to reduce carbon emissions which is where Pond's whole vertically integrated setup comes into the picture. It is a matter of time before the company signs many such agreements in the future.
Strong Management Team
Pond Technologies has a high quality management setup spearheaded by CEO Grant Smith who has over 2 decades of work experience in the global health supplements and ingredients industry. He is ably supported by Thomas Masney, the CFO and the financial brains of the company who is ex-Goldman Sachs and has a vast exposure in M&A and VC fundraising through his prior experience in EY, PwC, and General Electric. Peter Howard is the VP of Projects. Peter has delivered strategic sustainability consulting to both the public and private sectors, and a track record of helping organizations identify and execute sustainability-related initiatives that reduce risks and deliver returns. Previously employment includes working as a sustainability management consultant for PricewaterhouseCoopers, and as a Senior Policy Advisor to the Ontario government on climate change.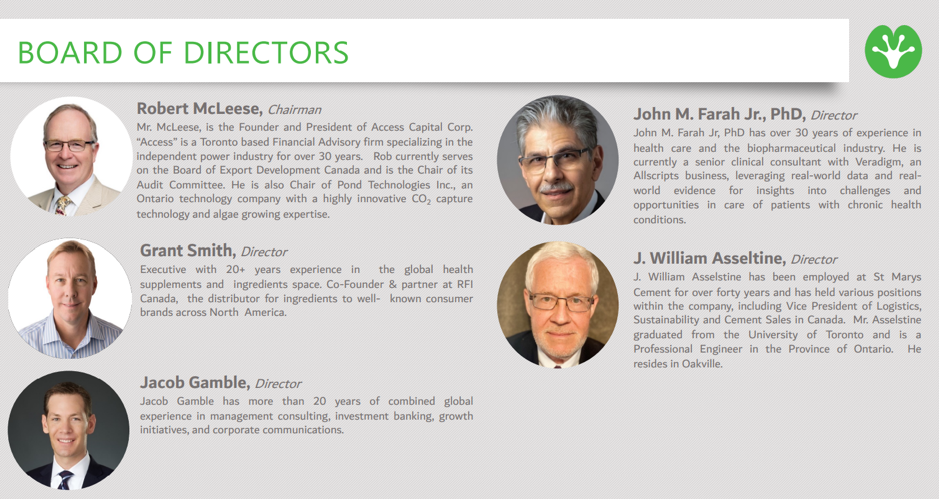 Key Risks
There are a number of important risks that investors must be aware of before investing in the Pond Technologies stock. Some of the key risks have been summarised below.
The CO2 abatement and nutraceuticals industry that Pond Technologies is operating in is competitive, and in case the management unable to proceed with commercialization of its IP rapidly and ensure the vertically integrated setup, it will negatively impact their business and operations.

One of the biggest risks that the company is facing currently is the ongoing impact of COVID-19 around the world, because of which the Pond Technologies' research and operations could be affected materially given the rapidly spreading Delta variant.

To accommodate growth and compete effectively, the company will need working capital to have adequate funds to carry out the commercialization of its IP and increase, train, motivate and manage its work force.

The management may be unable to successfully implement and execute their business strategies, operating plans and growth initiatives. In case the management fails to manage their growth and organizational change effectively, it may harm their business and the results of operations.

If the company fails to commercialize its IP at the relevant pace in the coming years, they may not remain competitive. Because of this, their revenue and results of operations may suffer.

Pond Technologies depend on third-parties for the growth and scale up of the company. Therefore, any change in contractual relationships or disruption of service provided by these third-party service providers may adversely affect them and subject them to liability.

Proper utilization and protection of their intellectual property and non-infringement of third parties' intellectual property within the U.S. and other countries where Pond Technologies plans to expand are vital for their business to succeed.

There could be a significant dilution and loss of value of their equity shares because the company might require regular infusion of funds through equity issuances for funding their research for the coming 2 years.

The management must comply with significant and complex government regulations, compliance with which may delay the commercialization of its IP.

If Pond Technologies fails in executing its expansion strategy, the commercialization prospects for its IP, and, correspondingly, its business and financial prospects, would be materially adversely affected.

The nature of business of Pond Technologies requires a significant investment in R&D. Pond Technologies' R&D expenses in turn, are subject to variation based on a number of factors, many of which are outside of its control. A sudden or significant increase in R&D expenses could materially and adversely impact the company's results of operations.

It is likely that the management encounters unforeseen expenses, complications, delays, and other unknown factors that can increase its capital needs leading to a rapid cash expenditure. Hence, there are no assurances that future funding will be available on favorable terms or at all.

If the management fails to raise additional capital, they may need to reduce, defer, curtail or cease their operations, including the product design, development, and marketing.

In addition to requiring additional financing to fund capital expenditures, the company may require additional financing to fund working capital, research and development, sales and marketing, general and administrative expenditures and operating losses. The incurrence of debt creates additional financial leverage and therefore an increase in the financial risk of the company's operations.

Pond Technologies's ability to continue as a going concern is contingent upon the ability to raise additional capital through the sale of securities and incurrence of debt. Additionally, the future capital requirements of the company depend on many factors including the rate of revenue growth, selling price of the products and research and development efforts which raise substantial doubt about the company's ability to continue as a going concern.
Final Thoughts

As we can see in the above chart, Pond Technologies' stock price has followed a flat trajectory for the past month. The market is assuming that the stock is fairly valued at current levels which is why the fluctuation is minimal but this is bound to change. The AB Agri and the oil and gas signings are just the tip of the iceberg. We believe that the company's technology has a number of such major tieups coming up in the future that could multiply the revenue.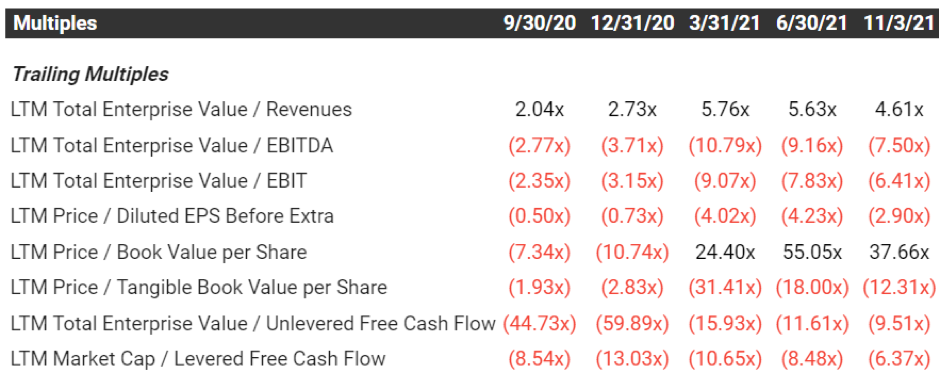 We see that Pond Technologies is currently trading below 5x in terms of its enterprise value to revenue ratios which is below the average for most emerging environmental-tech players including names such as Questor Technology (QST.V), Fuel Tech (FTEK.Q), Pacific Green Technologies (OTCQB:PGTK), and Advanced Emission Solutions (ADES.Q). Its revenues are around the $5 million mark and we can expect an uplisting very soon, which should unlock a significant value given the expected increase in trading volumes. Even if the company maintains the current valuation multiples, Pond Technologies' new tieups and revenue growth could result in the stock price multiplying as the market is clearly ignoring the company's future growth potential, especially its vast intellectual property portfolio. Overall, we believe Pond Technologies is a significantly undervalued player in the green technology space, making it an excellent investment opportunity for microcap investors.
---
Disclaimer
No Positions
Disclaimer
This website is a wholly owned subsidiary of SCD Media, LLC, herein referred to as Smallcaps Daily. Our publications are a commercial advertisement and are for general information purposes ONLY. We are engaged in the business of marketing and advertising companies for monetary compensation. We may receive compensation for this article on a PPC basis as an affiliate. Never invest in any stock featured on our site or emails unless you can afford to lose your entire investment. The disclaimer is to be read and fully understood before using our services, joining our site or our email/blog list as well as any social networking platforms we may use. PLEASE NOTE WELL: Smallcaps Daily and its employees are not a Registered Investment Advisor, Broker Dealer or a member of any association for other research providers in any jurisdiction whatsoever.Release of Liability: Through use of this website viewing or using you agree to hold Smallcaps Daily, its operators owners and employees harmless and to completely release them from any and all liability due to any and all loss (monetary or otherwise), damage (monetary or otherwise), or injury (monetary or otherwise) that you may incur. The information contained herein is based on sources which we believe to be reliable but is not guaranteed by us as being accurate and does not purport to be a complete statement or summary of the available data. Smallcaps Daily encourages readers and investors to supplement the information in these reports with independent research and other professional advice. All information on featured companies is provided by the companies profiled, or is available from public sources and Smallcaps Daily makes no representations, warranties or guarantees as to the accuracy or completeness of the disclosure by the profiled companies. None of the materials or advertisements herein constitute offers or solicitations to purchase or sell securities of the companies profiled herein and any decision to invest in any such company or other financial decisions should not be made based upon the information provided herein. Instead Smallcaps Daily strongly urges you conduct a complete and independent investigation of the respective companies and consideration of all pertinent risks. Readers are advised to review SEC periodic reports: Forms 10-Q, 10K, Form 8-K, insider reports, Forms 3, 4, 5 Schedule 13D. Smallcaps Daily is compliant with the Can Spam Act of 2003. Salesparq, LLC does not offer such advice or analysis, and Smallcaps Daily further urges you to consult your own independent tax, business, financial and investment advisors. Investing in micro-cap and growth securities is highly speculative and carries and extremely high degree of risk. It is possible that an investors investment may be lost or impaired due to the speculative nature of the companies profiled. The Private Securities Litigation Reform Act of 1995 provides investors a safe harbor in regard to forward-looking statements. Any statements that express or involve discussions with respect to predictions, expectations, beliefs, plans, projections, objectives, goals, assumptions or future events or performance are not statements of historical fact may be forward looking statements. Forward looking statements are based on expectations, estimates, and projections at the time the statements are made that involve a number of risks and uncertainties which could cause actual results or events to differ materially from those presently anticipated. Forward looking statements in this action may be identified through use of words such as projects, foresee, expects, will, anticipates, estimates, believes, understands, or that by statements indicating certain actions & quote; may, could, or might occur. Understand there is no guarantee past performance will be indicative of future results.In preparing this publication, Smallcaps Daily, has relied upon information supplied by its customers, publicly available information and press releases which it believes to be reliable; however, such reliability cannot be guaranteed. Investors should not rely on the information contained in this website. Rather, investors should use the information contained in this website as a starting point for doing additional independent research on the featured companies. Smallcaps Daily has not been compensated for this article. The advertisements in this website are believed to be reliable, however, Smallcaps Daily and its owners, affiliates, subsidiaries, officers, directors, representatives and agents disclaim any liability as to the completeness or accuracy of the information contained in any advertisement and for any omissions of materials facts from such advertisement. Smallcaps Daily is not responsible for any claims made by the companies advertised herein, nor is Smallcaps Daily responsible for any other promotional firm, its program or its structure. Smallcaps Daily is not affiliated with any exchange, electronic quotation system, the Securities Exchange Commission or FINRA.