Featured
SusGlobal Energy Has Taken Off And There Is No Looking Back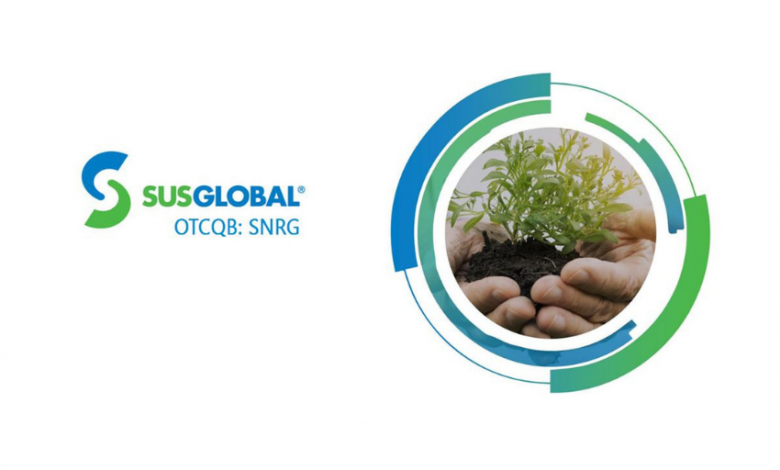 We have extensively covered SusGlobal Energy Corp. (OTCQB:SNRG) in the past given that the company is a solid player in the and fast-growing organic fertilizer market and is known for providing a wide range of ecologically responsible solutions improving the quality of land, boosting crop yields, and so on. The company has been in the news for a number of interesting updates off-late including a major $15.7 million acquisition. It is also on the verge of being uplisted to the NASDAQ which could result in significant value unlocking. Let us take a look at the company's latest happenings and evaluate its worthiness as an investment prospect.
Business Recap
SusGlobal Energy Corp. is mainly known for the SusGro™ organic fertilizer, but it isn't a pureplay fertilizer company. The company's basic business model entails converting organic waste into valuable end products such as biogas, liquid biofuels, compost, and organic liquid fertilizers. These products can then be converted into electricity, fuels, and fertilizers, which can then be sold to agricultural businesses looking to boost crop yields, amend the soil, and practise environmentally friendly practises. As a result, the company can be classified as a renewable energy company that focuses on acquiring, developing, and commercializing a portfolio of proprietary technologies in the waste to energy and regenerative products industries. It primarily serves municipalities in rural and urban areas in southern and central Ontario, Canada and expanding into the U.S. SusGlobal has earned the reputation and trademark, Leaders in the Circular Economy® by employing sustainable and socially responsible solutions to address climate change concerns and the challenges of feeding a growing population. SusGlobal currently has facilities in Bellville, Ontario, and Hamilton, Ontario. The company was founded in 2014 and is based in Toronto, Canada.
New Hamilton Facility
SusGlobal Energy recently announced the purchase of an industrial facility on Nash Road North on Hamilton's East Bayfront to construct its new organic fertilizer manufacturing plant. The new facility has the capacity to generate $2 million worth of organic fertilizer per day by processing 65,000 metric tons of organic waste. SusGlobal transforms organic waste from green bins into pathogen-free organic liquid fertilizer. The project, which will involve the conversion of a 40,000-square-foot former animal pellet production plant, is being designed by ZAS Architects of Toronto. Through this new facility in Hamilton's East Bayfront, SusGlobal looks to celebrate the past while embracing the future, creating a healthy and wellness-focused workplace that reflects Hamilton's changing industries and emerging green economy. This project also gives them the chance to reconsider how they design sustainable waste management facilities as integral parts of their urban landscape.
It is worth mentioning that the first phase of the facility, including the development of administration workplaces, processing and bottling plant, distribution and warehousing sections, as well as tipping building, are progressing to completion by SusGlobal Hamilton, its architects, and construction managers. The facility will be used to manufacture, supply, and warehouse the company's SusGro organic liquid fertilizer and other patented products sold under a private label to consumer lawn, big-box retailers, and garden suppliers, and the cannabis, wine and agriculture industries. By September 30, 2022, the company expects the property to be ready to produce and store products.
SusGlobal's proprietary formulations, dry organic fertilizers, branded liquid, and aquaculture products will be developed at the Hamilton facility which are meant to address environmental problems such as soil health, greenhouse gas emissions, and drought caused in part by agriculture, which are increasingly affecting the ability to achieve the yields required to feed a growing world population. The management also revealed that the Hamilton facility would house and distribute the recently announced acquisition of plant nutrients, soil media, and amendments producer, which is expected to close in Q2 2022. This is an acquisition of an ISO-accredited company that only uses the finest ingredients in the formulation of their line of high-quality products that are sold to customers across Canada and the United States. Lastly, the completion of this acquisition will also determine when the company can start selling its organic liquid fertilizer and other proprietary products from its Hamilton facility.
Soil Media Producer Acquisition
SusGlobal Energy Corp. recently carried out a $15.7 million acquisition through its fully-owned subsidiary, SusGlobal Energy Canada Corp. The company signed a non-binding letter of intent to purchase a certified organic soil media, plant nutrients, and amendments manufacturer specifically to produce premium fruit and flowering crops. If completed, the potential acquisition would commence a growth strategy and would help the company achieve its goal of increasing market share and revenues. The company's capabilities and reach are expected to be enhanced due to the acquisition and it could push the consolidated top-line to double digits. The management believes that its existing operations will benefit from the addition of a high-quality, complementary customer and product base, which will complement SusGlobal's existing service and product offerings in several regional markets, including Western Canada and the U.S. Through this acquisition, the company should realize significant synergies with its feedstock infrastructure and distribution networks that should help boost earnings accretion. The company expects the acquisition to generate annual revenue of close to $8 million with additional opportunities from a geographical and market share approach beginning in 2023.
Final Thoughts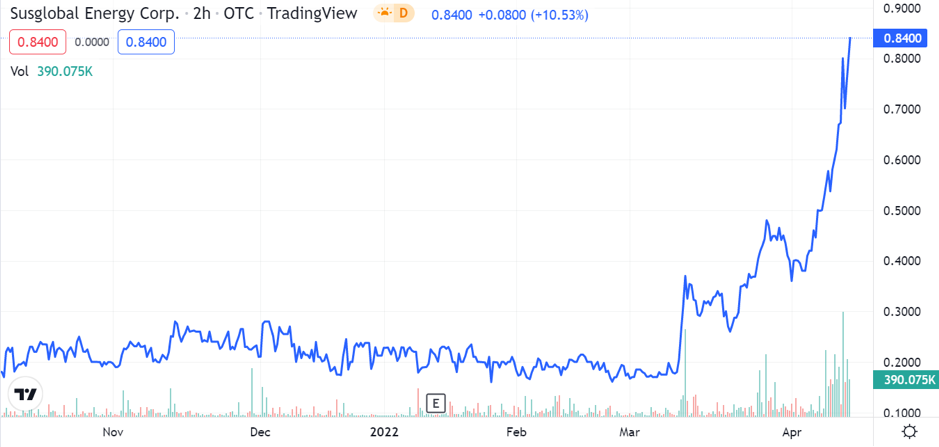 The stock price of SusGlobal had been on a more or less sideways trend for the entire 2021 but has taken off and nearly quadrupled from its February 2022 levels. In 2020, it generated nearly $1.6 million in revenue, and is expected to have similar revenues in 2021 but with the latest acquisition, these revenues should be multiplying many folds. Apart from fertilizer sales and the monetization of carbon credits, the company can promote its organic waste solutions in Europe through licencing agreements, which will add to the bottom line. SusGlobal's acquisition-led strategy should give it a strong foothold in the U.S. market and it is already establishing a solid presence in Canada. The stock has the potential to continue multiplying even from current levels especially after the NASDAQ listing which should result in further value unlocking. Overall, we believe that the company continues to be an excellent investment candidate for our readers at SmallCapsDaily.
---
Disclaimer
This website is a wholly owned subsidiary of SCD Media, LLC, herein referred to as Smallcaps Daily. Our publications are a commercial advertisement and are for general information purposes ONLY. We are engaged in the business of marketing and advertising companies for monetary compensation. We may receive compensation for this article on a PPC basis as an affiliate. Never invest in any stock featured on our site or emails unless you can afford to lose your entire investment. The disclaimer is to be read and fully understood before using our services, joining our site or our email/blog list as well as any social networking platforms we may use. PLEASE NOTE WELL: Smallcaps Daily and its employees are not a Registered Investment Advisor, Broker Dealer or a member of any association for other research providers in any jurisdiction whatsoever.Release of Liability: Through use of this website viewing or using you agree to hold Smallcaps Daily, its operators owners and employees harmless and to completely release them from any and all liability due to any and all loss (monetary or otherwise), damage (monetary or otherwise), or injury (monetary or otherwise) that you may incur. The information contained herein is based on sources which we believe to be reliable but is not guaranteed by us as being accurate and does not purport to be a complete statement or summary of the available data. Smallcaps Daily encourages readers and investors to supplement the information in these reports with independent research and other professional advice. All information on featured companies is provided by the companies profiled, or is available from public sources and Smallcaps Daily makes no representations, warranties or guarantees as to the accuracy or completeness of the disclosure by the profiled companies. None of the materials or advertisements herein constitute offers or solicitations to purchase or sell securities of the companies profiled herein and any decision to invest in any such company or other financial decisions should not be made based upon the information provided herein. Instead Smallcaps Daily strongly urges you conduct a complete and independent investigation of the respective companies and consideration of all pertinent risks. Readers are advised to review SEC periodic reports: Forms 10-Q, 10K, Form 8-K, insider reports, Forms 3, 4, 5 Schedule 13D. Smallcaps Daily is compliant with the Can Spam Act of 2003. Salesparq, LLC does not offer such advice or analysis, and Smallcaps Daily further urges you to consult your own independent tax, business, financial and investment advisors. Investing in micro-cap and growth securities is highly speculative and carries and extremely high degree of risk. It is possible that an investors investment may be lost or impaired due to the speculative nature of the companies profiled. The Private Securities Litigation Reform Act of 1995 provides investors a safe harbor in regard to forward-looking statements. Any statements that express or involve discussions with respect to predictions, expectations, beliefs, plans, projections, objectives, goals, assumptions or future events or performance are not statements of historical fact may be forward looking statements. Forward looking statements are based on expectations, estimates, and projections at the time the statements are made that involve a number of risks and uncertainties which could cause actual results or events to differ materially from those presently anticipated. Forward looking statements in this action may be identified through use of words such as projects, foresee, expects, will, anticipates, estimates, believes, understands, or that by statements indicating certain actions & quote; may, could, or might occur. Understand there is no guarantee past performance will be indicative of future results.In preparing this publication, Smallcaps Daily, has relied upon information supplied by its customers, publicly available information and press releases which it believes to be reliable; however, such reliability cannot be guaranteed. Investors should not rely on the information contained in this website. Rather, investors should use the information contained in this website as a starting point for doing additional independent research on the featured companies. Smallcaps Daily has not been compensated for this article. The advertisements in this website are believed to be reliable, however, Smallcaps Daily and its owners, affiliates, subsidiaries, officers, directors, representatives and agents disclaim any liability as to the completeness or accuracy of the information contained in any advertisement and for any omissions of materials facts from such advertisement. Smallcaps Daily is not responsible for any claims made by the companies advertised herein, nor is Smallcaps Daily responsible for any other promotional firm, its program or its structure. Smallcaps Daily is not affiliated with any exchange, electronic quotation system, the Securities Exchange Commission or FINRA.