Featured
Tiziana Life Sciences: A Biotech Microcap Revolutionizing Neurological Disorder Treatment with the Only Intranasal Fully Human anti-CD3 Monoclonal Antibody in Clinical Development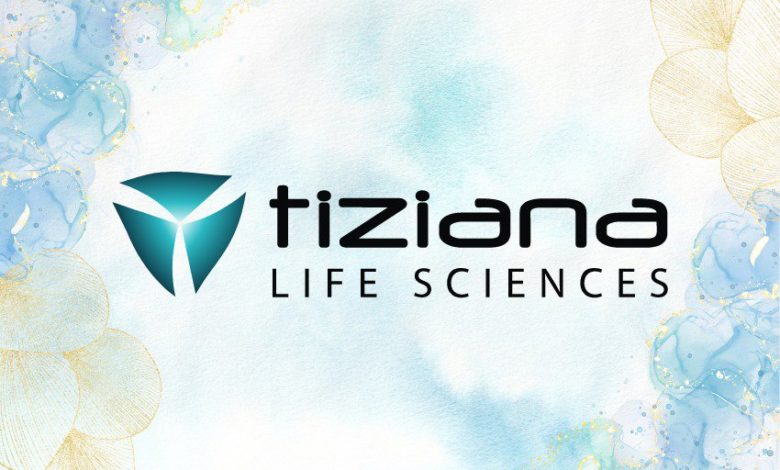 ---
Tiziana Life Sciences has blockbuster potential with its clinical trial using foralumb, the first only fully human anti-CD3 monoclonal antibody in clinical development that's gaining attention after Sanofi's (Nasdaq: SNY) recent acquisition of Provention Bio (Nasdaq: PRVB) for $2.9 BILLION DOLLARS.
The Company's mission is to bring breakthrough therapies to patients with the aim of treating Secondary Progressive Multiple Sclerosis, ALS, Alzheimer's, and other CNS indications, Crohn's Disease, lung diseases and optimizing health outcomes.
Tiziana Life Sciences is developing a transformational intranasal formulation, switching from traditional routes to alternative routes to enable breakthrough immunomodulation approaches to enhance the functionality of Treg-based therapies.
To this day, there is no drug on the market that is a fully human, anti-CD3 monoclonal antibody…and Tiziana Life Sciences (NASDAQ: TLSA) is developing the potential to treat patients in need that suffer from secondary progressive multiple sclerosis.
---
Introducing Tiziana Life Sciences (Nasdaq: TLSA):
Investing in biotech microcaps that target disorders associated with the central nervous system (CNS) such as Multiple Sclerosis (MS) and Alzheimer's disease can have enormous potential upside. With an aging population and increasing prevalence of these conditions, there is a growing need for effective treatments. Companies that develop innovative therapies for these diseases have the potential to generate significant returns for investors. Our small cap pick for the day is one such biotechnology company focused on developing treatments for a range of CNS diseases with an innovative approach to drug development, which includes using monoclonal antibodies and small molecules to target specific pathways involved in these diseases – Tiziana Life Sciences. Its technology has the potential to transform the CNS disorder treatment landscape. Let us take a closer look at its business and evaluate it as an investment opportunity for investors looking to capitalize on the growing demand for effective treatments for neurological disorders.
Company Overview
Tiziana Life Sciences Ltd is a biotechnology company focused on discovering and developing molecules for the treatment of human diseases in oncology and immunology. The company's lead product candidate in immunology is Foralumab (TZLS-401), the only fully human anti-CD3 monoclonal antibody (mAb)that aims to treat various diseases, including , multiple sclerosis,, and Type-1 diabetes. Tiziana also develops Milciclib (TZLS-201), a small molecule inhibitor that targets multiple cyclin-dependent kinases, tropomycin receptor kinases, and Src family kinases responsible for cell growth and cancer progression. However, foralumab continues to be its most promising drug candidate that is rapidly advancing through the different phases of trials. The company was founded in 1998 and has its headquarters in London, United Kingdom.
Foralumab – A Potential Revolution For MS Treatment
Foralumab is a monoclonal antibody designed to treat a wide variety of neurodegenerative diseases such as Multiple Sclerosis (MS), Alzheimer's Disease, and Amyotrophic Lateral Sclerosis (ALS). The drug has completed itsPhase 1 clinical trial.. A Phase 2 trial was also conducted treating non-hospitalized COVID-19 patients in Brazil with intranasal foralumab, which showed positive results. Additionally, six secondary progressive MS patients are currently receiving intranasal foralumab under Expanded Access INDs at Brigham and Women's Hospital in Boston, MA, with promising signs of a benefit to patients. Foralumab has been found to activate regulatory T cells, which circulate to provide targeted immunomodulation and therapeutic benefit. Tiziana has submitted a patent application for the use of the drug to improve the success of chimeric antigen receptor T-cell (CAR-T) therapy for cancer and other human diseases. The patent covers inventions related to improving CAR-T expansion and/or survival by administering foralumab alone or in combination with co-stimulatory molecules, such as an anti-IL-6 receptor monoclonal antibody, an anti-CD28 monoclonal antibody, or specific inhibitors of signaling pathways of phosphatidylinositol 3-kinase (PI3K), protein kinase B (AKT), or mammalian target. By utilizing foralumab in conjunction with these co-stimulatory molecules and inhibitors, the success rate of CAR-T therapy could be improved.
Clinical Progress of Foralumab
In the completed Phase 1 clinical trial of nasal administration of foralumab for MS treatment, low doses of foralumab were nasally administered for 5 consecutive days to healthy volunteers, and significant positive immune effects were observed, suggesting stimulation of Tregs that are needed to provide clinical benefits. The primary endpoint of the Phase 1 study was safety, tolerability, and biomarkers of immunomodulation of clinical responses of intranasally administered foralumab. Interim results indicated no drug-related safety issues so far. Similarly, the Phase 1 clinical trial of oral administration of foralumab in healthy volunteers was well-tolerated at all doses tested, and there were no drug-related safety issues even at the highest dose of 5 mg in this trial.
Intravenous foralumab has also been studied in Phase 1 and two Phase 2 clinical trials conducted by Novimmune, for Crohn's disease and acute renal allograft rejection. The short-term tolerability profile of foralumab was very similar to those reported with other anti-CD3 antibodies, and total daily doses of up to 1mg per patient were generally well tolerated without corticosteroid premedication with reduction in the Crohn's Disease Activity Index scores in patients. However, the most common adverse events following exposure to foralumab were infusion-related reactions (IRRs). A clear reduction of IRRs was observed with steroid pre-medication up to 2.5 mg/dose for 5 consecutive days, which allows the administration of higher doses. Both the magnitude and duration of CD3 modulation increased in a dose-related manner, and no anti-drug antibodies were detected. Tiziana has submitted a patent application on the potential use of foralumab to improve the success of chimeric antigen receptor T cells therapy for cancer and other human diseases by administering foralumab alone or co-administered in combination with co-stimulatory molecules or specific inhibitors of signaling pathways.
Large Addressable Market
There is a significant market for MS and Alzheimer's Disease which are two of the most significant neurological disorders affecting millions of people in the United States. According to the National Multiple Sclerosis Society, approximately one million people in the US are living with MS, while over six million people are living with Alzheimer's disease, and the numbers are expected to rise with an aging population. These diseases are debilitating and have a significant impact on the quality of life of patients, caregivers, and their families. The cost of treating these diseases is also significant, with the Alzheimer's Association estimating that the total cost of care for Alzheimer's patients in the US is projected to reach $1.1 trillion by 2050. With a significant and growing market for MS and Alzheimer's disease treatments, Tiziana Life Sciences is positioned to capture a share of this market with its innovative drug development programs. It is worth highlighting that according to a report by Market Research Future, the MS treatment market size was valued at $24.8 Billion in 2021 and is projected to grow to $30.55 Billion by 2030, exhibiting a compound annual growth rate (CAGR) of 2.31%. Similarly, the Alzheimer's disease diagnostics and therapeutics market is currently valued at around $7 billion as per Mordor Intelligence and is expected to be valued at $9.6 billion by the end of 2026, registering a growth with CAGR of 5.51% over the forecast period. There are currently no treatments that can cure Alzheimer's Disease or stop its progression. Tiziana's foralumab could provide a major breakthrough in this domain.
Final Thoughts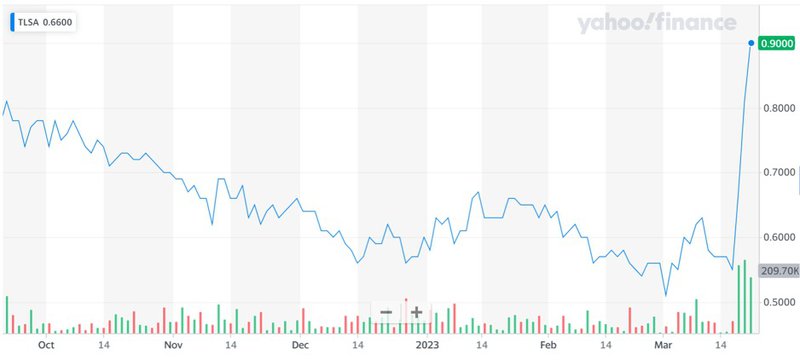 We see a high level of volatility in the Tiziana Life Sciences stock that is common for any development stage biotech player. We strongly believe that despite the significant potential for growth in these large addressable markets, the company's stock is currently trading at a significant discount, making it an excellent investment opportunity for microcap investors. Tiziana's potential as an acquisition target for large pharma companies is also significant. The demand for innovative drugs to treat neurological disorders is high, and large pharmaceutical companies such as Biogen, Sanofi, Roche, Merck, Bayer, Bristol Myers Squibb, Pfizer, Teva Pharmaceutical, Eli Lilly, and GlaxoSmithKline are continually seeking to expand their product portfolios through acquisitions. With promising drug candidates and an attractive addressable market, Tiziana could be an attractive acquisition target for such a pharma major company looking to expand its pipeline in the neurological disease space. Overall, given the massive addressable market and the potential upside from a future acquisition, we believe that Tiziana could be an excellent investment opportunity for our readers at SmallCapsDaily.
Disclaimer
This website is a wholly owned subsidiary of Salesparq, LLC, herein referred to as Salesparq, LLC. Our publications are a commercial advertisement and are for general information purposes ONLY. We are engaged in the business of marketing and advertising companies for monetary compensation. We may receive compensation for this article on a PPC basis as an affiliate. Never invest in any stock featured on our site or emails unless you can afford to lose your entire investment. The disclaimer is to be read and fully understood before using our services, joining our site or our email/blog list as well as any social networking platforms we may use.PLEASE NOTE WELL: Salesparq, LLC and its employees are not a Registered Investment Advisor, Broker Dealer or a member of any association for other research providers in any jurisdiction whatsoever.Release of Liability: Through use of this website viewing or using you agree to hold Salesparq, LLC, its operators owners and employees harmless and to completely release them from any and all liability due to any and all loss (monetary or otherwise), damage (monetary or otherwise), or injury (monetary or otherwise) that you may incur. The information contained herein is based on sources which we believe to be reliable but is not guaranteed by us as being accurate and does not purport to be a complete statement or summary of the available data. Salesparq, LLC encourages readers and investors to supplement the information in these reports with independent research and other professional advice. All information on featured companies is provided by the companies profiled, or is available from public sources and Salesparq, LLC makes no representations, warranties or guarantees as to the accuracy or completeness of the disclosure by the profiled companies. None of the materials or advertisements herein constitute offers or solicitations to purchase or sell securities of the companies profiled herein and any decision to invest in any such company or other financial decisions should not be made based upon the information provided herein. Instead Salesparq, LLC strongly urges you conduct a complete and independent investigation of the respective companies and consideration of all pertinent risks. Readers are advised to review SEC periodic reports: Forms 10-Q, 10K, Form 8-K, insider reports, Forms 3, 4, 5 Schedule 13D. Salesparq, LLC is compliant with the Can Spam Act of 2003. Salesparq, LLC does not offer such advice or analysis, and Salesparq, LLC further urges you to consult your own independent tax, business, financial and investment advisors. Investing in micro-cap and growth securities is highly speculative and carries and extremely high degree of risk. It is possible that an investors investment may be lost or impaired due to the speculative nature of the companies profiled. The Private Securities Litigation Reform Act of 1995 provides investors a safe harbor in regard to forward-looking statements. Any statements that express or involve discussions with respect to predictions, expectations, beliefs, plans, projections, objectives, goals, assumptions or future events or performance are not statements of historical fact may be forward looking statements. Forward looking statements are based on expectations, estimates, and projections at the time the statements are made that involve a number of risks and uncertainties which could cause actual results or events to differ materially from those presently anticipated. Forward looking statements in this action may be identified through use of words such as projects, foresee, expects, will, anticipates, estimates, believes, understands, or that by statements indicating certain actions & quote; may, could, or might occur. Understand there is no guarantee past performance will be indicative of future results.In preparing this publication, Salesparq, LLC has relied upon information supplied by its customers, publicly available information and press releases which it believes to be reliable; however, such reliability cannot be guaranteed. Investors should not rely on the information contained in this website. Rather, investors should use the information contained in this website as a starting point for doing additional independent research on the featured companies. Salesparq, LLC has not been compensated for this article. The advertisements in this website are believed to be reliable, however, Salesparq, LLC and its owners, affiliates, subsidiaries, officers, directors, representatives and agents disclaim any liability as to the completeness or accuracy of the information contained in any advertisement and for any omissions of materials facts from such advertisement. Salesparq, LLC is not responsible for any claims made by the companies advertised herein, nor is Salesparq, LLC responsible for any other promotional firm, its program or its structure. Salesparq, LLC is not affiliated with any exchange, electronic quotation system, the Securities Exchange Commission or FINRA.