Featured
Trending
Attis Industries Aiming to Disrupt Fossil Fuel Markets with Groundbreaking Advancements in Bioprocessing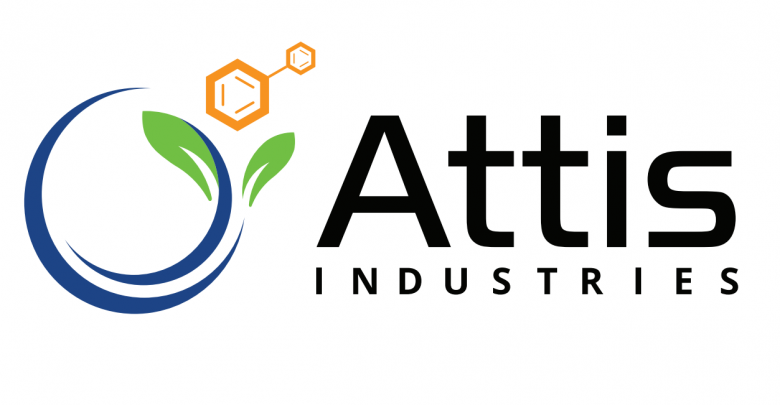 ---
With a top management team and proprietary technology harnessing the innate potential of cellulose and lignin, Attis is seeking to bring bio-based alternatives to fossil fuels to market, targeting multi-billion-dollar opportunities in renewable energy, plastics, and carbon fiber
---
We all know that fossil fuels will one day go the way of the dodo.  The problems are well understood: Finite supply. Rising drilling complexity. Climate change. While there are decades of fossil fuel resources in the ground, the industrialized world has managed to deplete these fossil fuels – which were formed over hundreds of millions of years – in less than 200 years since we started using them.
Big Oil sees this, and the industry's leaders are readying strategies for navigating growth beyond fossil fuels.  Earlier this year, BP plc (NYSE: BP) announced that it would allocate half a billion dollars of its $15 billion 2018 capital investment program to clean energy, in an effort to reduce carbon emissions.  The company also purchased a 43% stake in London-based Lightsource Renewable Energy (private), Europe's largest solar developer, in December 2017.  Likewise, Royal Dutch Shell plc (NYSE: RDS), the world's second largest publicly traded oil company with a market capitalization of $217 billion, has a growing portfolio of renewable assets, which include windfarms and biofuels to produce ethanol.  Shell CEO Ben van Beurden said the company will look for more acquisitions, telling Reuters "The idea that you can just be a very clever observer and step in when the moment is right, forget about it."
And then there is the growing consumer awareness of the environmental impact of fossil fuels, causing a seismic shift in consumer buying preferences.  It's this shift that is accelerating investments in renewable innovation – there's a reason why Warren Buffet made $1.3 billion on investments in alternative-energy car maker BYD Company Ltd. (HKSE: 1211 HK).  There's a reason Tesla (NASDAQ: TSLA) shipped 83,500 vehicles during the third quarter.  The reason is demand, and a massive market now appears ready for disruption from technological change.
But while many top news headlines gravitate towards Elon Musk's new Model 3 lithium-battery powered car, or the question of when yields at solar energy companies like First Solar (NASDAQ: FSRL) will become efficient enough to capture a meaningful share of baseload power, the fossil fuel industry is a vast, multi-trillion dollar industry with numerous commercial applications – and there are many opportunities for innovative, cost efficient technology to disrupt it.
Enter Attis Industries (Nasdaq CM: ATIS).  One of the aspects we like in the small cap space is the opportunity to uncover relatively unknown companies with the potential to cause disruption in gargantuan industries.  While there are many companies seeking to apply renewable technologies to historically fossil fuels-based markets, few have a combination of proprietary renewable technology that improves industry economics and a management team with the know-how and experience required to execute a growth plan.  Attis is seeking to do just this, with innovative applications to replace traditional fossil fuel uses in a number of areas including plastics, carbon fiber production, and renewable fuels including ethanol and biodiesel, among others.
Attis commercializing disruptive technologies in the new bio-economy
Attis Industries Inc. (Nasdaq CM: ATIS) is based in Milton, GA, a suburb of Atlanta.  Attis is a holding company focused on advancing businesses that developing technology with the potential to bring about transformative change.  The company is run by CEO Jeff Cosman, a former professional baseball player drafted by the New York Mets who has gone on to be a leading executive in the waste management, healthcare, and telecommunications industries.  Cosman has built successful companies before.  Earlier this year, in fact, he sold the waste management services businesses at Attis – a business he grew through savvy management and strategic acquisitions – to private equity firm Warren Equity at an enterprise value of over $100 million.  Now Cosman is focused on creating value again – this time through bringing to market innovative technologies with practical applications in multiple industries.
Attis has two core business units:  Attis Innovations and Attis Healthcare.  While both have significant growth potential – Cosman expects the Healthcare business to reach a $10 million revenue run rate by the end of 2019 – it is the Innovations unit that has piqued our interest and captured our imagination.  At Attis Innovations, Cosman has acquired a highly differentiated approach to biomass processing that is centered around cost-efficiently harnessing the potential of cellulose and lignin for the creation of high value bio-based products.  Cosman sees the process as having the potential for disrupting many applications of fossil fuels, from substitution in the creation of plastics to cost efficient production of ethanol and other renewable fuels, and even as a renewable input for carbon fiber production.   We are particularly excited to see how these applications come to market, especially in light of management commentary that technologists at Attis have invented and commercialized technologies that are currently generating more than $500 million per year in value through the recovery of materials from otherwise low value industrial byproduct streams.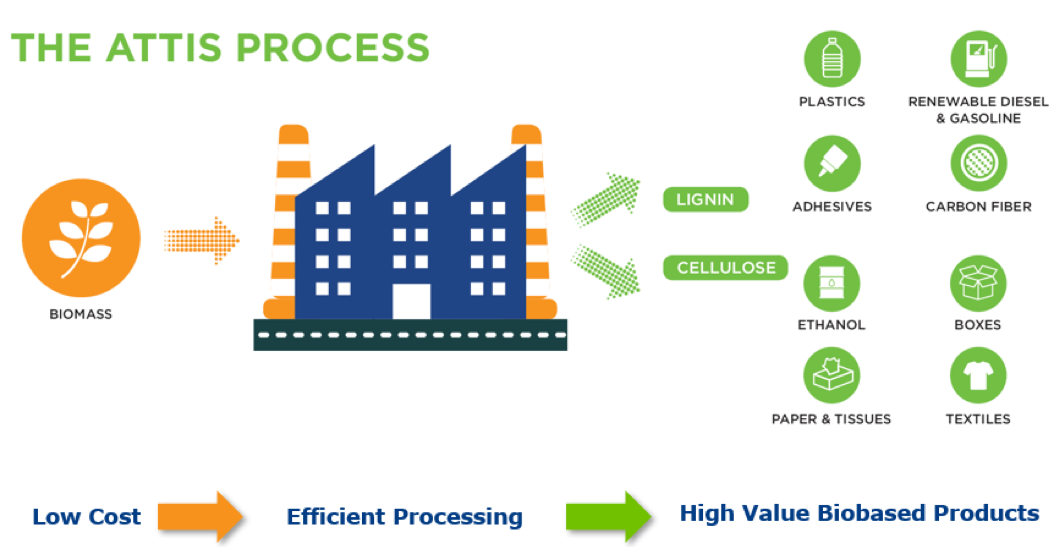 Attis Innovations' differentiated processing technology applicable to nearly any form of biomass
The Attis Innovations unit leverages proprietary, patented and patent-pending technologies that can convert nearly any form of biomass into a multitude of low-cost, high value bio-based products that can be commercialized as alternatives to commonly used fossil fuel-based products.  The company has established a research and development facility in Wausau, WI, staffed with a team boasting over 30 years of biomass processing and laboratory experience.  What's more, Attis is currently working on a $3 million grant from the USDA to commercialize the Department of Energy's patented lignin-based plastic: acrylonitrile butadiene lignin (ABL), and its proprietary Organosolv biomass separation technology has been operating at pilot scale for over five years with multiple Fortune 500 companies.
While many companies have reported investment in biomass processing for commercial use, Attis stands apart because the company's proprietary technology is able to achieve higher efficiencies – and hence revenue per ton.  Indeed, Attis believes it can generate $225 of revenue per ton of biomass versus approximately $125 -$150 per ton using traditional processing methods.  That represents a difference of $75 to $100 per ton – representing quite an opportunity considering there is an opportunity for more than a billion tons of biomass in the United States per year.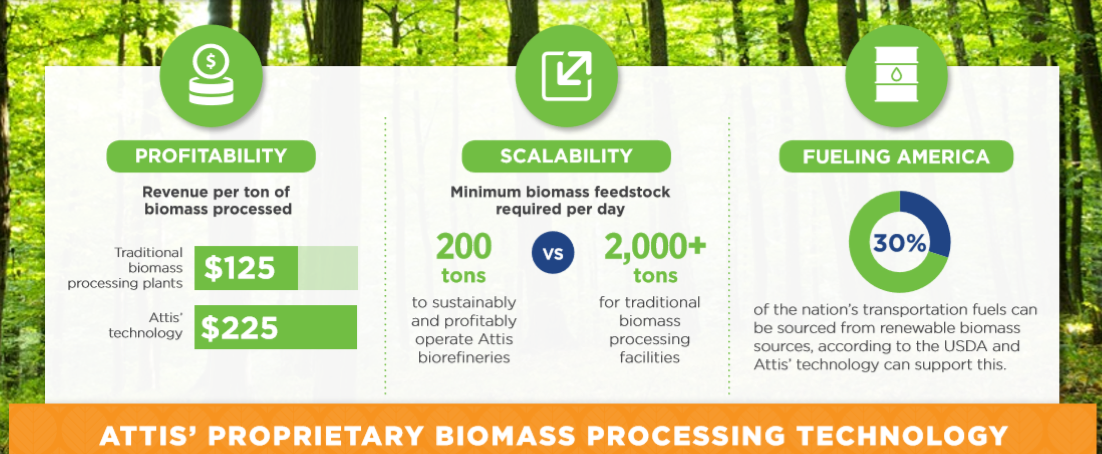 Attis separates itself from the pack by harnessing the innate value of lignin
Attis is able to achieve a high economic yield on biomass because its proprietary organic solvents allow for the efficient separation and valorization of all constituents of the biomass.  The company then repurposes these components into high value materials for monetization.  At the heart of the company's efficiency gains is its ability to maximize the commercial potential of lignin, which is a complex organic polymer found in the cell walls of most plants, making them rigid and woody.  Lignin is the second most prevalent abundant natural polymer in the world, surpassed only by cellulose, and is usually a waste output in traditional biomass processing plants.  Indeed, pulp mills produce about 50 million metric tons of lignin annually, but only 2% of lignin is used for commercial purposes.
For Attis, however, melt flowable lignin will be processed for use in various plastics applications, including bioplastics, carbon fiber, adhesives, and renewable fuels. Management estimates significant potential to impact these markets, with Attis' technology offering the potential to replace up to 25% of fossil fuel content used in the manufacture of some polyethylene and polypropylene plastics applications without compromising tensile strength.  The opportunity in the carbon fiber market may be even larger.  Carbon fiber is traditionally made from fossil fuel -derived polyacrylonitrile (PAN), which costs approximately $2 per pound, making it cost prohibitive for many mass market applications.  Iowa State has produced carbon fiber samples using 100% Attis lignin.  The samples were produced with less than 25% yield loss during the de-oxygenation / carbonization step, and significantly lowered costs to $0.50 per pound, according to the company, which could allow entry into the automobile market.   But the largest opportunity for Attis would be the use of its bioprocessing technology for renewable fuels.  Attis is using conventional processing methods to convert biomass and its high purity lignin into drop in fuels such as gasoline and diesel, with more than a 60% reduction in greenhouse gas emissions.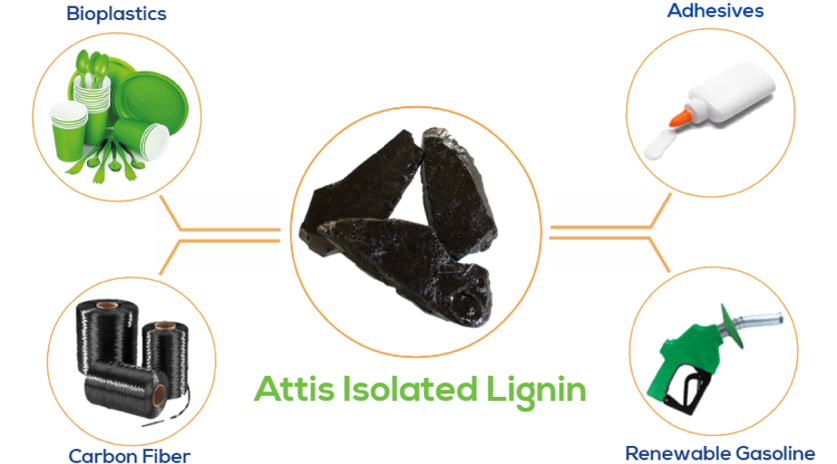 Attis Innovations initiating commercialization with robust growth plans
Importantly, Attis is not just a company researching alternatives to fossil fuels.  CEO Jeff Cosman is actively bringing the company's proprietary process to market.  Cosman has outlined several commercial milestones in months to come.  On July 16, 2018,  Attis announced that it had signed a letter of intent to purchase a 32-acre site in Barnesville, GA, which will be the company's first commercial-scale biorefinery.  The site is located strategically located in Georgia, providing ample feedstock supply and positioned to benefit from existing logistics and infrastructure.
Attis has potential to scale, with multiple planned biorefinery sites after proving model in Barnesville
While Attis could use the facility to produce 30,000 tons per year of pulp for sale into conventional pulp and paper markets and as a feedstock for renewable fuel production. In addition, Attis will manufacture 20,000 tons per year of a unique, melt flowable form of lignin, which is expected to generate about 50% more revenue per ton of biomass produced than conventional methods.  The result is that the Barnesville site is expected to generate $35 million in annualized revenue by its second full year of operations.  Assuming successful execution in Barnesville, Attis plans to seek a combination of debt and equity financing, as well as strategic industry partnerships to grow the number of processing facilities to 20 over the next few years.  The goal is not outlandish, particularly if Attis gains traction in renewable fuels, as the ethanol industry grew to approximately 200 facilites in eight years.  Attis has outlined a replicable process, which should allow for a predictable, highly attractive scale-up of revenue and EBITDA as the business expands and new processing centers are deployed. It's also worth noting that Attis aims to help create rural jobs, as each biorefinery facility is expected to contribute 40 direct green collar jobs. 
Attis Innovations to be supported by cash flow from Healthcare unit
While Attis Innovations offers opportunities for robust long-term growth if management is able to execute its plan, it is important to know where sales will come from in the short run, too.  As a holding company with multiple subsidiaries driving growth potential, Attis expects to grow sales in the near term at its Attis Healthcare unit, which leverages the benefits of Cosman's former time spent as an executive in the medical device industry.
Attis Healthcare promises the benefits of a revenue-generating business with attractive margins and steady growth prospects.  The healthcare division offers a suite of laboratory testing and therapeutic solutions provided to more than 200 pharmacies, clinics, hospitals, and healthcare providers across the United States.  Core Attis Healthcare offerings include advanced genetic testing like Pharmacogenetics (PGx), which identifies genetic differences among individuals to support personalized medicine, and Polymerase Chain Reaction (PCR) for pathogen identification, which analyzes the genetic makeup of pathogens for to support fast, precise detection and treatment of infectious diseases.
The company also offers cancer genetic testing, which utilizes advanced genetic sequencing to detect specific genetic abnormalities that relate to the growth of multiple cancer types, providing insight as to an individual's risk of hereditary cancers.  Attis is working to expand its partner base in this area, with a goal of reaching $10 million in annualized revenues by the end of 2019.  We note that the segment has a long potential runway for growth, as the company targets several growth areas of the healthcare market, and management recently engaged a new nationwide representative group, which expanded the company's potential network to 4,749 hospitals and 45,000 long term care facilities in the United States.
Experienced management a key attribute for Attis
A key reason why Attis could succeed where others have failed is its management team. Management quality is a key factor in whether small capitalization companies succeed or fail.  Attis is led by CEO Jeff Cosman, who is a proven executive who has acquired, built and sold businesses at significant valuations.  Cosman is a former professional baseball pitcher drafted by the New York Mets who has held leadership roles in the medical device, communications technology and waste industries.  Cosman is a serial entrepreneur and a proven leader with experience building growth businesses augmented by acquisitions.  After becoming CEO of Attis in 2014, for example, Cosman built a vertically-integrated solid waste services company with over $55 million in annual revenues and $12 million in EBITDA through the acquisition and integration of six businesses.  The moves resulted in the sale of the units to private equity firm Warren Equity at an enterprise value of $103 million in early 2018.
Cosman is now seeking to replicate this success as he pursues new opportunities leveraging technology in the alternative energy and healthcare sectors.   The company notes that Attis technologists have invented and commercialized technologies that are generating over $500 million per year in value through the recovery materials from otherwise low value industrial byproducts – this is only a small fraction of the value Attis is seeking to do with lignin.
Attractive valuation in light of opportunity, management's track record and growth potential
We find Attis attractively valued in light of management's proven ability to build and exit growth businesses, the clear prospects ahead of the company in Attis Healthcare, and the significant potential for upside if Attis Innovations is able to execute its growth plans for biomass processing.  Indeed, with 25 million shares outstanding, at the recent price of $0.20 per share, Attis has a market capitalization of just $5.0 million and net debt of $12.5 million, reflecting an enterprise value of $17.5 million. This compares to growing annualized revenues in Attis Healthcare which are expected to reach $10 million by the end of 2019, and plans in place to complete its Barnesville biomass processing facility thereafter with capacity expected to support annualized revenues of $35 million by the end of its second year in operations.  If Attis is successful in showing value in its Barnesville operation, the company has a long runway ahead, with plans to expand to at least 20 global bioprocessing plants with similar capabilities in the near future with to expand to several thousand thereafter.
While Attis will require funding in order to complete construction of the Barnesville facility and follow on processing facilities, Cosman expects to benefit from favorable government debt programs designed to facilitate investment in rural manufacturing and alternative energy, to supplement equity issuances and minimize dilution.  Moreover, we note that the company has a book value of $0.45 per share, supported largely by assets and intellectual property related to its biomass business, which provides an additional valuation backstop.
Looking ahead, we see multiple potential catalysts on the horizon for Attis.  The company should begin to report growing revenues from its Healthcare unit, and management has key planning and operational milestones approaching quickly for the establishment of the Barnesville biomass processing plant operation.  It's worth noting, additionally, that Cosman built the waste management through a series of acquisitions, and management has indicated that strategic moves will likely play a role in the building of its Innovations unit.
Legal Disclaimer
Except for the historical information presented herein, matters discussed in this article contain forward-looking statements that are subject to certain risks and uncertainties that could cause actual results to differ materially from any future results, performance or achievements expressed or implied by such statements. Salesparq, LLC which owns SmallcapsDaily.com is not registered with any financial or securities regulatory authority and does not provide nor claims to provide investment advice or recommendations to readers of this release.
Salesparq, LLC, which owns SmallcapsDaily.com, may be compensated for its services in the form of cash-based compensation for the companies it writes about. For making specific investment decisions, readers should seek their own advice.
Pursuant to an agreement between TraDigital IR and Salesparq, LLC, which owns SmallcapsDaily.com, we were hired for a period from 1/3/2019 – 2/1/2019 to publicly disseminate information about Attis Industries Inc., including on the Website, email and other media including Facebook and Twitter. We were paid $35,000 (CASH) for & were paid "0" shares of restricted common shares. We own zero shares of Attis Industries, Inc., which we purchased in the open market. We do not intend to buy or sell additional shares of Attis Industries, Inc. in the open market at any time, including before, during or after the Website and Information, provide public dissemination of favorable Information. Please read our full disclaimer here: https://smallcapsdaily.com/disclaimer/