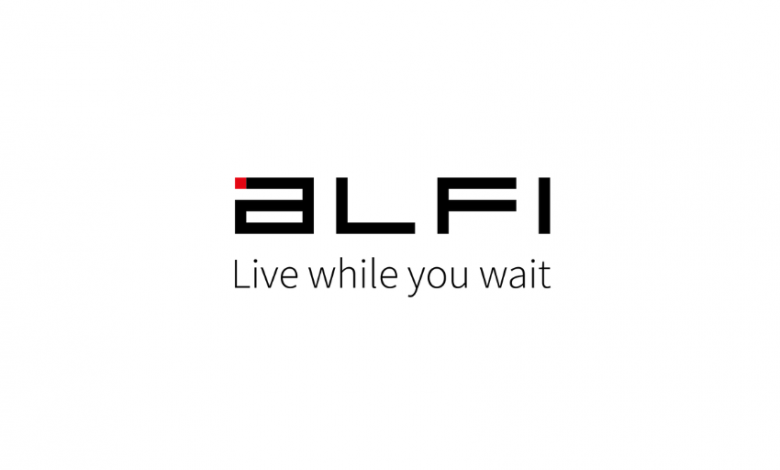 As we see the world resume normalcy, we expect the outdoor advertising industry to start picking up. While corporates spent an increasing amount advertising dollars on internet marketing throughout the past 2 years given the Covid-19 backdrop, there is expected to be a resurgence in out-of-home advertising expenditure with increasing number of people stepping out of their homes after the successful vaccination drives in the US. This trend should benefit many out-of-home advertising companies and ad-tech players catering to the out-of-home domain. The fact remains that many of these companies are trading at ridiculously low valuations because of weak 2020 numbers and there is a clear value for investors in buying the stocks at the current lows. Our pick for the day is a recently listed ad-tech player in the digital out-of-home advertising space that is trading below its listing price but has a highly unique product and a strong competitive moat – Alfi Inc. (NASDAQ:ALF).
What Does Alfi Do?
Alfi is an advertising technology company. Its core offering is an artificial intelligence (AI) powered computer vision platform that uses the company's proprietary machine learning models and powerful recommendation engines. The platform senses human demographics, behavior, and various other traits of the person in front of the device and uses the same to show the most relevant advertising content in an out-of-home setup. With respect to the hardware, the enterprise platform uses hybrid IoT devices with edge computing and cloud services. Alfi's offerings attempt to bring a strong targeting mechanism along with greater transparency and accountability to the digital out-of-home (DOOH) advertising marketplace by allowing advertisers to accurately target their ads to the right audience and gain insights.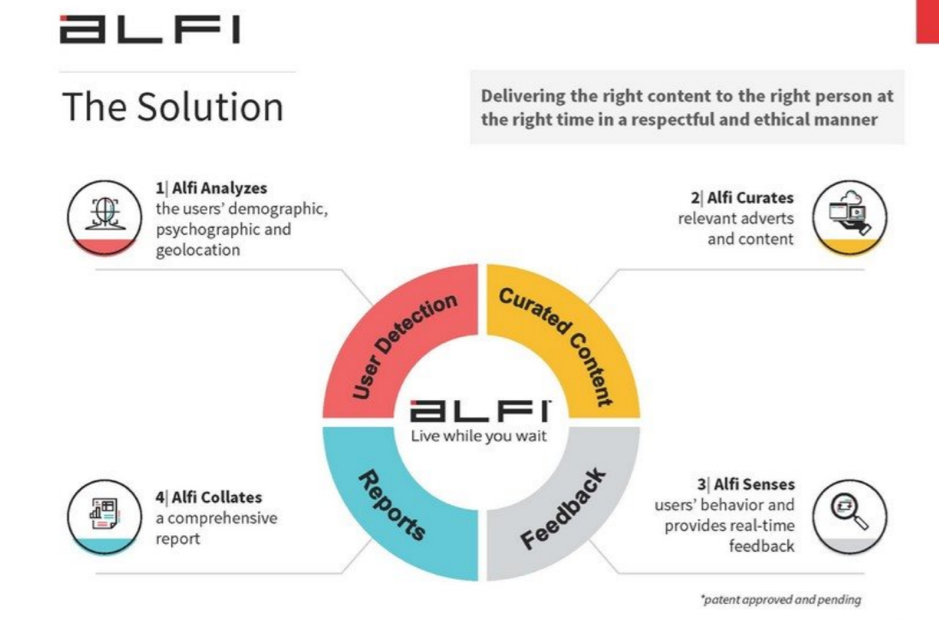 The above image accurately depicts the functions performed by the company's offering. Its software is either deployed through tablets in ridesharing vehicles or through digital signage devices in public places. The company was founded on 2016 and was earlier known as Lectrfy Inc. It is headquartered in Miami Beach, Florida.
Digital Out-Of-Home Advertising – Market Size, Growth And Current Trends
Digital out-of-home (DOOH) advertising is considered as a dynamic communication medium displayed on digital signage in public places. Digital signages are placed across high-traffic areas such as airports, bus stations, railway stations, mobile phone shops, medical waiting rooms, shopping malls, retail outlets, movie theatres, and so on. The DOOH industry has faced 2 major setbacks in recent times – the COVID-19 resulting in reduced public exposure to digital signages and the increased online advertising budgets given the strong targeted/ programmatic advertising capabilities offered by various online media, particularly the Facebook-Google duopoly. However, DOOH as an industry is adapting itself rapidly in order to attract more advertising dollars through various new technologies such as improved IoT connectivity, near field communication, artificial intelligence (AI), and beacons. Alfi's targeted marketing solution acts as one such major development in the DOOH industry where companies can carry out a wide range of targeted advertising in order to reach the desired audience.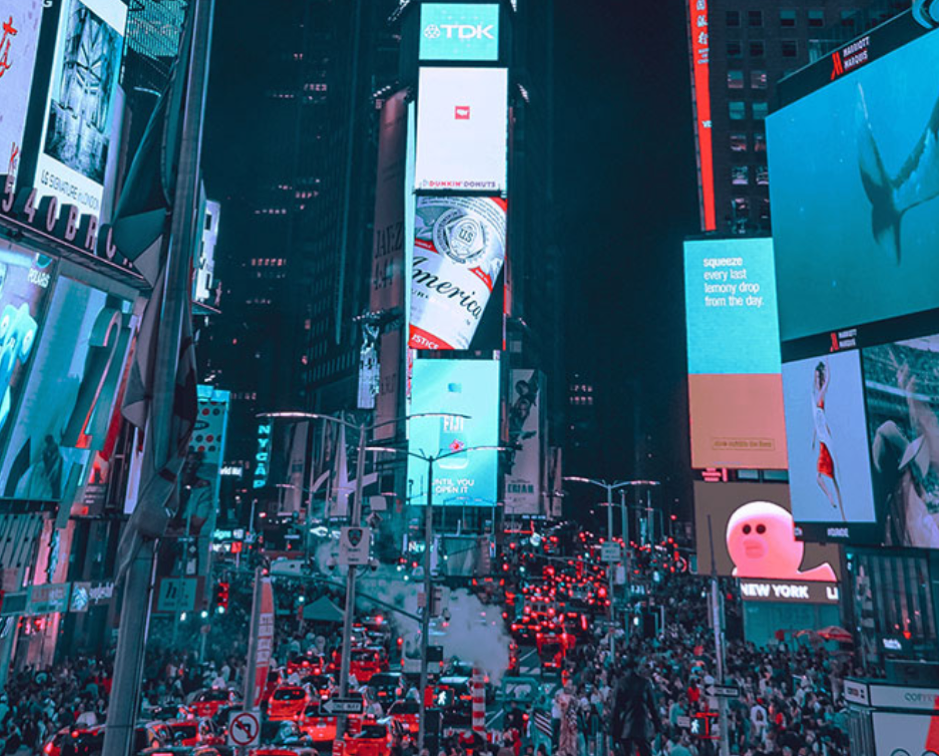 One of the biggest benefits that DOOH offers is the ability to access a much larger audience. We can see this in the above image from Alfi's website which is an excellent example of the extensive coverage of DOOH advertising. With the development of infrastructure and a growing number of shopping complexes and malls, there is expected to be a rise in the number of people who spend time outdoors in the post-COVID environment, particularly from the latter half of 2021. As a result, companies can go back to allocating higher advertising budgets to DOOH and reach out to a wider audience. Also, the popularity of digital signages is expected to be on the rise given their ability to engage audience effectively. Another big factor that should boost the increase in DOOH expenditure in the coming years is the declining cost of DOOH advertisements over the past few years particularly after the impact of the COVID-19. Their increased affordability across organisations of all sizes. Lastly, a number of researchers are pointing at the increased growth in transit DOOH advertising. Cabs as a medium of advertising are expected to grow and Alfi is a part of this growing market.
When we look at market sizing data from multiple research houses we see the vast potential of the DOOH market. As per Markets & Markets data, the global DOOH advertising industry was valued at $14.2 billion in 2017 and was expected to grow at a CAGR of 10.7% to $26.2 billion in 2023. However, with COVID-19 coming into the picture the growth rate in the past couple of years took a nosedive. However, we expect it to go back to the double-digit levels from the latter half of 2021. Another research provider, Research & Markets expects a strong rebound in the global digital-out-of-home advertising market and expects it to reach a value of $50.42 billion by 2026.
Key Digital Signage Players Who Could Form Alfi's Client Base
Alfi caters to the North American and European markets which are expected to occupy the largest chunk of DOOH spending in the coming years. These markets were the earliest adopters of the latest display advertising technologies and are the most technologically advanced markets with an ongoing awareness regarding the benefits of commercial displays which is why Alfi could benefit the most out of this region.
The company offers a software-as-a-service (SaaS) solution and has already been onboarded by NEOOH, the largest digital signage player in Brazil. Other prospects for the company can include Clear Channel Outdoor Holdings, Inc. (US), Lamar Advertising Company (US), OUTFRONT Media (US), Daktronics (US), Prismview LLC (US), JCDecaux (France), NEC Display Solutions, Ltd. (Japan), Stroer SE & Co. KGaA (Germany), Broadsign International LLC. (Canada), oOh!media Ltd. (Australia), Mvix, Inc. (US), Christie Digital Systems USA, Inc. (US), Ayuda Media Systems (US), Deepsky Corporation Ltd. (Hong Kong), and Aoto Electronics Co., Ltd (China). Each of these companies could possibly churn out millions of dollars each year to pay for Alfi's AI-based SaaS offering to be implemented on their digital signages.
Alfi's Role In Digital Out-Of-Home (DOOH) Advertising
As we discussed earlier, the digital-out-of-home (OOH) advertising offers a relatively low-cost, effective opportunity to target large audiences that can all relate to experiencing the ad in the same way.

The above image is an excellent depiction of the company's 3 main sources of revenues in the DOOH setup – tablet deployments in ridesharing, retail partners, and DOOH devices in other public places such as airports, bus stations, railway stations, malls, and so on. Alfi uses artificial intelligence and big data analytics to measure and predict human response and provides solutions that bring transparency to the DOOH advertising marketplace. The company's computer vision technology is powered by proprietary AI that determines the age, gender, ethnicity, geolocation, and emotion of a person who is in front of an Alfi-enabled device. Previously, the digital OOH market had never been transparent to advertisers. They had no idea who is actually seeing their ads and how many people viewed the ad, but with the data-rich reporting functionality of Alfi's portal, advertisers will have access to all these metrics. This makes the management confident about the growth of its market share in the industry.
The Alfi Triple Lift
Alfi has carried out a number of trials and case studies in order to prove the efficiency and effectiveness of its product. One of its most successful experiments that has transformed into a revenue stream for the company is the Alfi triple lift. As a part of the experiment, the company placed around 100 tablets in cabs and used 30 brands, advertising for 30 days.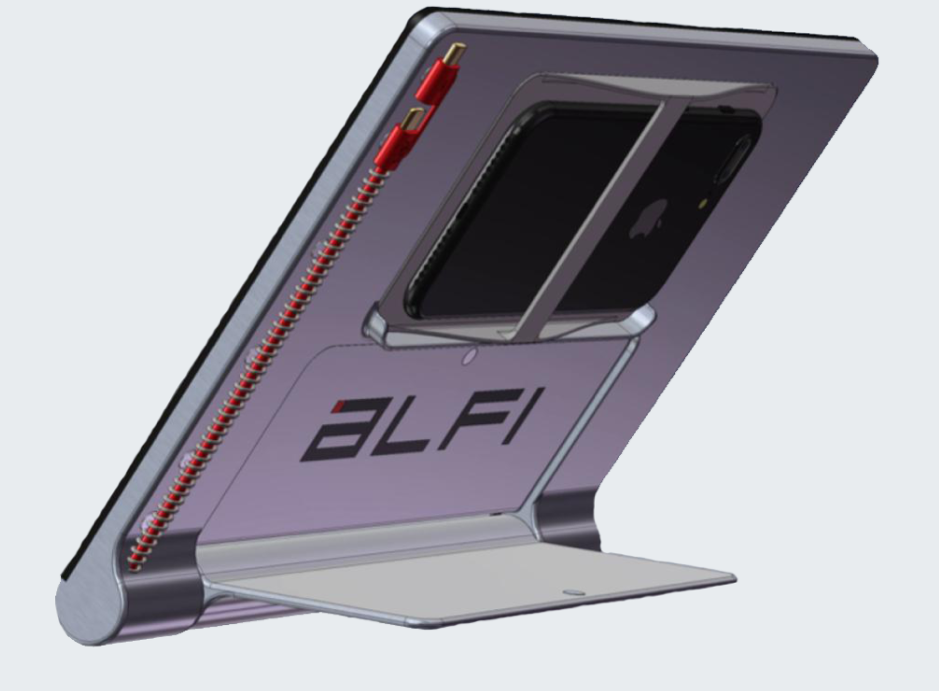 The above picture is an example of the Alfi tablet that was deployed. The device costs close to $100 to the company. The results of Alfi Triple Lift that the management claimed to receive were truly phenomenal, with the tablets delivering over 12.5 million impressions and generating close to $1 million in revenue with just 100 tablets. It is also worth highlighting that the only time an impression was measured was when Alfi detected a user in front of the screen thus providing the advertisers concrete usable data for their brand evolution.
The following Youtube video gives an excellent indication of the use of Alfi tablets – https://www.youtube.com/watch?v=W7XTQqUEN2U
One of the biggest upsides of the Alfi Triple Lift experiment which has now transformed into a full-fledged initiative to deploy tablets across cabs in Miami, UK, North Ireland, and many other American states is that Alfi does a revenue share with taxi drivers giving them 10% of the revenues generated from Alfi screens installed in their taxis. It is a great approach to encourage the drivers because the more they will drive, the more impressions will be generated from users. Apart from a robust targeting mechanism, Alfi also offers its clients high-quality reporting and ad performance insights. All these factors make the company an attractive service for all forms of advertisers.
Interesting Set Of Developments
After its listing, Alfi's management has come out with a number of press releases announcing significant business developments. In May 2021, the management announced that it was chosen by NEOOH, the leading OOH advertising company in Brazil, to install its AI enterprise SaaS platform solution on digital screens located in airports across Brazil starting with the Sao Paolo airport. The management looks forward to this collaboration as it can explore additional opportunities to expand to other NEOOH locations such as Vivo, the largest mobile phone service provider in Brazil with more than 350 stores and 1500 advertising screens at these locations. In addition, the company resumed the roll-out of its AI-enabled tablets in Rideshares in Miami and 10 other major cities in the US which was initially delayed due to the Covid-19 pandemic. Along with this the company developed the version 2.0 of its software which is fast, light, and scalable thereby positioning Alfi well for the new demands placed on tablets used in public spaces such as Rideshares. As per the management in addition to several hundred screens already installed in Rideshares serving Miami, it expects to expand to nearly 10,000 tablets in its next phase of deployment.
Its recent big announcement came in the form of staring operations of its digital advertising technology in multiple kiosks located within Belfast International Airport in Northern Ireland. Alfi has signed a contract with Belfast International Airport and claims to have installed about 9 kiosks at the airport already. As per the management estimates, these 9 kiosks alone have the potential to generate in excess of $5 million in advertising revenues each year. It is worth highlighting that Belfast International Airport is Northern Ireland's main airport having the second largest gateway in Ireland. With Alfi's technology, Belfast International Airport and Sao Paolo airport are looking optimize its network of kiosks to deliver powerful reach, dynamic visuals, and tailored message capability by age, gender, geography, demographics, brand behavior and interests, all in real-time. All these big tie-ups and rollouts ensure that the company should comfortably generate a top-line in excess of $1 million in 2021.
Strong Management Team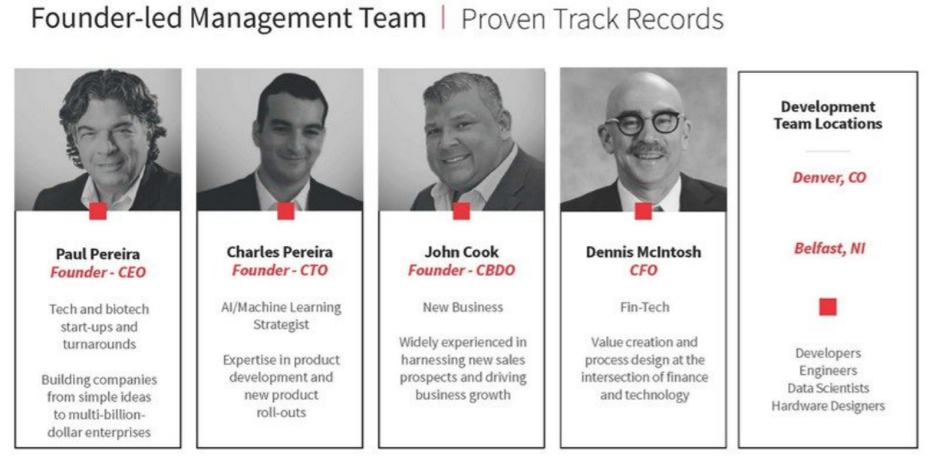 Alfi Inc consists of a highly specialized management team which is one of the biggest green flags in favor of the stock. The organization is headed by founder and CEO Paul Pereira who has over three decades of experience in technology, telecommunications, transportation, manufacturing and biotechnology. Paul has led successful business initiatives across the United States and overseas. He is supported in his efforts by Dennis McIntosh, the company's CFO who has a huge experience in both private and public companies in a various range of industry groups. Dennis has led multiple start-up companies through successful sales of the companies and has led the due diligence on 25+ acquisitions/divestures representing $1.9 billion in investor funds and is proficient in accounting, finance, and treasury and cash forecasting. Dennis is a key member of the team as he is taking the forefront on fundraising initiatives.
Alfi's Chief Business Development Officer, Mr. John Cook has been with the company since 2018 and is widely experienced in harnessing new sales prospects and driving business growth. Prior to his experience at Alfi, John worked extensively as an investment banker and financial consultant gaining vast experience in capital markets space with respect to publicly traded companies. The company's CTO is Mr. Charles Pereira, one of the key personnel behind the amazing AI-based technology who brings to the table a strong expertise in product development and new product roll-outs. As a matter of fact, Mr. Pereira initiated the design, development and launch of Alfi's machine learning and deep learning models. He has also worked with MIT's laboratory of manufacturing productivity for the purpose of implementation of an innovative enterprise resource planning software, utilizing RFID in a garment manufacturing process. In a nutshell, Alfi's management is filled with industry veterans and we can rely on the management taking the best decisions in the interest of the shareholders.
Competition & Peer Valuations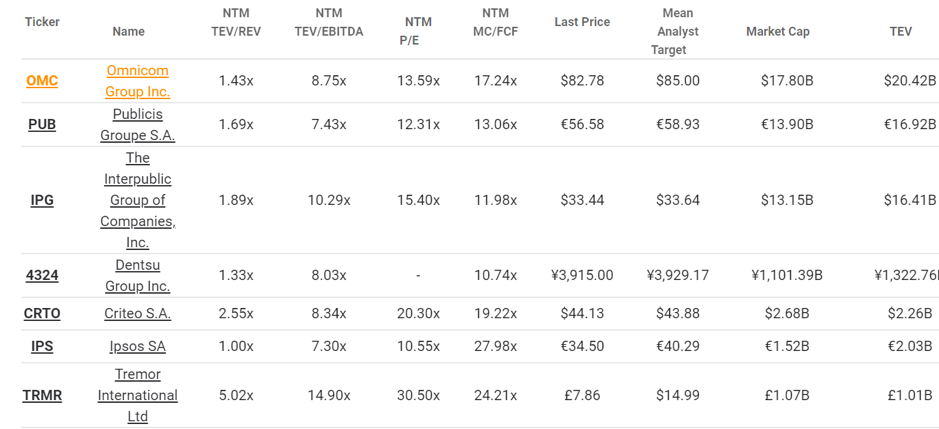 Afli's product is relatively unique and does not have direct competitors. If we look for similar products offered by listed companies, the closest offering is that of JCDecaux, who launched VIOOH, a planning platform, for making targeted advertisements. Through the platform, JC Decaux collects data from various sources and helps advertisement campaigns in reaching out to the right audience. However, it is not in the same bracket as Alfi's offering. In terms of a valuation exercise, the closest peers to the company would be the large media players like Omnicom, WPP, and Criteo (still an ad-tech example). Now, these companies are trading at an EV/ Revenue below 2x and a Price-to-Earnings multiple below 20. However, the same will not apply to Alfi as its product is a SaaS offering with recurring revenues. NEOOH is the first company that Alfi has onboarded with many more to come and recurring revenues render a much higher stability to future business coupled with the unique product and the strong competitive moat. We believe Alfi could easily garner an EV/ Revenue multiple of 10x and a P/E over 50x in the coming years.
Key Risks
The fact remains that despite all the above-mentioned upsides, Alfi's stock is on a low and one of the biggest factors responsible for the same is that the ongoing COVID-19 pandemic, including the resulting global economic uncertainty. The measures taken by corporates of increasing internet advertising and reducing exposure to DOOH in the past year in response to the pandemic has already impacted its business model and could materially impact future results of operations and financial condition in the future.
In addition, Alfi's limited operating history makes it difficult to evaluate its business and prospects and may increase the risks associated with investment. The company has not generated any revenues to date and may not be able to build a reputation for providing a superior platform and customer service, and for creating trust and long-term relationships with customers. Lack of traction is a genuine risk which is why Alfi is not a stock for the faint hearted investor.
Alfi has negative cash flow for the years ended December 31, 2020 and December 31, 2019. To the extent that the company has negative operating cash flow in future periods, it may need to allocate a portion of its cash reserves to fund such negative cash flow. The company may also be required to raise additional funds through the issuance of equity or debt securities. There can be no assurance that the company will be able to generate a positive cash flow from its operations, that additional capital or other types of financing will be available when needed or that these financings will be on terms favourable to the company.
It is also worth mentioning, Alfi's business depends on the overall demand for advertising and on the economic health of advertisers and publishers that benefit from its platform. Economic downturns or unstable market conditions such as those potentially created by the outbreak of COVID-19 discussed above, may cause advertisers to further decrease their outdoor advertising and DOOH budgets, which could reduce spend though Alfi's platform and adversely affect the business, financial condition and operating results.
Alfi operates in an intensively competitive industry with plenty of options available for digital advertisers. Apart from JC Decaux's competing offering, the company is also facing indirect competition from the likes of Google (YouTube and DoubleClick), The Trade Desk and Facebook as well as many ad exchanges, demand-side platforms for advertisers and ad networks. Therefore, the management needs to be proactive to outperform in the industry.
One of the biggest risks as per the company's SEC filings is Alfi's ability to continue as a going concern. This is contingent upon the ability to raise additional capital through the sale of securities and incurrence of debt. Alfi's future capital requirements depend on many factors including the rate of revenue growth, selling price of the products and research and development efforts which raise substantial doubt about its ability to continue as a going concern.
Global economic, political and other conditions may adversely affect trends in consumer, business and government spending, which may adversely impact the demand for Alfi's services and its revenue and profitability.
Final thoughts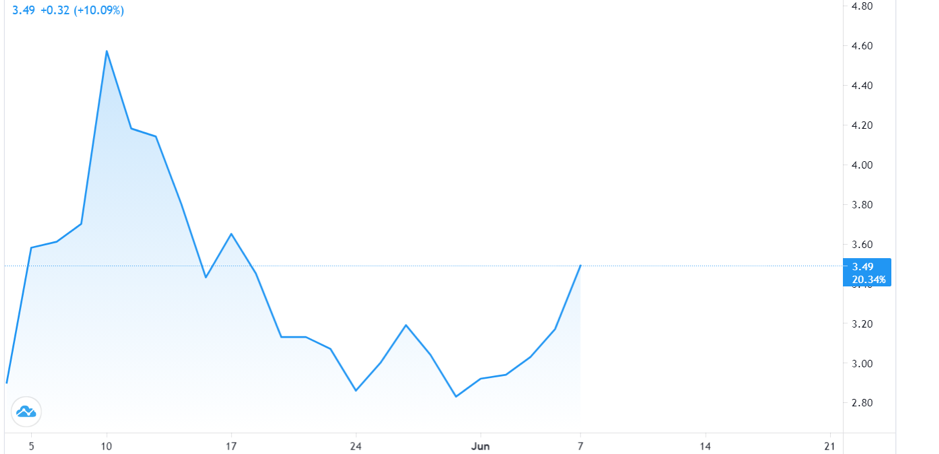 Alfi got listed on the NASDAQ at little above $4 but it is currently trading at close to the $3.5 mark. This appears to be a solid investment opportunity for investors. Our detailed due diligence of the DOOH market, recent trends, and Alfi's offering indicate that the company is bound to deliver a positive and rapidly growing top-line over the coming quarters. Since its listing, the company has started the ridesharing tablet rollouts, signed a deal with NEOOH, and with Belfast Airport. All these are major developments that are bound to translate into strong revenues. We believe that it is the right time to grab Alfi while it is still below its listing price. The stock's current market cap is around $40 million and could easily cross the $100 million mark by the end of 2021. Our final verdict – Grab Alfi and strike while the DOOH market is hot!!